Last night I attended a media event at Pera, which is an upscale Turkish restaurant on Madison Avenue between 41st and 42nd. Pera is a curious place because, on the one hand, it bills itself as "Pera Mediterranean Brasserie," calls its boreks "crispy phyllo rolls," and has a contemporary decor that would fit well with just about any upscale restaurant of any kind (in other words the place takes pains not to be "ethnic"); but, on the other hand, the Turkish food served at Pera is faithful to original recipes and techniques and could serve as the model for a whole better class of Turkish restaurants in America.
In any event, I wasn't there for a normal meal. I was there to sample the new line of mail-order products, which were excellent. But I also got to try several regular-menu items and was favorably impressed with everything -- I'm making it a priority to go back for a full meal.
The space is dominated by an open kitchen with a large grill and a bread oven: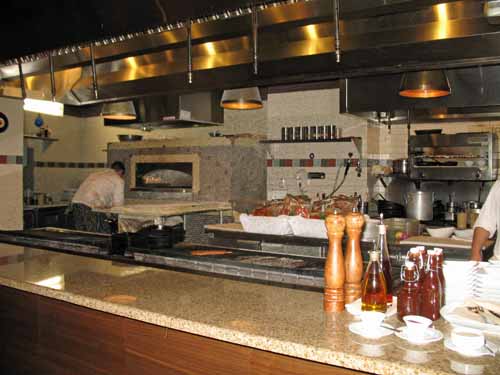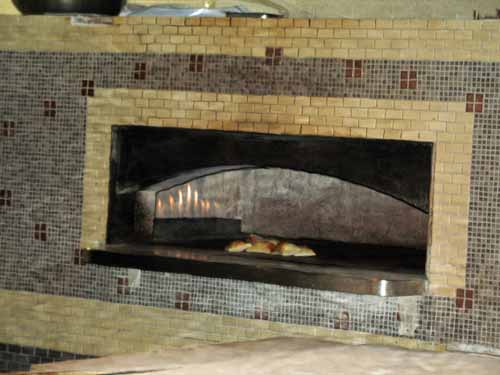 There's also a nice private dining room off to one side: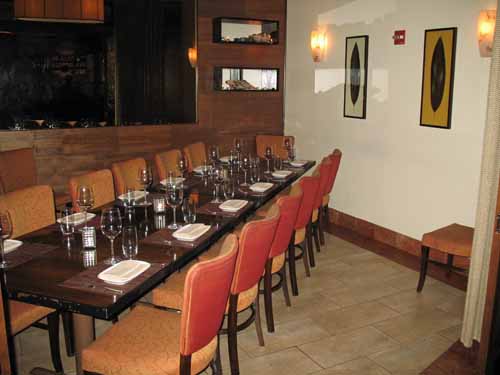 The event was set up such that the press in attendance were invited to come into the kitchen to cook the products on the grill. At first only I participated. (This all happened while we were fed a lot of appetizers.)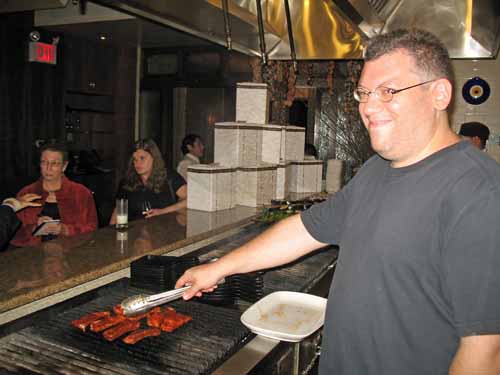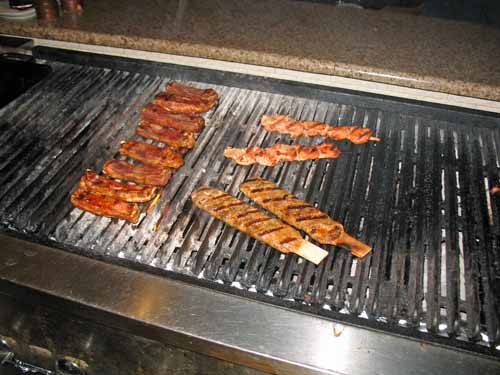 Co-Executive Chef Jason Avery (he's the American chef; there's also a Turkish chef, Sezai Celikbas) guided us through the cooking process, which involved burning the hair off our forearms and leaning over the incredibly powerful grill. After 10 minutes I was ready to collapse from heat exhaustion. The guys who work the grill do it all night and often barehand the skewers: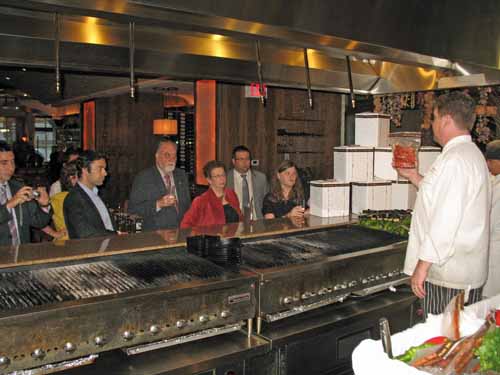 Explaining that it's not a good idea to let the meat catch fire: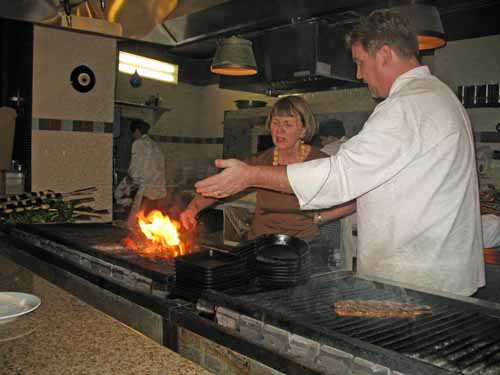 So anyway, the big specialty item at Pera is Adana-style skewered meat (Adana is a place in Turkey). Sezai Celikbas, the Turkish half of the chef team, is according to the restaurant's representatives the only person in the city practicing the dying art of preparing Adana-style meat. The meat -- most notably lamb -- is butchered on premises from whole carcasses. As Shelley Clark, the publicist, explained it to me this process involves the surgically precise hand cleaning of meat, separating the fat and removing all traces of sinew, bone particles, nerve tissue/endings, etc. The pristine meat and its fat are then hand chopped/minced with a special knife called a pala. When the right consistency is attained, the fat is remixed into the meat, essentially re-marbling it, to the desired ratio of 25–30 percent fat. A blend of spices is added. Finally, the meat is molded around a flat wood skewer into a long narrow rectangle and cooked on an open-flame grill, during which much of the fat melts away. It is removed from the skewer for services and served with lavash.
In addition we tried some excellent, large, meaty (which is unusual) lamb ribs, as well as chicken kebabs. And we were given some other items in cryovac to take home, which I hope to cook tonight or tomorrow night.
Well worth a try.