"When the going gets weird, the weird turn pro." -- Hunter S. Thompson
Greetings, fellow food freaks! Wow, has it only been nine months since my last food blog? Feels like I've crammed a couple of lifetime's worth of changes into that short span of time. And two of the more noteworthy ones are definitely on-topic for eGullet and this blog:
--On the weight management front: when last I blogged, I was 20 weeks into my weight-loss project, with about 47 pounds lost to show for my efforts. I am now 60 weeks in, have lost a total of 114 pounds, and am still going strong. All of that progress, along with corresponding improvements in my mobility and overall general health, has been accomplished the good-old fashioned way: no fad diets, no drugs, no fasting, just basic day-in and day-out healthy cooking and dining, plus whatever physical activity my bod feels up to. I have managed to make this healthy eating thing into a way of life that is pleasant and maintainable even for a foodgeek like me; I will be showing you a little of how I work it in the course of this blog.
--And regarding the quote from The Good Doctor with which I started this post: since last I blogged, I've finally done it--I have at last managed to slip over the line from crazed amateur food blogger to paid professional food writer. I am now the editor of and a contributing writer for a brand-new restaurant-recommendation website known as
SanDiego.Eats.It
. As you will see if you follow that link, we are still in beta test mode, so there are still little bits and pieces needing to be filled in. But already it's looking pretty darned spiffy, if I do say so myself. I've been having a helluva lotta fun with my part of this project--if nothing else, I now have a professional justification for my obsession--erm, I mean hobby, of casing every little hole-in-the-wall eatery I spot on my rambles about town.
In fact, the teaser photos for my blog were both taken on restaurant rambles that resulted in write-ups: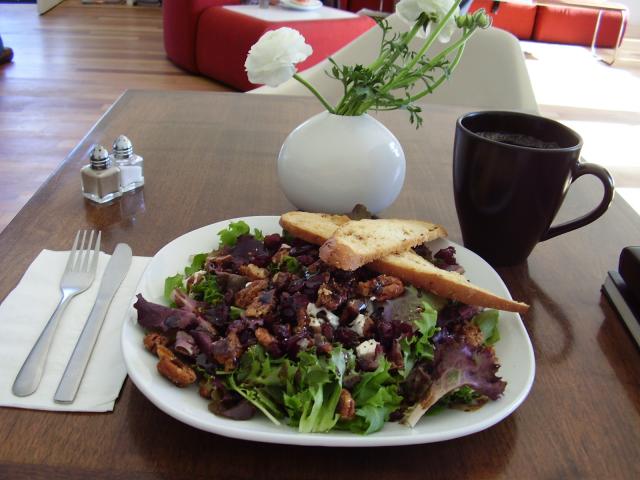 This is the so-called "Goat" salad (goat cheese, dried cranberries, and candied walnuts on mesclun) served by Influx, a lovely modern little coffeehouse in the Golden Hill neighborhood.
And this is the beautiful verandah (it seems inadequate to just call it a deck) of Krakatoa, a rather funkier coffeehouse in that same neighborhood.
All of which hints at how I manage to stay on a weight loss regimen even while doing my food-writer beat: I put in for the "healthy/light dining" beat.

As the blog progresses, I plan to take you all along as I check out a couple of restaurants I might write up in future. Other dining extravaganzas on my schedule for the week include a dinner at
The Linkery
, an innovative little restaurant that makes some fabulous sausages and other "handmade cuisine," as well as a Saturday dim sum brunch. Ethnic cookery, especially Asian cuisines, remains one of my passions, so there will be visits to various ethnic markets and a cooking experiment or three. And it wouldn't be one of my blogs if I didn't work a food-and-music connection in there somewhere, now would it?
For now, I will leave you with this foretaste of things to come: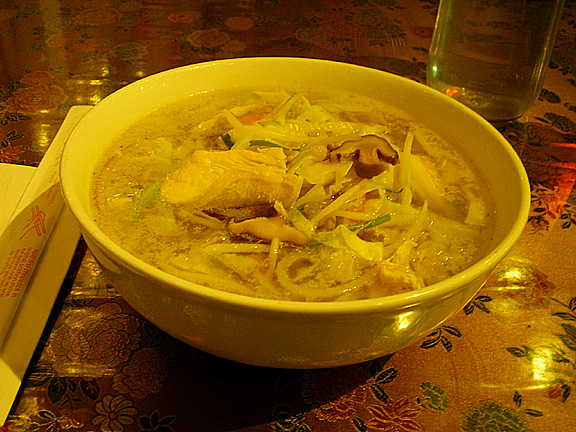 This was my dinner just prior to coming home and getting this post ready: a big bowl of Nagasaki style champon from Dao Son, a very good (and very spicy--"Dao Son" literally translates to "Hot Chef) Japanese/Vietnamese restaurant in San Diego's North Park neighborhood.
Onward and outward ...
Edited by mizducky, 19 March 2007 - 12:30 AM.