eG Forums Q&A with Ferran Adria, December 15-17, 2004
The Q&A forum officially opens on December 15th, but we will begin accepting questions on Monday, December 13th.
Please read this before posting.
Ferran Adria in the El Bulli Kitchen
Photo: Francesc Guillamet ©
Most of the members of the eGullet Society will be familiar with the works of Ferran Adria. Considered by many the most influential chef in the world, the traces of his work at El Bulli can be found in menus and restaurants located thousands of miles away from his restaurant in a Mediterranean cove. His approach to cooking has changed the way we perceive contemporary gastronomy: from the conception of the individual dishes to establishing an independent creativity department; from the creation of sophisticated techniques which result in new and unique textures to the redefinition of what a tasting menu and dining is.
The eG Forums are the leading independent repository of information about Ferran Adria, so we invite those who would like to get a better understanding of his works to take a look at:
The Cabinet of Dr. Adria
Eight at El Bulli
Twenty-seven Small Courses of Ferran Adria
El Bulli, Soler and Adria in Context (excerpt from the book Text and Pretext in Textures)
El Bulli web site
To view some video clips of the upcoming television program "Decoding Ferran Adria", starring eGullet Society member and food television personality Tony Bourdain, please be sure to visit the Zero Point Zero website:
Decoding Ferran Adria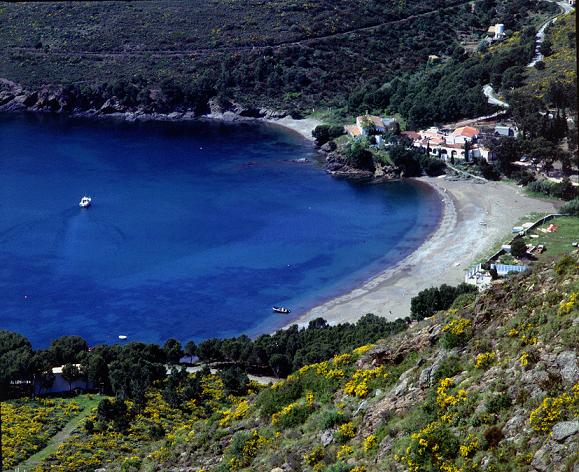 El Bulli in Roses on the Mediterranean
Photo: Francesc Guillamet ©
About Ferran Adria and El Bulli
Adria's legendary El Bulli restaurant has been awarded three stars in the Michelin guide for the past nine years. It originally opened in 1967, as a casual eatery for divers, but was transformed into a temple of contemporary gastronomy thanks to Adria's driving force.
In 1998, the great Joel Robuchon said, "
There are chefs who characterize their era, but they are few and far between. There was of course Fredy Girardet, Alain Chapel and some others. Today, I have the feeling that Ferran Adria of the restaurant El Bulli at Roses in Spain has the makings of such a kind.
"
In August 2003, Arthur Lubow wrote in the New York Times, "
Ferran Adria's restaurant El Bulli in the Catalan seaside town of Roses, a two-hour drive north of Barcelona, is a gastronome's once-before-you-die mecca. It's not merely the three Michelin stars (although only three other Spanish restaurants boast that distinction) or the top rating in Spain's most influential food guide. The accolades from other cooks are amazing.
"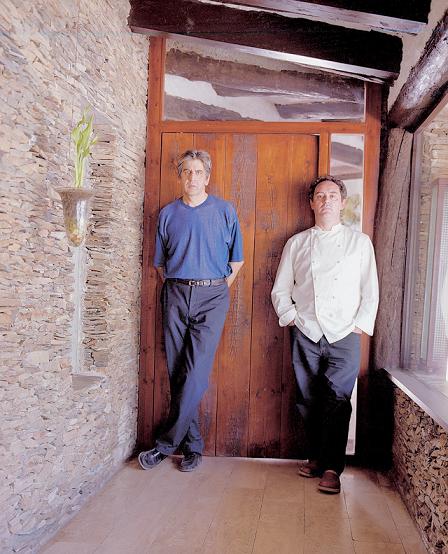 Juli Soler and Ferran Adria
Photo: Francesc Guillamet ©
Adria was born in 1962 in Santa Eulalia, a neighborhood in L'Hospitalet de Llobregat, near Barcelona. Twenty years later, he took charge of a kitchen for the first time: while doing his military service, he was part of the kitchen staff of a high-ranking general. In 1983 he staged for one month at El Bulli, where he returned in 1984 as chef de partie. In 1986 he became the chef at El Bulli. He and his partner Juli Soler bought the restaurant in 1990.
Today, El Bulli is probably the most difficult place in the world to get a table. The restaurant is open six months a year, serves only dinner, and has a capacity of sixty seats. The 8,000 seats available for the entire 2005 season are already sold out; half a million requests for reservations will go unfulfilled.
Adria has produced several books, including the three volume series
El Bulli 1983-2002
,
Los secretos de El Bulli
, and
El Bulli, El Sabor del Mediterraneo
.