Craig LaBan had mentioned this place in one of his tuesday chats, and then included it in a sidebar to his review of Les Bons Temps as well. He didn't give a lot of details, but sounded enthusiastic enough, saying
Pull up a counter stool at this po-boy stand in a Delco farmers market (open only Fridays and Saturdays), where two vets of New Orleans restaurants turn out some of the region's best Louisiana fare, from hearty jambalaya to crawfish pies, dark gumbos, and fried crab-and-tasso mac 'n' cheese.
Apparently, at least one of the chefs worked for several years in New Orleans, including a stint at Emeril's, so we figured it was worth checking out. It's only open fridays and saturdays, and is a TINY little stand with only 4 or 5 stools at a small counter. So I got some take-out, and hurried into Philly to deliver some gumbo to other tasters. It was only about 20 minutes to center city via I95, so it's really not that far away even for Philadelphians.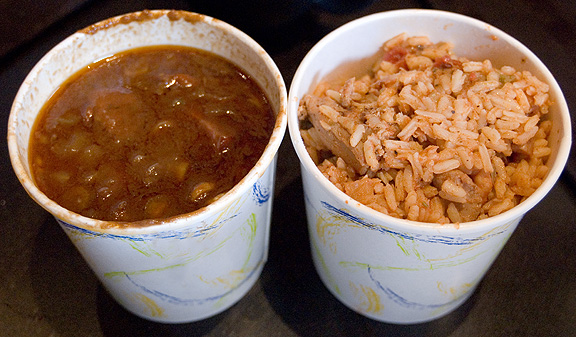 The Gumbo and Jambalaya both had shrimp in them, so I'll rely on other's reactions, which were that the gumbo was delicious, and the Jambalaya pretty good, but then Jambalaya is rarely
really
exciting... Both smelled great.

The Muffuletta was very authentic, and pretty tasty, but could probably have used a little more filling. This amount of meat and cheese is pretty similar to what one would get at the Central Grocery in New Orleans, but that's not to say there's no way to improve upon that. The bread is kind of hyper-seedy, and was feeling a little stiffer than might be ideal, but I think I read somewhere that they may get it shipped from Louisana. A friend heated up part of the sandwich the next day, giving it a couple minutes under the broiler, and reported that the seeds got a nice toasty edge, the bread came back to life, and the whole thing was much better. The olive salad is really great, and the whole thing makes for a very tasty sandwich. I might just find anyone's traditional muffuletta to be a touch too bread-heavy for my taste.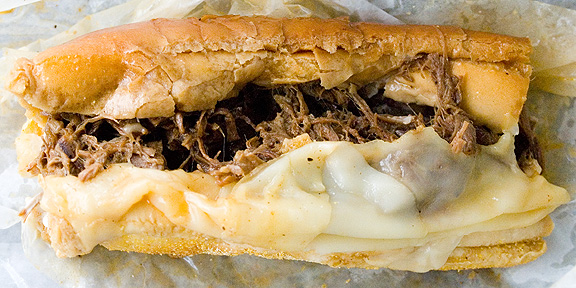 One item that completely blew me away was the Smoked Brisket Po Boy. Sadly, this was a special, it's not on the regular menu, so it may not be available on any given weekend. I REALLY wish they'd offer this permanently, it was mind-blowingly deep in flavor, with dark, smoky meat, falling apart in shreds in a thick sauce. Loaded up on a roll, then "fully dressed" as is done in New Orleans, with lettuce, tomato, pickles and mayo. This one also had provolone, which blended well. It quickly tuns into a big drippy mess, but a freaking delicious drippy mess. I have no idea why mayo, lettuce and gravy can possibly coexist on one sandwich, but they do... I liked this sandwich as much as the one I got at Parasol in New Orleans, which is justifiably famous for a similarly sloppy roast beef Po Boy.
A lot of folks were getting big cubes of deep-fried mac-and-cheese, the crispy shell containing creamy, cheesy noodles studded with tasso and crab. I didn't think it would travel well, but you can be sure that I'll try one next time I can get back there, and hopefully find an open stool at the counter. Same goes for the crawfish pie.
They've got things like gumbo and jambalaya already packaged and in the refrigerator if you're taking them home for later, or you can get them to go hot, and I defy you to resist taking a taste in the car...
If you go, keep in mind that it's a TINY place, so you shouldn't be in too big a hurry. Just like New Orleans! I was really charmed by the guys working there, you can tell that they're really serious about it, but still having a good time.
Remember, it's only open Friday (9am-9pm) and Saturday (9am-8pm) and is way out in southeastern PA, a stone's throw from Delaware. The Booth's Corner Farmer's Market is a little odd, it feels a few decades behind the times, with a large flea-market component among the farm stands, many of which are Amish. Cajun Kate's is certainly an anomaly there, but from one taste, I'd say worth the trip.
Check the website for specials: this week the Gumbo is Chicken and Sausage, the Po Boy is fried Oyster. Oh, man, I really might need to head back down there...
Booth's Corner Farmer's Market
Naaman's Creek and Foulk Roads
Boothwyn, PA
http://www.cajunkates.com/
Edited by philadining, 08 August 2008 - 04:06 PM.