Hey everyone,
Mr. Duck and I just got back from a glorious 10-day trip to Italy to visit his sister Amy, her husband Alfredo, and their daughter Alesandra.
Triple-A (as we collectively call them) live with about twenty other people on a farm near Sovicille, a small town a few miles outside Siena. It's an organic farm and they grow grapes, olives, and all this other fun stuff. Everyone shares the duties, including making meals, and we delighted in several days of fabulous meals, so we wanted to share our travels with you.
Two trains, two planes, a bus, and about 21 hours later, we arrived to this--La Comune di Bagnaia: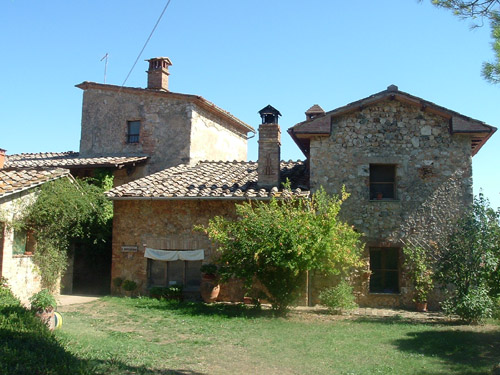 Just in time for a quick nap and dinner. It was Alfredo's turn to cook that night. On the menu was Mediterranean shark braised with garlic, tomatoes, and olive oil; penne with tuna, capers, and tomatoes; boiled head-on prawns; sautéed peppers; braised beans with tomatoes (yes, it was tomato season); homemade cheese; salad; and of course, wine.
Dinner is served on a cart, buffet-style. I thought I got a photo of the separate dishes, but I guess I didn't. Here's my plate:
What a nice way to start our vacation.
They make their own wine, and had only red left since they ran out of white a few weeks ago (grr…Amy said it was really good). But they took out the rosato, which they save for special occasions.
Oh, so good to be back. This is one of my favorite places on earth.
Day 2 - our first full day in Italy.
We decided to take it easy that day and refamiliarize ourselves with the farm. Breakfast was just caffé with some bread, with honey and jam.
More views of Bagnaia:
The vineyards:
Nearby villa:
Lunch was made by Alessandra.
The cart: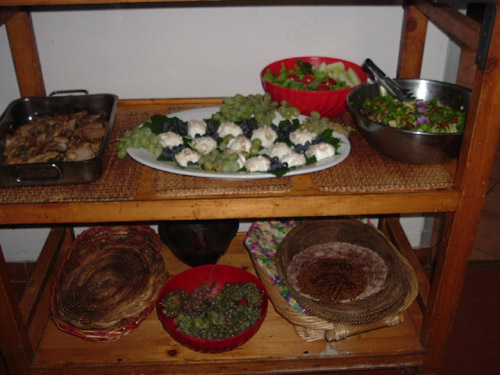 White bean dip and pesto.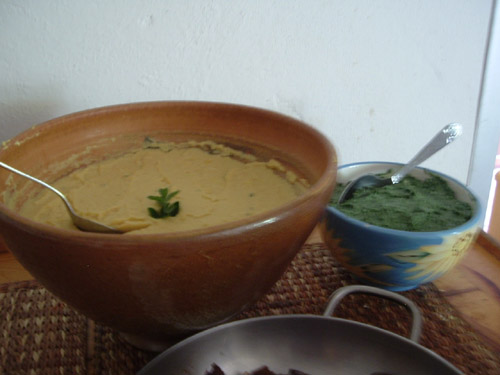 Timbale (rice with tomatoes, peppers, and onions)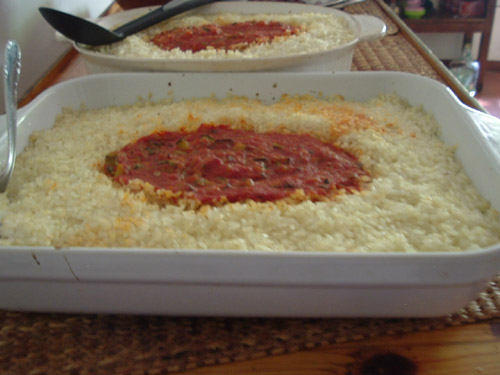 Roast pork with rosemary.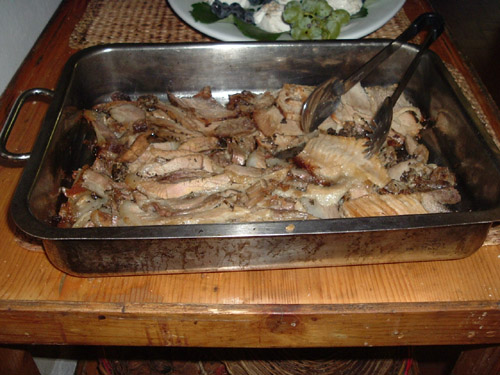 Pies with carmelized onions and a spinach "quiche".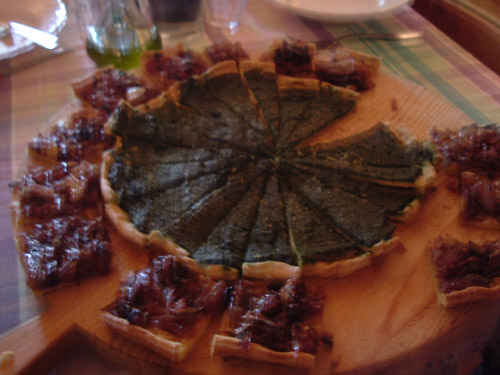 Cheese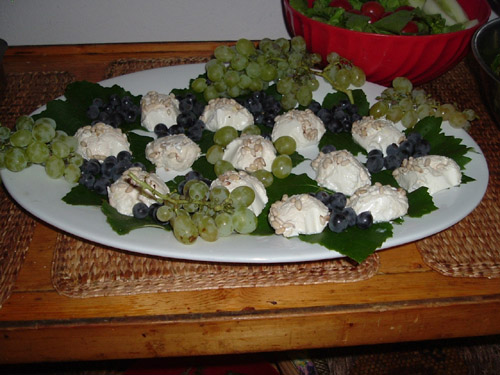 There were other cheeses, as well as salad.
For dessert, apple-raisin bread pudding and ricotta tart.
...and assorted pastries.
For the record, they don't usually eat like this for lunch.
In the evening, we went to Sovicille, where they were holding an organic fair.
There was a stand selling pork products: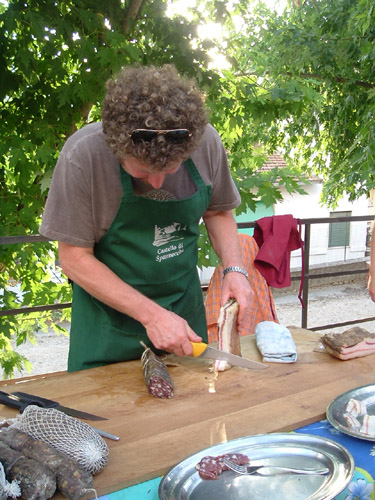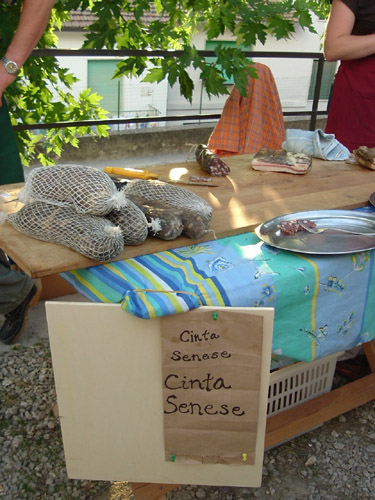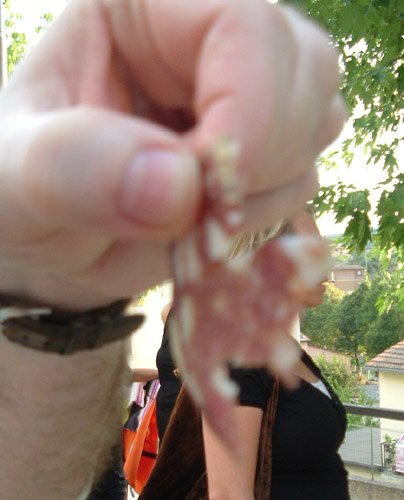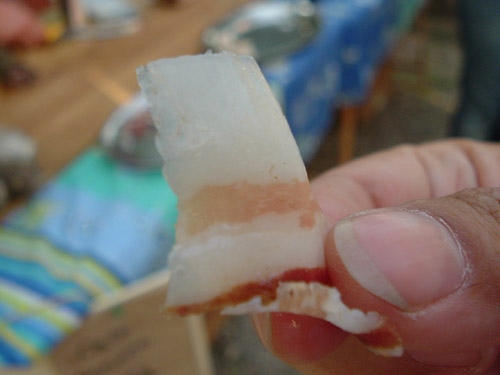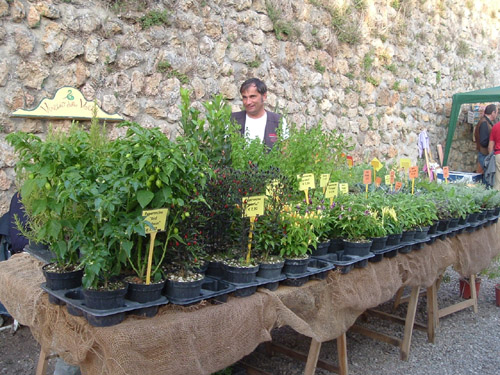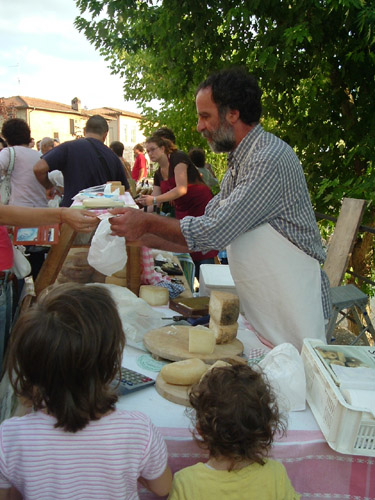 This was Bagnaia's stand: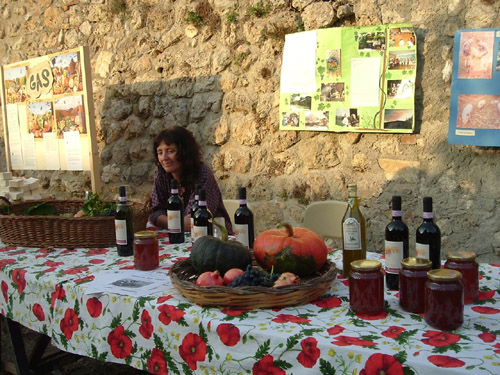 At night, Alfredo wanted to take us to this osteria in a town called Chiusdino for a light supper.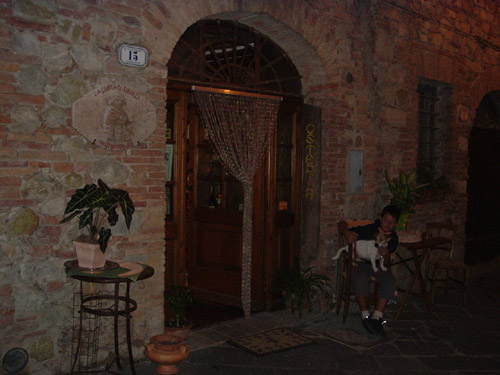 Pretty cool little place. It also sold meats and wine.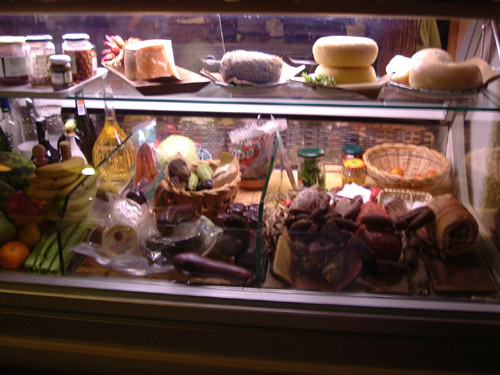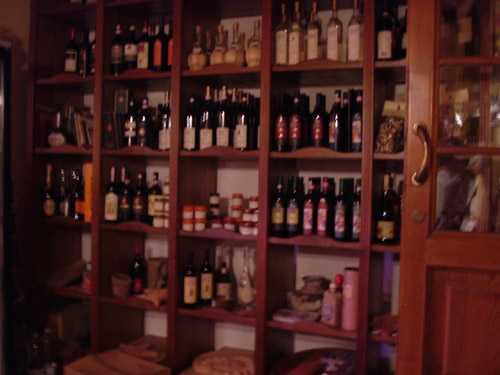 The restaurant used to be part of a larger estate. This used to be the storage cellar: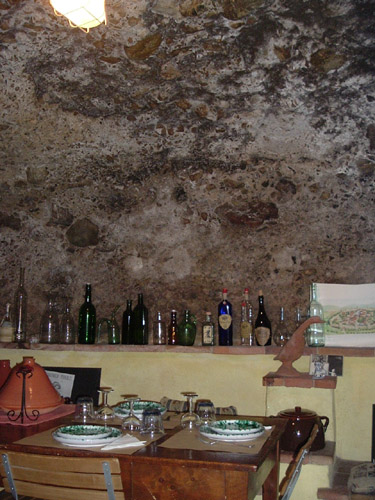 And the well.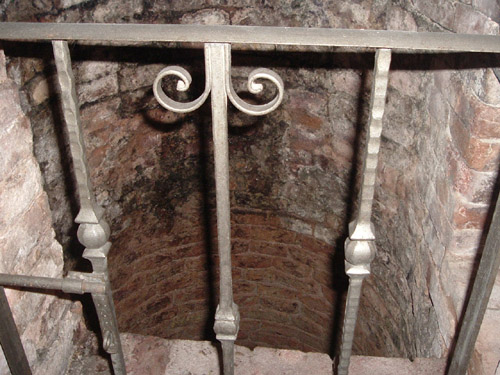 The menu: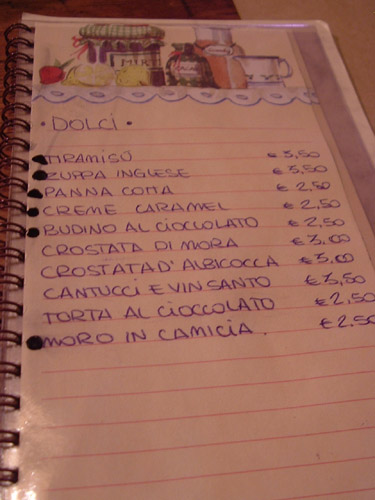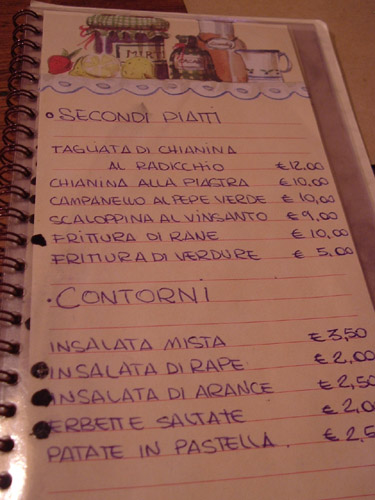 Crostini: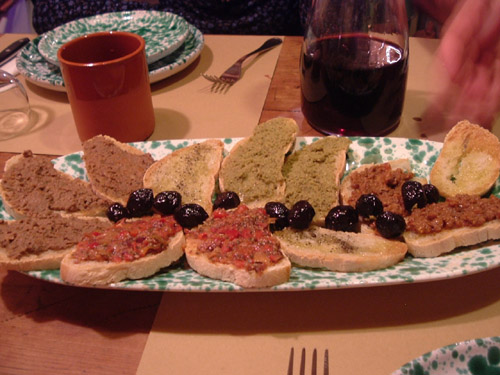 Our primis:
Tagliatelle al funghi e panna - so rich and tasty.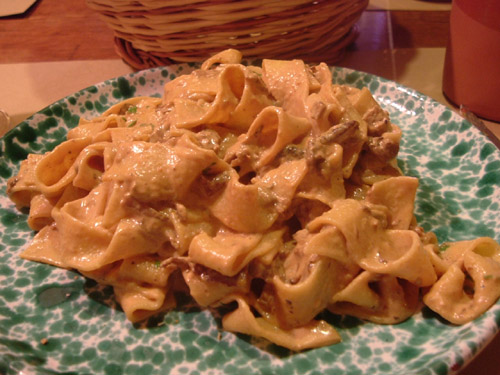 Spaghetti nera alla bottarga - a little salty, but delicious.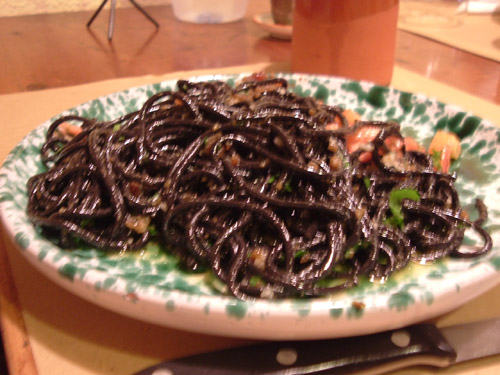 Bucatini al sugo di prosciutto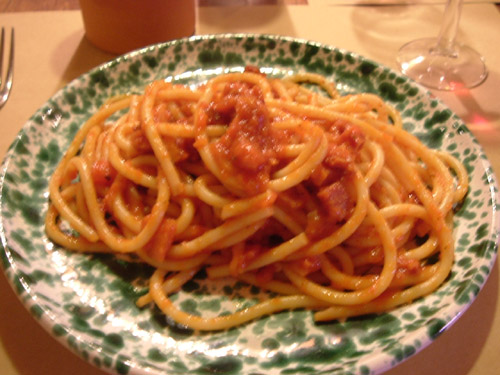 Spaghetti al scoglio (sorry a little blurry) - so good.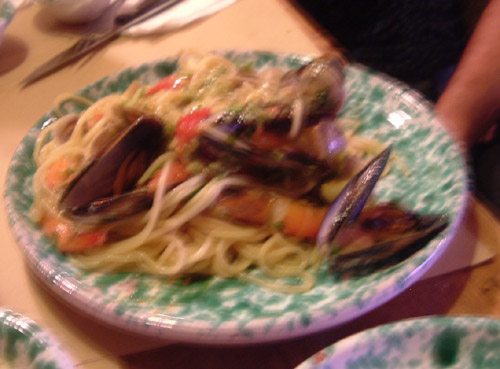 Fusilli alle zucchine. Haven't had that combo before. Creamy and delicious.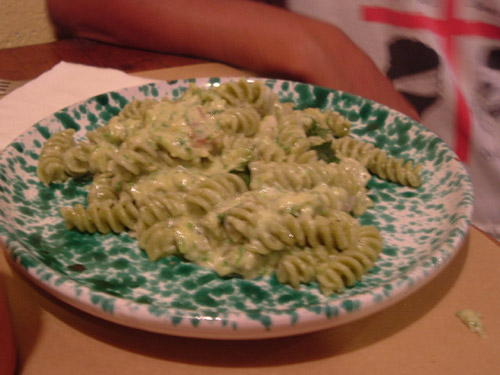 Sottaceti e Sottoli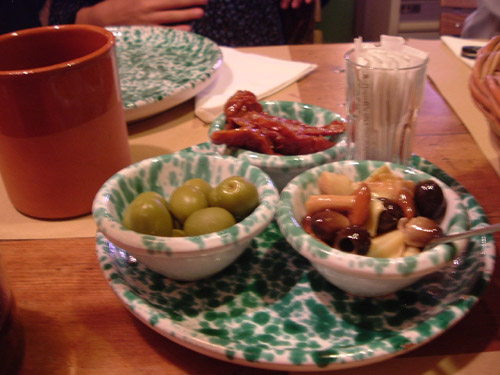 salad: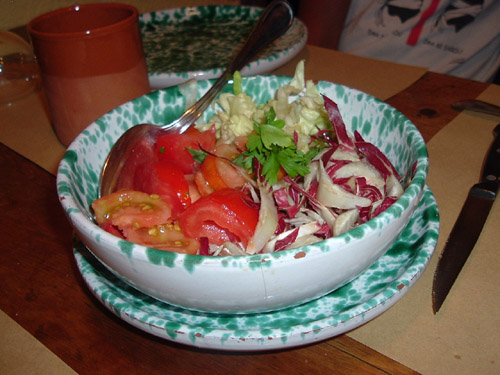 Almost too full for a secondo, but we did manage to fit in one order of tagliata di chianina con radiccio. Really, really tasty.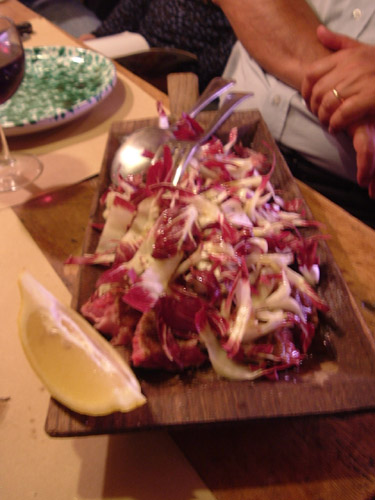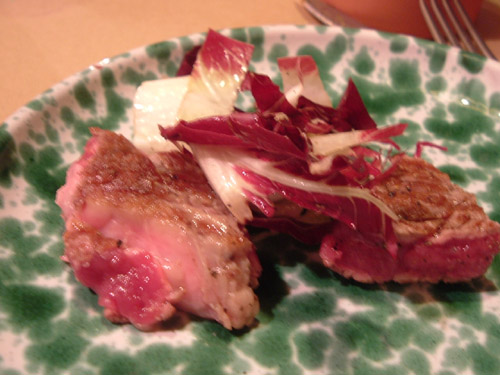 But too full for dessert.
Until tomorrow's meal.