(NB: This comprehensive index was prepared by Chris Hennes.)










Charcuterie
The Craft of Salting, Smoking, and Curing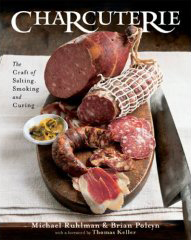 Michael Ruhlman and Brian Polcyn
Published by W. W. Norton (November 21, 2005)
Forward by Thomas Keller
The original "
Cooking (or curing) from Charcuterie
" topic is one of the all-time most popular topics on the eGullet forums, and the depth and breadth of information in it is truly astonishing. What follows is a list of commonly asked questions with links to the post (or posts) that best answer the inquiry. In addition we are providing a table of contents below with links to some of the most thorough results posts for each recipe.
The original topic has been closed, and as discussion continues on
this new topic
,
we ask that posters keep their posts focused on recipes and techniques from the book itself
, and small modifications to those recipes. As this book seems to have sparked (or at least fanned the flames!) of a tremendous amount of interest in charcuterie, most individual charcuterie items have other topics devoted to them: you can use the
eGullet forums search engine
top help you find the best place for your post.
Thanks, and happy curing!
Other Charcuterie-related Topics to Consult










Topic Index










Frequently Asked Questions
Salt Curing FAQs
General Sausage FAQs
Dry-Curing FAQs
Equipment FAQs
Mold FAQs
Smoking FAQs
Misc. FAQs










Miscellaneous Information










Table of Contents (with links to a few detailed posts)
NOTE ABOUT POST SELECTION: The most appropriate post from the original topic was chosen to represent each recipe. Criteria for selection: 1) Includes photos, 2) is a recipe from

Charcuterie

with only minor modifications, and 3) is well-documented. Nominations for recipe analysis posts (from either the original topic or the new one) should be PM'ed to Chris Hennes or any other Kitchen Forum host.
1. Introduction
2. Recipes for Salt-Cured Food
3. Recipes for Smoked Food
4. Sausages
5. Recipes for Dry-Cured Food
6. Pâtés and Terrines
7. The Confit Technique
8. Recipes to Accompany Charcuterie