Before I started cooking I did a comparison between pre-cleaned frozen squid from the supermarket and whole frozen squid from my fishmonger. 
The pre-cleaned squid was farm-raised in Vietnam.  It sold for 3.99 for 12oz. I didn't get a photo of the packaging, but the tentacles were separated from the bodies and packed into a separate compartment in the box.  These squid were really tiny, which I found was not as desirable as larger squid due to the shrinkage that takes place during cooking-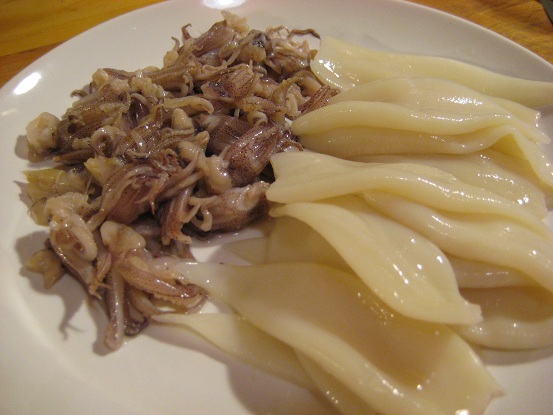 I bought a 3lb. box of frozen whole squid from the fishmonger.  It was slightly cheaper than the pre-cleaned squid from the supermarket. They're from a California company-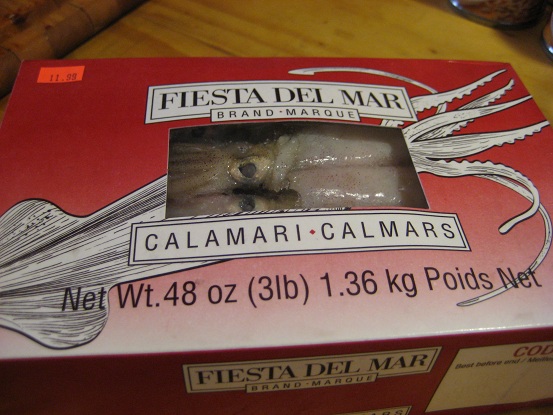 The whole squid were about twice the size of the pre-cleaned squid, but certainly not as convenient.  I've cleaned a lot of squid so I don't mind the time it takes to cut the tentacles off the head, pull the skin layer of the body, pull out the innards and then pull out the quill. If you're a novice at cleaning squid, the box has clear instructions. 
The uncleaned whole squid-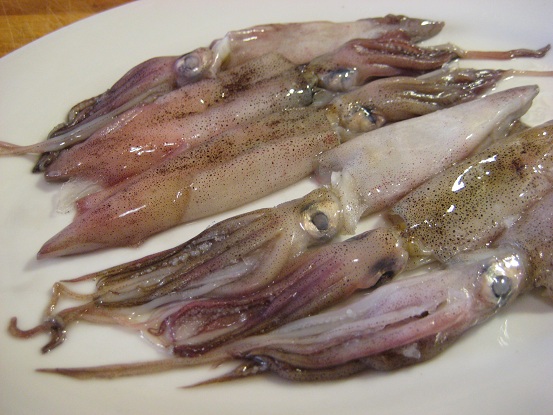 And the cleaned squid with tentacles, and bodies cut into thick rings-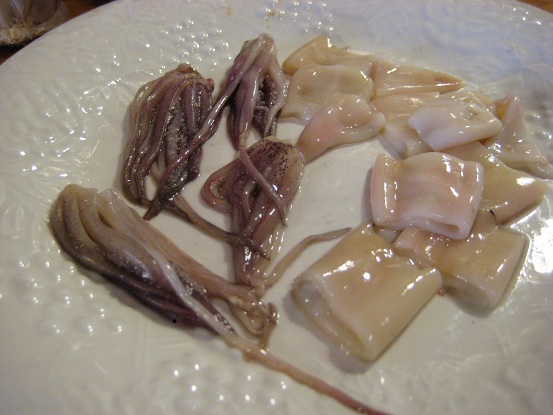 Whenever I buy the pre-cleaned stuff I'm disappointed.  It's puny and doesn't have much flavor.  One wonders how long it's been sitting in the freezer case at Safeway.  The whole squid always taste fresher, (albeit they've been frozen), and the size advantage makes a difference in the end result of my cooked dishes.