I've just arrived home from my first trip to Taiwan (in fact, my first trip to anywhere in Asia). With me were my husband, Keith, and my parents. My mom grew up in Taipei and was a great guide for our trip. Also, my best friend's parents are currently living Taipei, so she was there for the holidays too. We went touring with her family one day and ate like royalty

The amount of food in Taipei is truly astounding. I don't think you can walk a single block without passing a food cart, restaurant or other food store. We got some great suggestions from eGullet, and our goal was to try as many things as possible. Some of the highlights were:
Markets (fruits, veggies, fish, etc.)
Dim sum
Spicy hot pot
Soup dumplings
Street snacks
We arrived late in the evening of Dec 24. My dad's actually teaching in Taipei this year, so we had a place to stay. He had some sandwiches from a bakery nearby, so we had midnight snack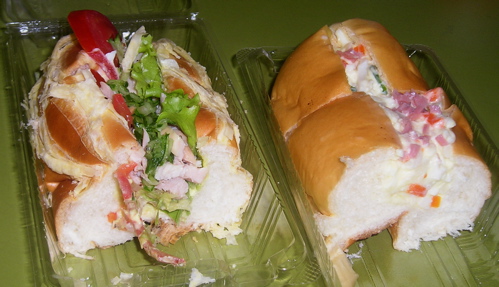 Chicken salad on the left, and egg salad with chopped ham on the right. The bread in Taiwan is usually soft buns...I don't think crusty european bread is popular there.