One of my co-workers is originally from Kurdistan, and I invited my self at her place for dinner, hoping she would make me something Kurdish and that I could learn something from her. And she did!
we made Patlican Borek (Eggplant pastries).
She had roasted 2 eggplants, wrapped in foil, in a hot oven until very soft. The skin is peeled off and the flesh is chopped up: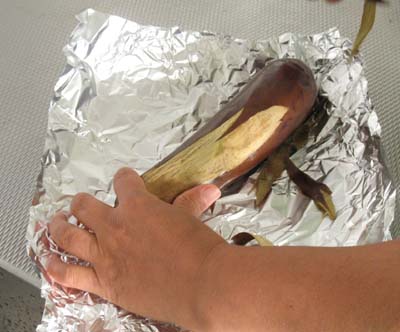 The chopped up flesh is added to a mixture of onion and ground lamb, sauteed until soft but not browned. I think there was about 250 grams of meat and 2 onions. The mixture is sesaoned with salt and pepper.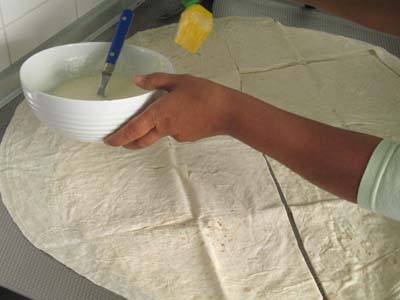 Yufkasheets. These are being smeared with a mixture of 5 tablespoons of joghurt, 3 tablespoons milk, 2 tablespoons of oil, and 1 egg white.
The huge sheets ate quartered and each quarter is filled with the meat/eggplant pix and rolld into large pastries. These are placed in a baking dish.
The remaining eggyolk is mixed with some more yoghurt and poured on top: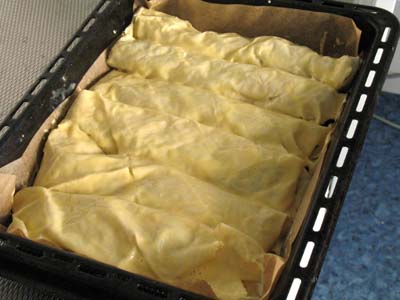 Then baked in a medium oven until golden brown. While that was baking we had the first part of dinner.
She made a golden bulgur pilav with peppers and tomatoes. And a simple beef stew, that I am sure had some sort of secret ingredient because it was so rich and flavorful, but she said it was just beef, tomatoes, onions and mushrooms. A herb salad of parsley, springonion, coriander and onion. And a cacik (joghurt, cucumber, garlic and dill)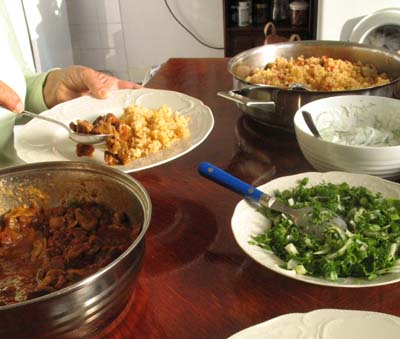 Borek when they came out of the oven: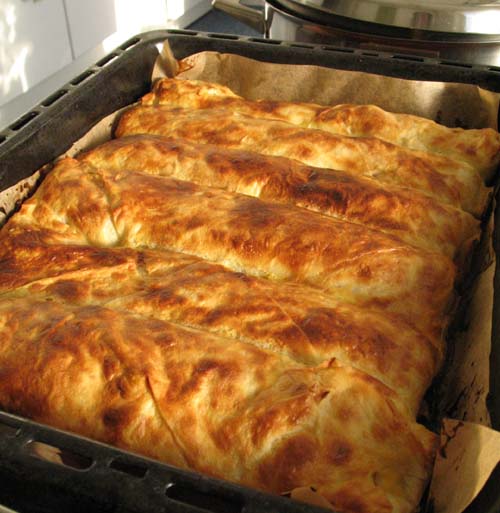 These were utterly delicious and I ate much more of them then was good for me

What I found fascinating was how all the dishes were spiced with nothng but salt and pepper. There were fresh herbs, but they were on the table almost as a dish in their own right, instead of incorporated into the food. Had I been making the borek from a recipe, I would have been strongly tempted to add herbs or spices to the filling. But it was just perfect as it was, with nothing but meat, onions, eggplant in the filling.
we were talking about Kurdish cuisine and she told me that Kurdistan has very different cuisines in different regions. The mountainous area where she's originally from, is known for it's simple food, with an emphasis on meat and salty flavors, whereas 100 miles down the road the food can suddenly turn extremely spicy.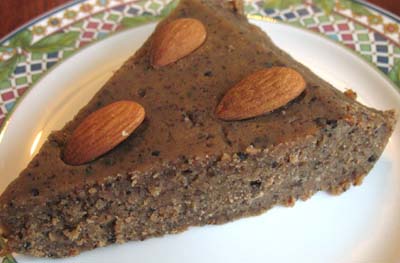 Dessert was a "nontraditional helvah" made by one of my co-workers friends, also Kurdish but born and raised in Belgium. It was a wonderful evening and I hope these girls will share some more of their recipes with me soon!