Steamed Shrimp with Garlic (粉絲蒜蓉蒸蝦)
This classical Cantonese steamed shrimp with garlic dish takes a little bit of work - mostly for slicing each shrimp in half. The rewarding taste of fresh shrimp in rich garlic steamed to perfection is well worth it. The mung bean threads placed at the bottom of the dish would soak up the juice from the shrimp and they taste wonderful.
Picture of the finished dish: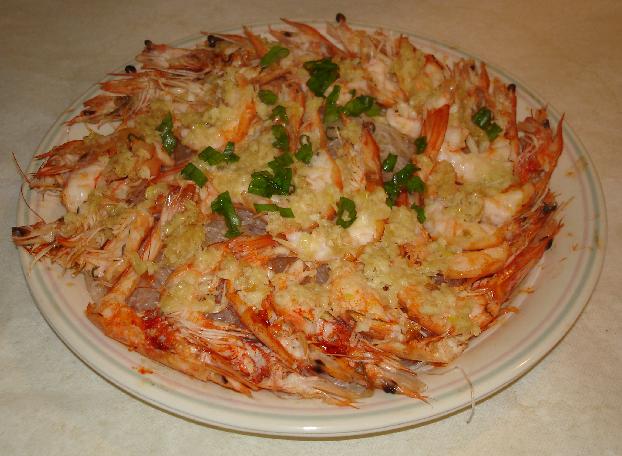 Serving Suggestion: 2 to 3Preparations:
Main ingredients: (From top right, clockwise) About 1 1/4 lb of medium size shrimp (with head). The larger the size the better (less work). About 1/4 of a stick of butter. At least one whole head of garlic (or maybe even 1 1/2). 3 bundles of dry mung bean threads. Some salt and light soy sauce. Not shown: 1 - 2 stalks of green onion.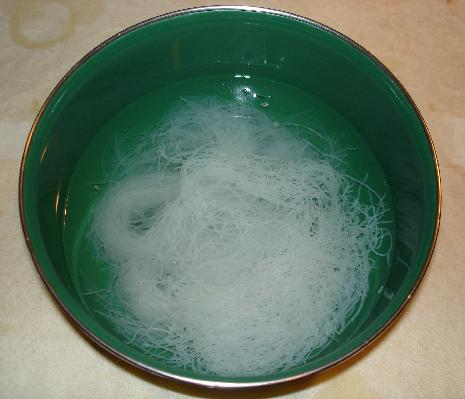 Soak the mung bean threads in warm water for at least 2 hours before cooking.
This is the time-consuming part: cut each shrimp right in the middle into 2 halves.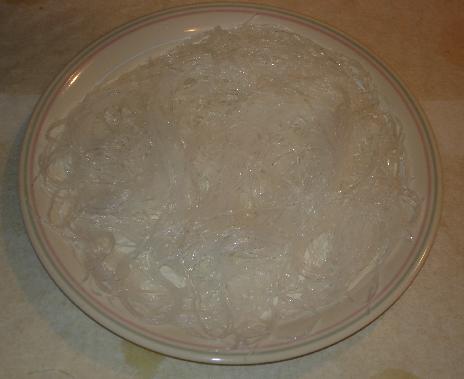 Use 2 steaming dishes/plates. Drain the soaked mung bean threads and lay half of them on each plate.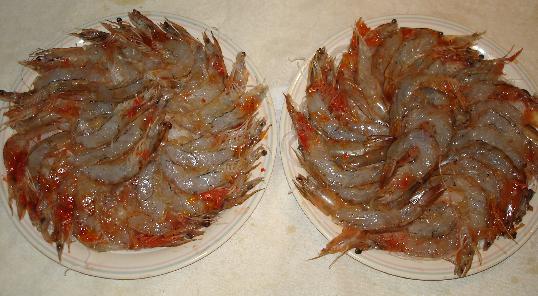 Lay the halfed shrimp on each plate. It is easier (and better for presentation) to lay them one by one next to each other, with one plate of shrimp going clockwise and the other counterclockwise.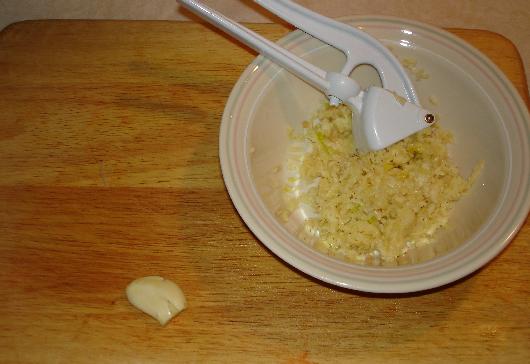 Peel the garlic and mince them with a garlic press. Use at least 1 whole head of garlic. May be even 1 1/2 to 2 heads. You cannot get too much garlic with this dish.
Also, finely chop 1 to 2 stalks of green onion.
Cooking Instructions:
Use a wok/pan. Set stove at high. Wait until pan is hot. Add 3 tblsp of cooking oil. Slice the 1/4 of a stick of butter and melt it in the cooking oil.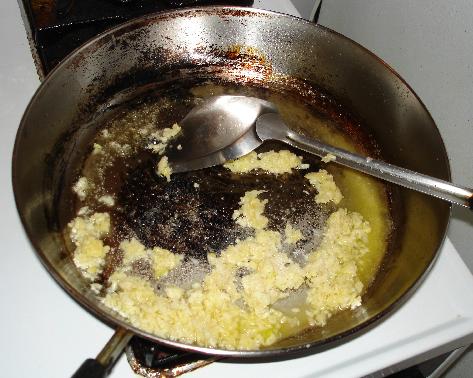 Add all minced garlic. Add 2 to 3 tsp of salt. Sautee the garlic for about 2 minutes.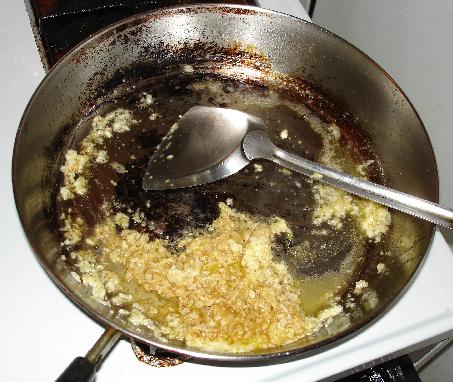 Dash in about 2 tsp of light soy sauce. Stir well.
Use a small spoon to spread the butter/garlic/salt/soy-sauce mixture onto the shrimp. Try to spread as even as you can.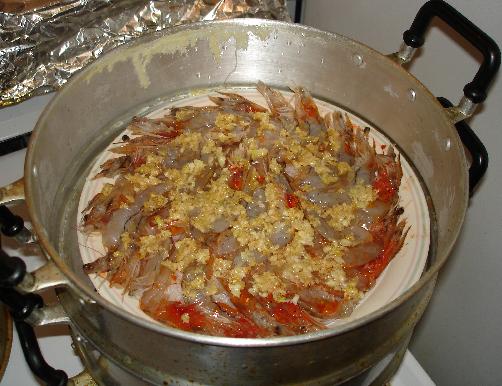 Use a double deck steamer (or steam the 2 plates separately if you don't have a double deck steamer), pre-boil the water. Steam the plate of shrimp for about 10 minutes.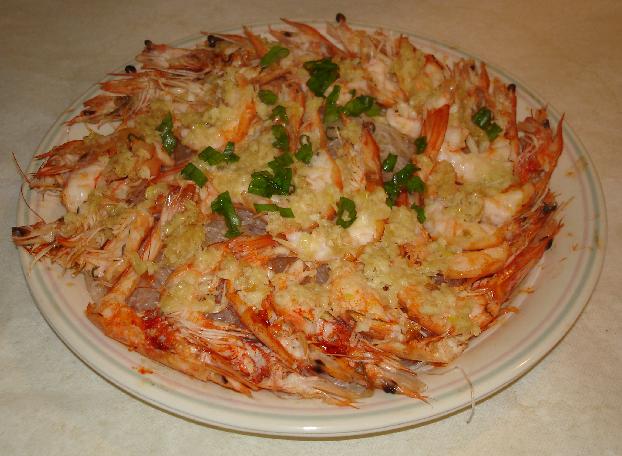 Finished. Sprinkle some chopped green onions on top before serving.