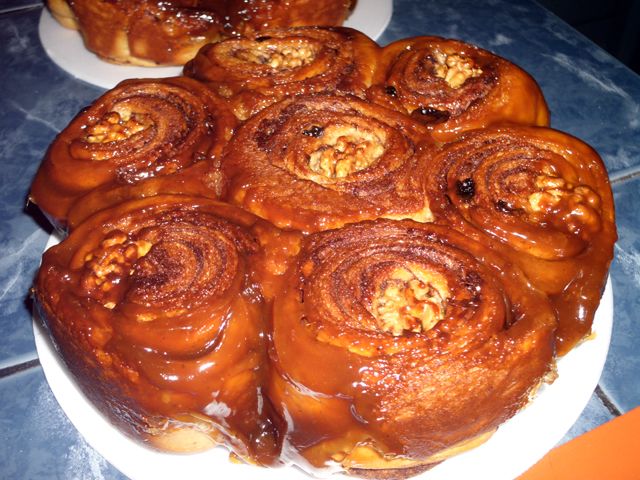 A slightly less heart-stopping version of a classic.
Ingredients - Dough
4 C unbleached all-purpose flour
1 C quinua flour *
1 C panela / piloncillo / demerrera / the darkest brown sugar you can find
2 C tepid water
1/2 oz active dry yeast
8 TBSP light extra-virgin olive oil, plus a bit more (see instructions)
Ingredients - Filling
1 block (about 6 oz) bittersweet chocolate, grated
6-8 TBSP panela / piloncillos / demerrera etc.
3 TBSP ground cinnamon
1 TBSP ground ishpingo (optional - it's not available outside of Ecuador)
A handful of golden raisins (optional, but I really like them)
1/2 C finely-chopped walnuts (optional)
Ingredients - Caramel (optional, but very tasty)
1/4 C panela / piloncillo / demerrera etc.
1/2 C light corn syrup
1 TBSP butter, melted
Hardware
Mixing bowls
Measuring cups
10" round, deep pans (or deep-dish pie plates)
Measuring tape
Sharp knife
Method
1. Sift the flours together.
2. In your choice of cup or bowl, mix the water and the sugar together, then add the yeast. Allow to bloom 10-15 minutes (or until you've got a good froth going)
3. Stir the yeast up, then add it to the flour along with the olive oil. Knead until slightly elastic and resilient. This is a fairly slack dough with a texture similar to brioche, and because of the sugar it will never get to the point where it's not slightly sticky.
4. Lightly grease your bowl with a bit more evoo, and slip the dough into it. Set it in a warmish, non-drafty place to rise until slightly more than doubled in bulk.
5. Punch down and divide into two balls (use your scale to make sure they're even. When I do this, they're about 1 lb 8 oz each.)
6. Roll one ball into a rectangle roughly 14" by however long, and about 1/8" thick.
7. Brush the surface of the dough with a bit of evoo, then sprinkle about half of the filling on and spread it around until it's fairly evenly distributed. Sprinkle on the raisins and nuts if you're using them. Leave a margin of about 1/4" at the edges of the dough.
8. Starting on the shorter end of the rectangle, roll up the dough.
9. In a bowl, mix together the ingredients for the caramel.
10. Grease the pans well. Then divide the caramel between the two, spreading it so that it covers the bottom of the pans.
10a. If you're like me, now place 7 walnut halves upside down into the caramel - one in the center, and six around it. This is an optional step, but I'm really fond of pralinized walnuts on top of my buns.
11. Measure the roll, and divide it into 7 sections. Place each section in the pan - one in the center, and six around it. Press them down slightly so that they're touching.
12. Cover the pans and set them aside to proof for about 20-25 minutes, or until poofy.
13. Heat your oven to 350 F / 180 C
14. Bake 30 minutes (this is for my altitude - yours may take longer if you're closer to sea level) or until the tops of the buns are lightly golden.
15. Unmold almost immediately onto your choice of a wire rack or a foam cake base (I use cake bases) - this prevents the caramel from sticking to your pan.
* Quinua flour can be hard to source outside of South America. Good substitutes include Amaranth, Millet, and Spelt.