I've made my fist
chiffon
tonight. I had eaten many, but had never done one.
I started by a cocoa
chiffon
. The result surprised me A LOT - it was even better than all those I had eaten before and made by other people. It was really soft and wet... oh God, there goes my diet!
I've covered it with a
chocolate
meringue, based on a simple italian meringue to which I added melted
chocolate
+butter.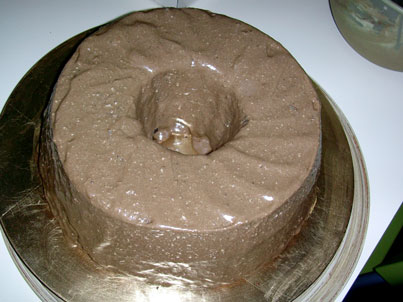 I'll share my
recipe
with you so that we can compare recipes and maybe achieve an even better one.
I've used:
Dry items :
180g wheat flour
2 tsp baking powder
50g corn flour (MAIZENA, is it known on your countries?)
70g cocoa powder - I've used Valrhona
350g yellow sugar
Wet items:
7 yolks
8 whites
125ml corn oil
200ml water
And this was the result....
Edited by filipe, 17 January 2006 - 03:29 AM.