[Moderator note: The original Bentos topic became too large for our servers to handle efficiently, so we've divided it up; the preceding part of this discussion is here: Bentos (2003-2008)]
I'm now much more informed and rather well outfitted with a ton of bento accessories, thanks for your help Erin, and the kids are loving it. Here's some photographic evidence of happy children: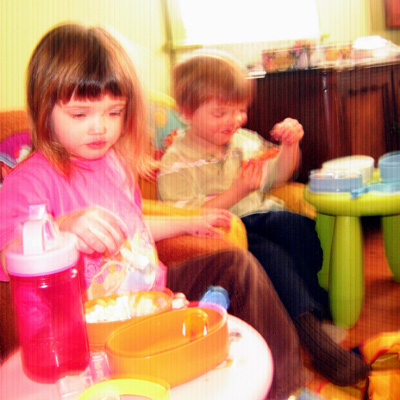 That was an hour ago, the shot looks weird not because of Photoshop editing but because the batteries were failing - another new experience.

Here are my current impressions of bento:

1. Creative potential is immense
2. Logical use of leftovers
3. Total control over portion size and content
4. You get out of it what you put into it, like everything else in life

I'm sure I'll come up with some ill-informed questions soon, thanks in advance Kris, Helen, Hiroyuki, Nakji, et.al.