Last night I had the opportunity to visit Dutch Kills -- one of the City's exciting new bars, and the first serious cocktail joint of which I am aware to break ground in Queens. This is great news for those of us who live in neighborhoods that are not conveniently situated for transportation to/from the Downtown cluster of cocktail spots, and really it's quite convenient for most anyone in the city. It took us 30 minutes door-to-door from the Upper West Side, and Richie Boccato (more on whom anon) says it's an even faster ride for him all the way down and across town to Little Branch. This is because Dutch Kills is in Long Island City near the Citicorp building, not coincidentally in a neighborhood formerly known as
Dutch Kills
. If you've ever looked at an
MTA New York Subway Map
you may notice that Long Island City is a cluster of subway lines leading to virtually every part of the City. Dutch Kills is convenient to the E, V, G, N, R, W and 7 trains, not to mention a half-dozen bus lines.
The bar itself is both industrial and refined, opulent and unassuming -- all characteristics that will be familiar with anyone who has visited any of the other bars sprouting from Sasha Petraske partnerships. But Dutch Kills may be the most interesting. The entrance is a simple door on the side of a brick warehouse building emblazened with an industrial yellow sign advertising the presence of "Blue Prints Engineering, PC." Above the door is a simple neon sigh that reads: "BAR" in keeping with the usual aesthetic of understatement in this group's bars, and in complete harmony with the industrial feel of the neighborhood. Richie told me that he hopes to wire an interruptor to the sign at some point so that the letters will occasionally flicker and blink. All of which is to say that you wouldn't be surprised if you stuck your head in the door and saw a few dozen construction workers sucking down suds.
Instead what you get is a long narrow room with a low ceiling and polished wood booths of various sizes for table service. Further back this opens up into the bar area with 7 or 8 bar stools, a beautiful polished wood bar with chalkboards behind, and dramatic 18 foot ceilings. Beyond that is a small "lounge" area with sawdust on the floor and an upright piano (belonging to the Boccato family), which will be home to live ragtime/trad jazz music. Throughout, the walls are paneled in rich, polished dark wood. Throw in the bartenders with their short ties and arm garters, and Dutch Kills is as old school as old school can be.
While we're talking about old school, let's talk about the cocktail program. That's the real reason to visit, of course. As with most other Petraske-school places, Dutch Kills is not a spot for evolved modern mixology. You won't find fat wash drinks or many "new old school" cocktails at Dutch Kills, such as you might find at PDT or Pegu Club, et al. What you will find are impeccably curated ingredients available in an astonishing variety of classic cocktails and new cocktails in the classic style, all served in properly chilled, distinctive glassware with custom-cracked lumps of crystal-clear ice. Former Flatiron Lounge and Clover Club ace Giuseppe Gonzalez is often found behind the bar, among other talented barstaff, and Richie Boccato is everpresent shaking cocktails in the service area, consulting customers in the seating area and in general making sure everything is as it should be. Dutch Kills is very much Richie's baby and his influence pervades the bar. Hey, the guy put up the paneling himself! Although most of the publicity is calling it a "new Petraske bar," and I'm sure Sasha had a hand in its development, it seems apropos to call it Richie Boccato's bar.
As with most of the bars in this family, there isn't much of a "menu" to speak of. Currently a half-dozen Dutch- and Queens-themed cocktails (e.g., Queen's Park Swizzle, Netherland Cocktail, Steinway Punch, etc.) are featured on the chalkboards behind the bar and on Dutch Kills-logo cardstock specially designed with "fill in the blank" spots to write in the date, featured cocktails, wines and beers on offer. I haven't asked, but assume that this system means that the featured cocktail list will change with some frequency. Of course, as always, customers are encouraged to discuss their preferences, avail themselves of the bar staff and go "off menu" to whatever extent they desire.
While Mrs. slkinsey and I were there last evening, we had a Netherland Cocktail, a Mamie Taylor, a riff on the Martinique Daiquiri using an aged Puerto Rican rum, an Alaska Cocktail, a Holland Razor Blade, an Air Mail, a Dutch Julep (genever), an absolutely textbook Ramos Fizz. . . and probably a few more I can't remember for all the obvious reasons. Each one was expertly crafted, and we had the pleasure of light conversation with Giuseppe and watching him work as he chipped blocks of ice to fit the shaker and the various glassware required for each customer's drink.
The ice, as one might expect, is outstanding. They have twice-weekly deliveries of crystal clear 300 pound blocks of ice, which are broken down into lumps and pieces of various sizes and configurations depending on how it will be used. There are no open ice bins, and all the ice is stored in in freezers prior to use. The sole exceptions are a few giant hunks of ice off to the side of the bar that can be used in certain rocks drinks, but which I suspect are also "on display" at least as much to let the customers see the incredible ice than for any real use. These are some big chunks of super-cold, super-dense ice they're using over there, which offers them all kinds of advantages. Whereas really cold "normal" ice might shatter in the shaker, this ice is so dense that these guys can put one mammoth lump into the shaker, jackhammer like crazy getting a lot of movement, and end up with very cold, nicely aerated and never overdiluted drinks every time -- all made possible by the colder temperature, better density and physical size of the ice. Richie and Giuseppe took me around to see the several huge chest freezers full of broken-down block ice in the back, and it was pretty impressive. I'm hoping to come back sometime soon to photograph or perhaps even take some video when they process the ice, which I think would be of great interest around here.
Many of the bar fixtures aren't quite finished. They are still awaiting installation on their draft beer setup (yes, they will feature 4 beers on tap), and the sinks/speed rails are more or less templates of what they eventually want to have. To a certain extent, this offers them some flexibility in modifying the configuration depending on what they discover works best before it's set in stone (or stainless steel, as the case may be). Still, even just as it is, the setup is very nice. Each station is well designed, including a large freezer containing glassware, various special shapes of ice, and a platoon of extra-thick tempered glass mixing vessels for stirred drinks. It must be a pleasure behind the bar. In many ways, the whole design reflects a careful consideration of the lessons learned by Richie and the rest of the team through opening, operating and bartending in their several bars around the city. Even minor touches prove smart ones: Dutch Kills is a cash bar, and there is an ATM right there in the front. In addition, while Dutch Kills does not have a kitchen, they will be offering food in cooperation with nearby restaurant Sage.
I will post some of my (inevitably terrible) snapshots soon. Until then, you can see some good-quality representative shots
here
that show the bar in it's not-quite-finished state.
Oh.... and did I mention that cocktails are only
nine dollars?
Dutch Kills
27-24 Jackson Avenue
Long Island City, New York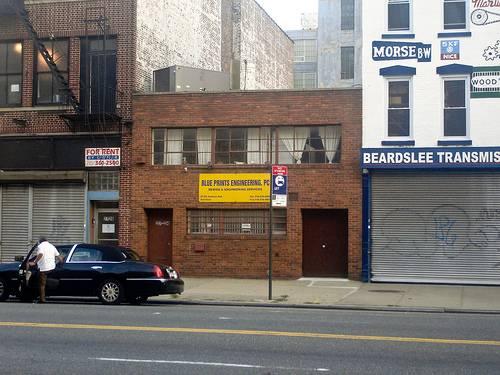 The "BAR" sign isn't up yet in this picture.
The entrance is the large door on the right.
(Edited to fix typos.)
Edited by slkinsey, 06 May 2009 - 06:52 AM.