As I live in Lorraine near to the border with Alsace, I thought I'd start a new thread on some restaurants on the area which is not otherwise very well represented in this forum.
We are a small group of English retired professionals. We have been eating out together regularly at restaurants ranging from lorry driver halts to starred restaurants for several years. I'll share some of them with you as we visit the both old favourites and new finds in the future months. We usually dine out at lunchtime given the travelling distances (and the winter weather if going over the Vosges).
---------------------
Last week we were at a one of our reliable favourites, the
Auberge Frankenbourg
, 13, rue du Général-de-Gaulle, 67730, la Vancelle (Michelin one star/GM 15). The Frankenbourg isn't difficult to find as there are only two restaurants in la Vancelle, a small village in the Vosges mountains foothills and to the west of Selestat.
The restaurant is in a family run hotel and the greeting on entering the traditionally styled dining room is always warm - not that the presentation of the food is Alsace traditional. It is wise to book at lunchtime as the Frankenbourg as it has a lot of business trade on weekday (although they can usually accommodate a one or two couples who just turn up); the exception is Saturday lunchtime when they are often very quiet.
The menus are changed weekly/fortnightly and range from a simple basic 12€ set lunchtime menu for those in a hurry through to le Decouverte at 60€. We often choose the 28€ Tradition d'Alsace set menu or the Tentation (33€) which has two choices for each course and includes a glass of wine with starter and main course. There is a reasonable selection of French wines, including a good Alsace list with prices starting at about 22€/bottle; there is a limited selection of wines by the glass. Given the driving distance, we usually dine at lunchtime.
We've got to know the staff well over the years. Madam has provided useful information to friends who have collected fungi in autumn and wondered about their edibility.
Last week we all chose the set Gourmet 44€ and, as usual, had an enjoyable meal with some interesting taste surprises in friendly surroundings.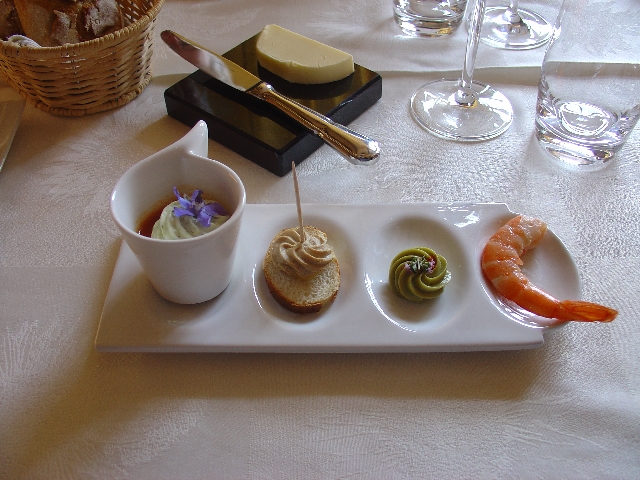 Amuse bouche - tomato soup jelly with herb cream + fois gras + guacamole + gamba
.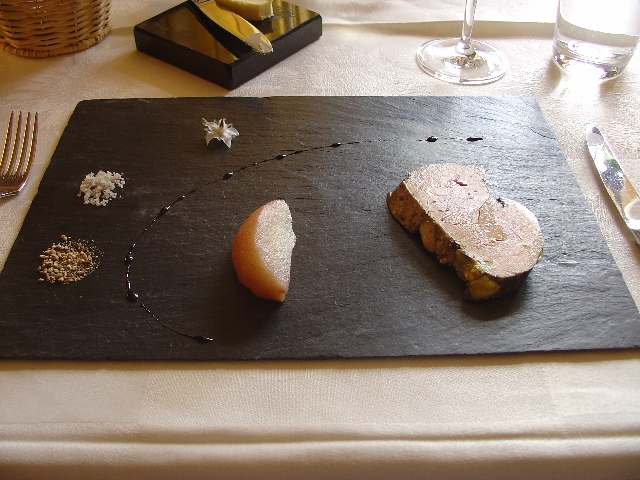 starter - Fois de canard poché à la vanille et vin de Maury, confit de poire ivre de vin
.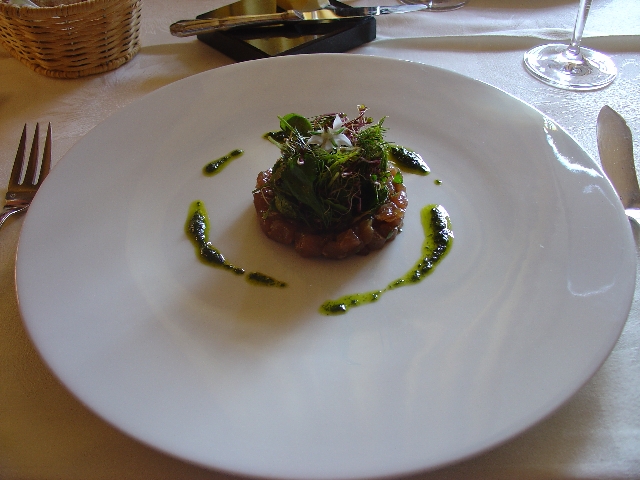 fish course - Tartare de thon à la coriandre, salade d'herbes et pousses en vinaigrette acidulée
.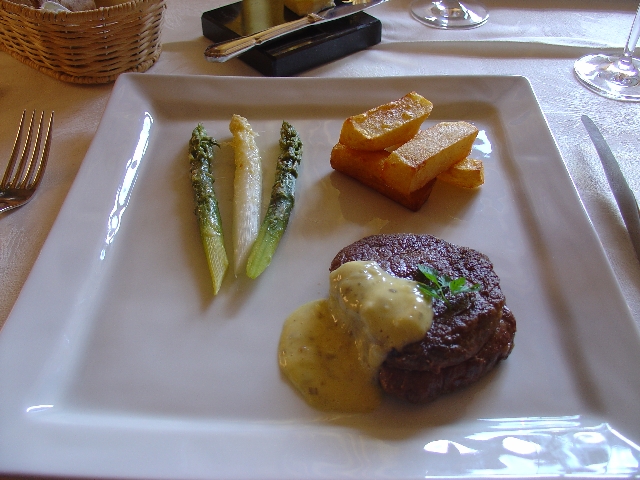 main course -Coeur de filet de boeuf, béarnaise, pommes pont neuf, pointes d'asperges au parmesan
.
cheese course - Comté, confiture de tomate verte
.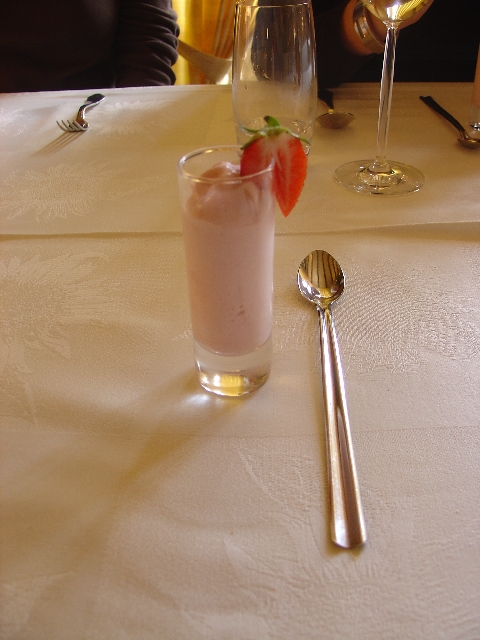 predessert - mousse de fraises
.
dessert - Pana cotta à la rhubarbe, madeleine tiède
.
or raspberry and pistachio mille feuille and pistachio ice cream (for someone who doesn't like rhubarb!)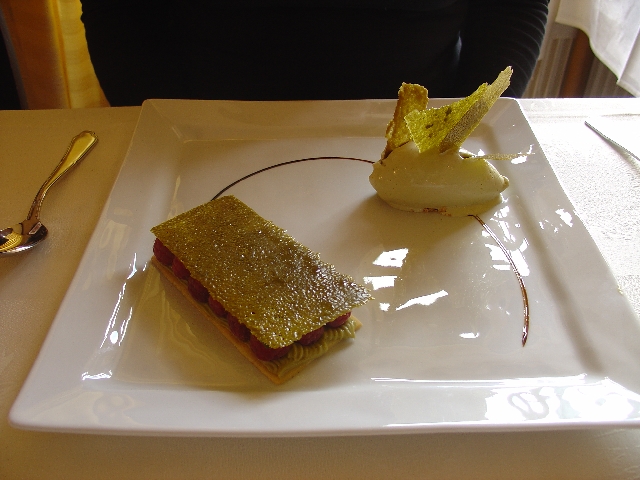 .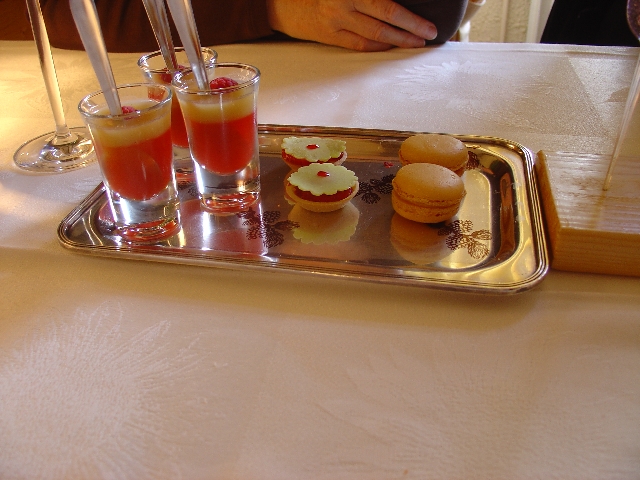 apres-dessert
.
and chocolate with coffee!