Crab with Ginger and Green Onion (薑蔥蟹)
Dungeness crab is in season. Live crab is on sale for only US$2.49 a pound. Can't miss this opportunity to make some crab dishes at home. Cooking live crab is a little bit of work, but the reward of eating fresh and sweet crab meat is well worth it.
Picture of the finished dish: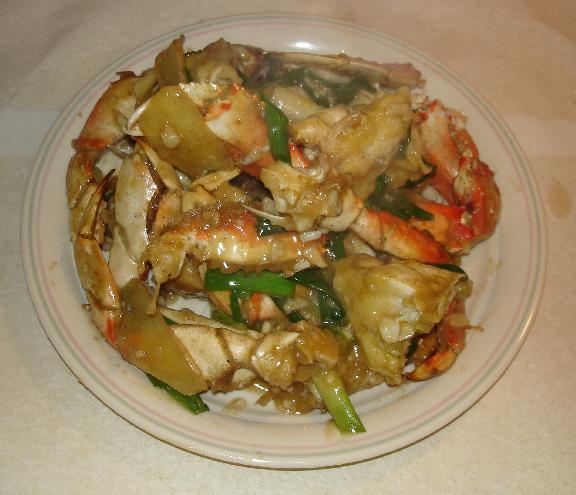 Serving Suggestion: 2 to 3Preparations:
The general rule for serving suggestion is 1 crab per person.
Main ingredients: (From right to left) 2 live Dungeness crabs, about 3.5 lb. Garlic, about 5 to 6 cloves. Ginger, about 3 inches in length. Green onions, about 10 stalks (small ones).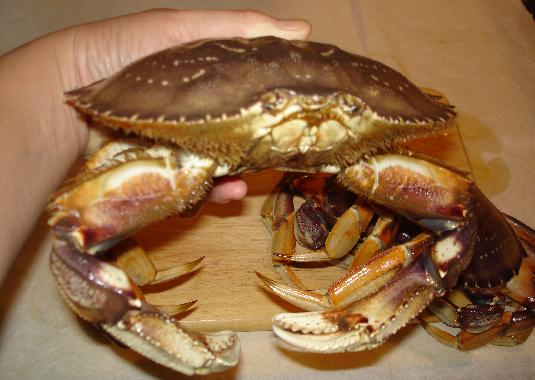 "... You want a piece of me? You want a piece of me??? Come and get it!"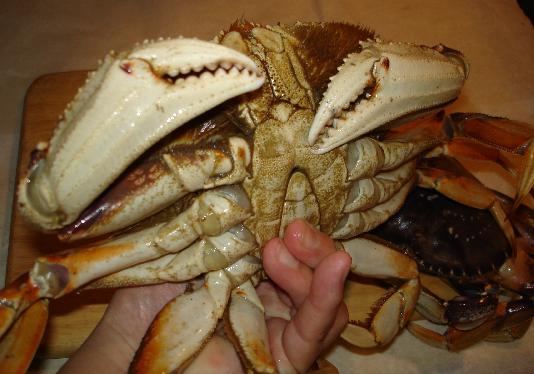 Live crabs are dangerous. Their claws can make a painful pinch on your fingers and their legs are pointy. You need to know how to handle them safely. You may want to ask the fish mungers to clean and cut them for you. I like to keep my crabs alive until cooking time.
To hold a live crab safely, you need to grab it from the back so that their claws cannot reach you, as shown in the picture.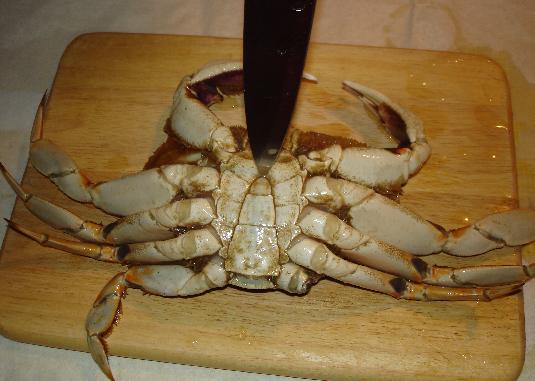 Where my knife is pointing to is the tail of a crab. After you kill the crab, you need to unroll its tail and break it off.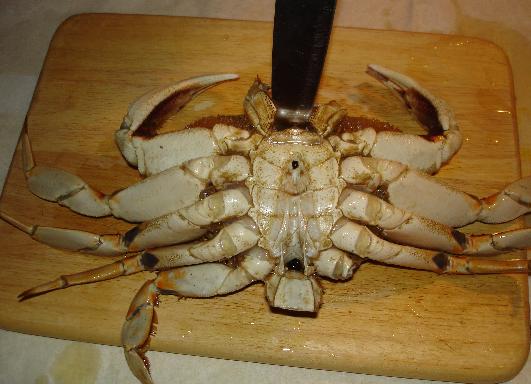 To kill a live crab, point your knife right underneath its mouth. Push the knief in by a few inches. Jiggle it a little bit. (You may need to use the left hand to hold down the crab while operating the knife with your right hand.) Remove the knife. Use your left thumb to poke into the hole cut opened by your knife and hold the crab bottom with the rest of your left palm. Lift it up. Use your right hand to grab the main shell. Tear the shell apart from the rest of its body.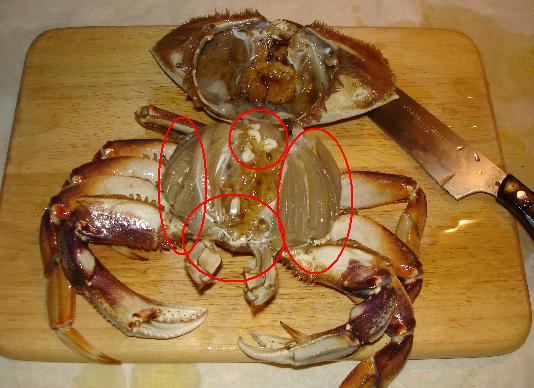 There are a few unedible parts (shown with red circles). The 2 circles on each side are the gills. Remove and discard. The lower circle around the mouth are also unedible. Use the knife to break some of the shells and remove the organs. The white curly part (upper small circle) are also some internal organs. Remove and discard. Anything that doesn't look like crab meat, remove and discard. Rinse under running water.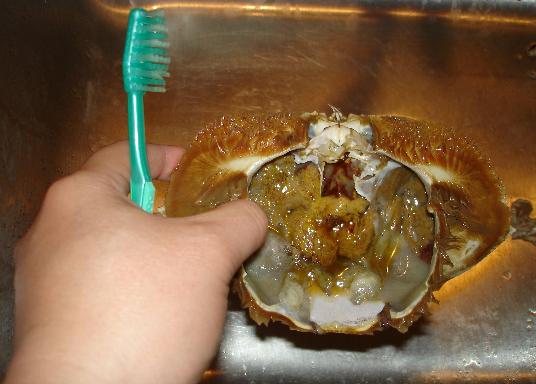 If you like to keep the main shell for plating, use a small tooth brush to clean the crab hair underneath the main shell. Be sure you remove and discard the white cloudy substance inside the shell.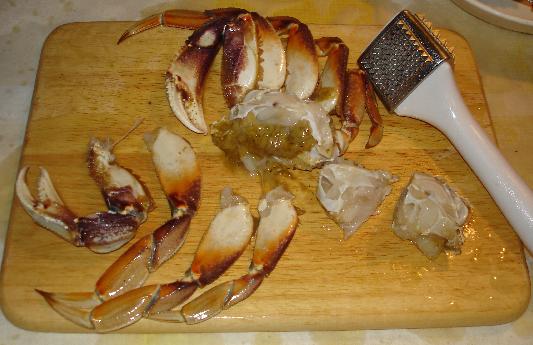 Cut the crab body into 2 halves right in the middle. Then twist off the claws and legs. Use the knife to cut off the big piece. Use a kitchen mallet or the handle of your cleaver to crack the shells before cooking.
Same treatment for the second victim. Prepare the other ingredients: Green onions - trim ends and cut at about 1 inch in length. Ginger: peel and cut into thin slices. Garlic: minced.
Cooking Instructions: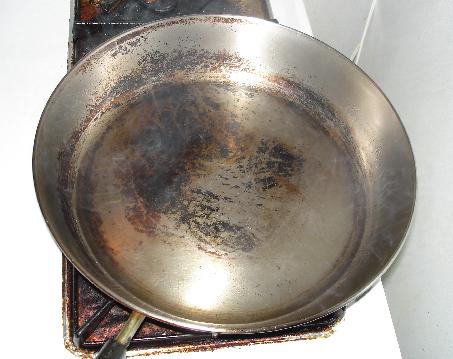 First: velvet the crab in hot oil.
Use a pan/wok, set stove at high, add a generous 10 tblsp of cooking/frying oil. Wait until oil start fuming.
Use a small bowl and add about 10 tsp of corn starch. Dust the crab meat with corn starch.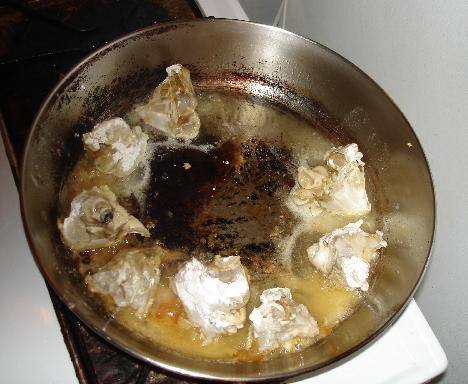 Place the pieces on the pan and fry the crab pieces for about 3 to 5 minutes.
Only need to use corn starch to dust the exposed crab meat outside the shell. When done, remove the crab pieces from pan and drain excess oil.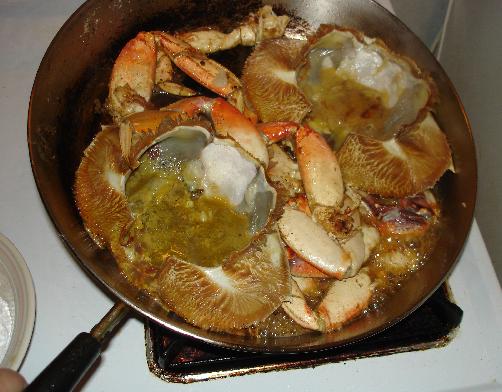 I need to cook the crab in 2 batches. I tossed in the 2 crab shells (upside down) to cook. (It's optional. Only if you care to eat it or use it for plating.) Remove from pan when done.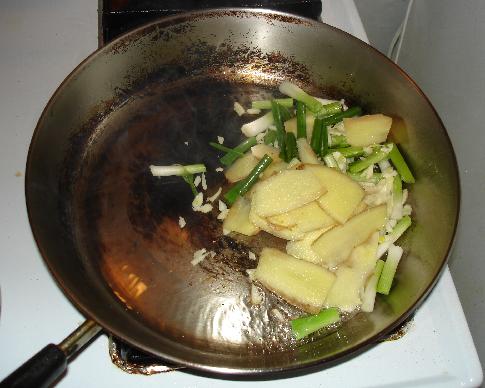 Start with a clean wok/pan. Add 3 tblsp of cooking oil. Wait until oil starts fuming. Add minced garlic, sliced ginger and half of the chopped green onions (white portion only). Add 1/2 tsp of salt (or to taste).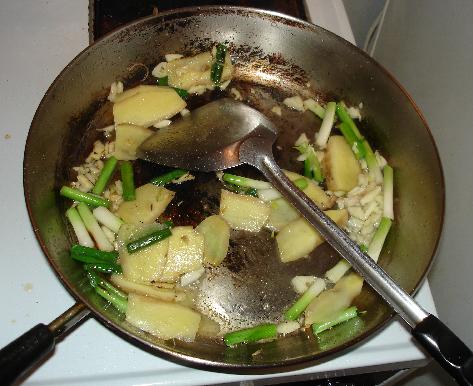 Dash in 3 tsp of ShaoHsing cooking wine. (Can't go wrong with going heavy on the cooking wine with this dish.) Let it induce a quick flame. Stir well. Cook for 30 seconds.
Add 1/2 cup of chicken broth, 3 to 4 tsp of oyster sauce. Stir. Bring the mixture to a boil. Add the remaining portion of the green onions.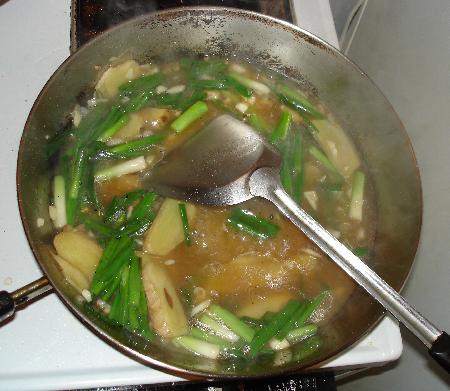 Use corn starch slurry to thicken the sauce. (Suggest 2 tsp of corn starch dissolved in 2 tsp of water.) Adjust and make the sauce to the right consistency.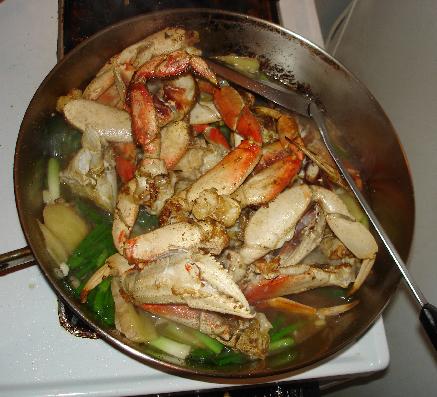 Return the crab and cook for another 2 to 3 minutes.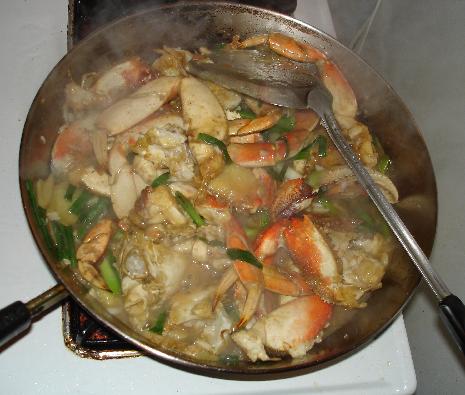 Stir. Make sure each piece is coated with the sauce.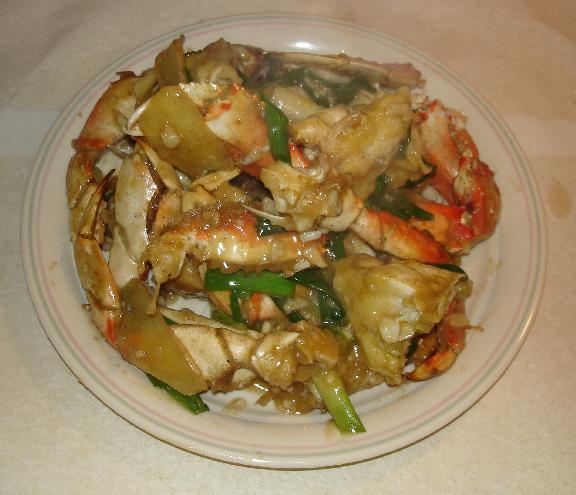 Finished. Transfer to a serving plate.
Edited by hzrt8w, 18 December 2005 - 04:22 PM.