This past weekend, after a month of construction delays and intense kitchen preparation, the new Jean Philippe Patisserie opened in Bellagio, Las Vegas. When I started in the pastry kitchen about 10 months ago, all we could see was a freshly designed logo and rough sketches of the interior. Now we're all working our asses off pulling lots of overtime to fill the cases with beautiful pastries (please,
come and help us
!). Congratulations to Chef Maury, Chef Claude Escamilla (who designed all of the dessert pastries), and my boss Chef Chris Hanmer (who keeps the team on track and works harder and longer hours and any of us).
The Man and his new baby.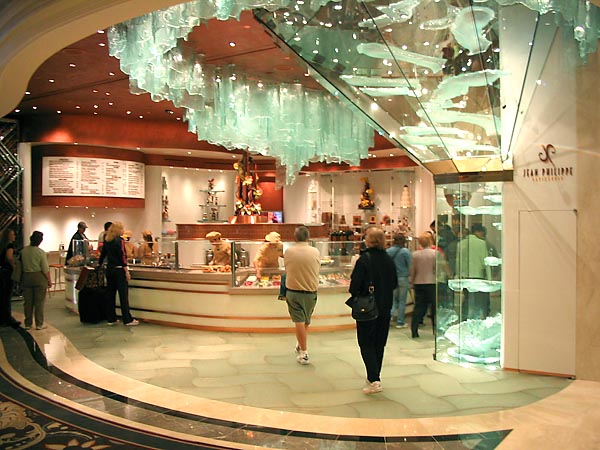 The front of the shop is on the hallway leading from the Conservatory to the new tower.
This will be the "chocolate waterfall". It's not quite finished yet, but it should be running by next week.
A variety of packaged goodies - cookies and candies - ready for takeaway.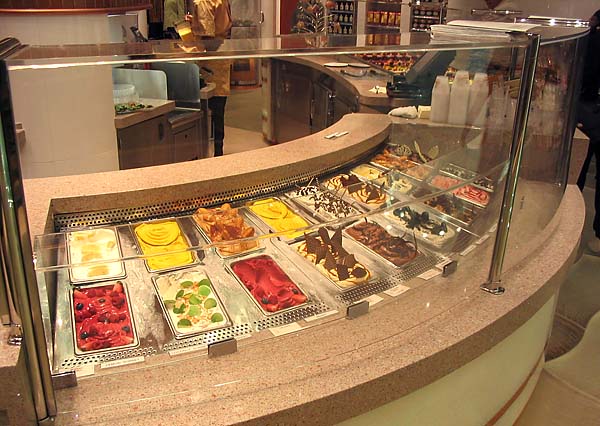 The ice cream is made in-house, of course.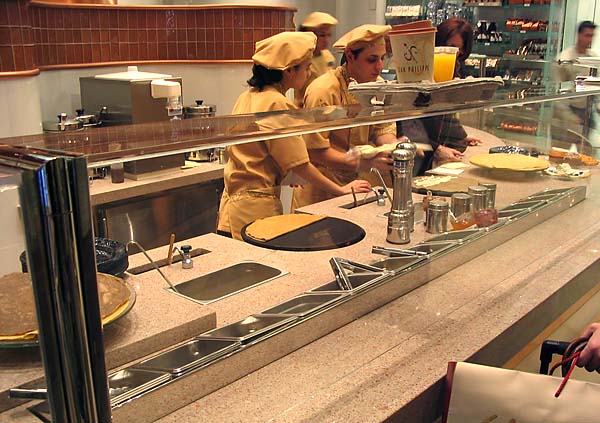 The made to order crepes have been extremely popular. Both savory and sweet fillings are available.
The full line of chocolates. The packaging is all custom and very elaborate. Yes, that's a chocolate showpiece on top of the case.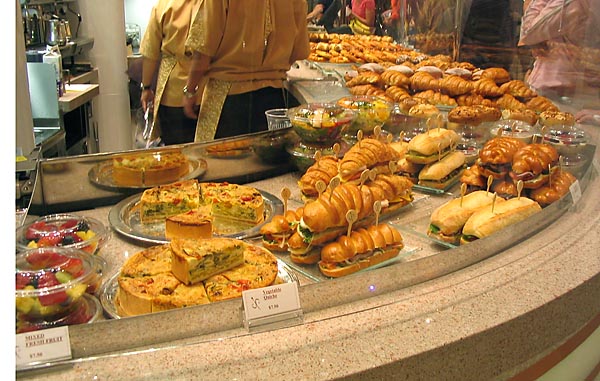 Sandwiches.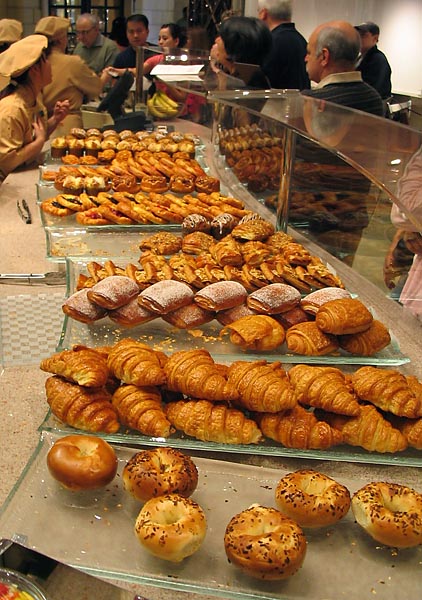 Croissants, danish, and other breakfast pastries.
Of course, the highlight is the dessert pastries. All items in this display are $5.50 each.
From left to right:
Chocobana - chocolate mousse, caramelized bananas, dark chocolate cremeux, hazelnut dough
Exotic - candied pineapple, kalamansi coulis, lime dacquoise, crispy coconut
Saccher - raspberry ganache, chocolate sponge, raspberry syrup, chocolate glaze
Fruit Tart - vanilla cream, seasonal fruits, almond dough
Imperial - creme brulee, crispy nuts, dark chocolate mousse, chocolate biscuit
Eclair - vanilla cream, praline cremeux, pate a choux, vanilla icing
Carrot - spicy carrot cake, coconut, pineapple, cream cheese
Key Lime - key lime emulsion, candied mangoes, almond dough, whipped cream
Opera - chocolate ganache, coffee butter cream, almond biscuit, espresso syrup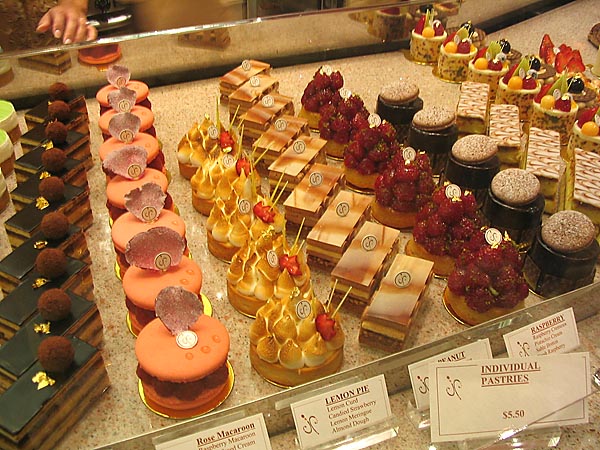 Rose Macaron - raspberry macarons, rose infused cream, fresh raspberries
Lemon Pie - lemon curd, candied strawberry, lemon meringue, almond dough
Peanut - chocolate cream, caramel, peanuts, almond dough
Raspberry - raspberry cremeux, pistachio cream, sable bretton, fresh raspberry
Intense - dark chocolate mousse, chocolate cremeux, chocolate macaron, chocolate glaze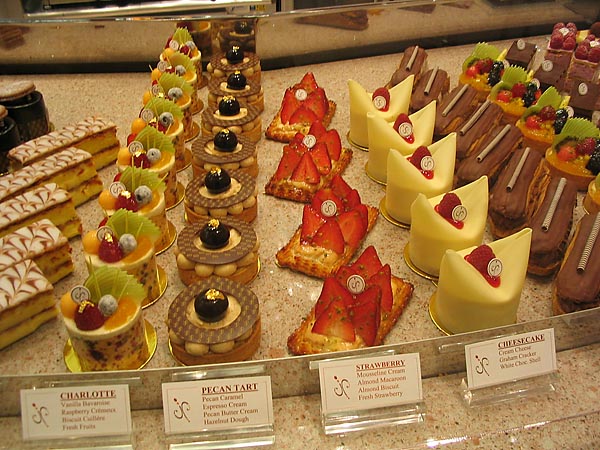 Napoleon - vanilla cream, puff dough layers, marble icing
Charlotte - vanilla bavaroise, raspberry cremeux, biscuit cuillere, fresh fruits
Pecan Tart - pecan caramel, espresso cream, pecan buttercream, hazelnut dough
Strawberry - mousseline cream, almond macaron, almond biscuit, fresh strawberry
Cheesecake - cream cheese, graham cracker, white chocolate shell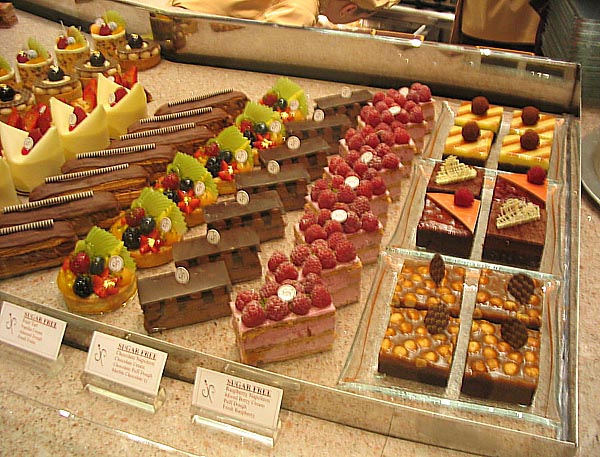 Eclair - chocolate cream, vanilla cremeux, pate a choux, chocolate icing
Sugar Free Fruit tart - vanilla cream, almond dough, fresh fruit
Sugar Free Chocolate Napoleon - chocolate cream, chocolate puff dough, marble chocolate
Sugar Free Raspberry Napoleon - mixed berry cream, puff dough, fresh raspberry
Assorted Brownies