The first load of Gulf of Maine Shrimp is in the house!
This is Steve at
Harbor Fish Market
here in Portland's Old Port waterfront district. He's holding up about three pounds of fresh shrimp that were swimming in the Gulf of Maine yesterday.
I arrived two minutes after they opened this morning to find one fish-tote full of shrimp. As it turns out, it was the only box they had so far so there was a five pound limit.
Price: $1.59/lb
According to the guys at Harbor, the shrimp boats waited for bad weather to clear on opening day, went out yesterday but farther than expected so the haul wasn't huge.
This is the
F/V Jerry & Joe
which looks to me like it's rigged for shrimping but no one was aboard to ask.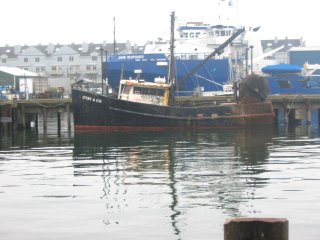 I'll be snooping around the waterfront this December in the hope of talking to these hard-working guys and hear their take on the season's harvest, and the effect of this autumns economic turn on the industry.
In the mean time, I have three pounds of fresh Gulf of Maine shrimp to inhale.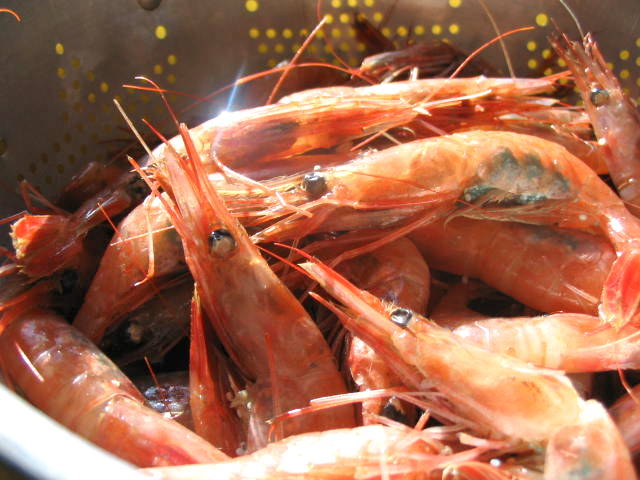 I can't believe I'm actually sitting here - after snapping these photos I split a couple open and sucked them right out of their shells. Then I realized I was trembling. This is why I go crazy every time the shrimp season opens up here in Maine - they are little bites of the ocean.
For those new to my annual eGullet.org coverage of one of the few sustainable fisheries on the planet, check out these links to past shrimp seasons:
Gulf of Maine Shrimp - 2007/2008
Gulf of Maine Shrimp - 2006/2007
Gulf of Maine Shrimp - 2005/2006
Boats off-load shrimp harvest at the Portland Fish Exchange (Photo Essay - Feb'05)
After re-visiting prior years shrimp coverage, I am happy to report that the outrage that colored my older posts about the lack of attention from restaurants and the public for delicious fresh winter shrimp has been replaced by grateful acknowledgment that word is indeed getting around -
Pandalus Borealis
may finally be on people's radar - more people from farther away are posting prices; more media coverage has surfaced over the years; and my favorite: more chefs are creating plates for Gulf of Maine Shrimp.
However, this year will be interesting. With the economy in the crapper and seafood margins the thinnest in years, how long will Gulf of Maine Shrimp be around this season?
Lobster prices
are the lowest in 20 years, but not as low as shrimp. Will the local consumer derail the Maine Lobster Council's emergency marketing plan and buy the cheaper local shrimp instead? Would that be a good or bad thing?
What of out-of-state markets? Will the cost of transporting highly-perishable 40-60/lb shrimp to Colorado or Virgina be ridiculously high? Will demand for seafood in general be lower this winter anyway making the very thought foolish?
I hope folks from around the country post any Maine shrimp prices they see in their neighborhoods here. It's possible they will be scant, but that would be a shame - Maine shrimp are inexpensive and delicious. Pester your local fishmonger to get some this season... and while you're there, buy a lobster!

Edited by johnnyd, 03 December 2008 - 11:33 AM.