Welcome to the eGullet Recipe Cook-Off!
Click here for the Cook-Off index.
There was this rat, and he wanted to be a cook. When he finally made it into the kitchen of a Parisian restaurant, he needed some help coming up with a signature dish to impress the critics.
So he sent his producer to stage a few days at the French Laundry, a little-known, out-of-the-way joint run by a guy named Thomas Keller. Keller had come up with a dish he called "byaldi," and with a bit of tweaking, handed over a recipe for
Thomas Keller's "confit byaldi."
Rat made it, critic was thrilled, everyone's happy.
A little while later, this eGullet Society member, KarenM, prints out the recipe and makes this thing of beauty: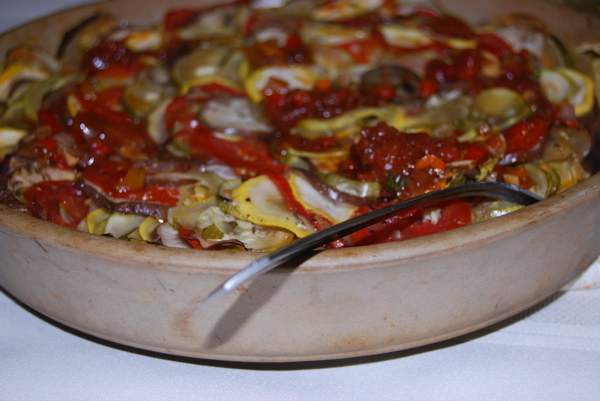 Fortunately,
there were many dozen grateful Heartlanders eager to devour the dish,
which some of them called by its ancestral name:
ratatouille
.
Ratatouille is the perfect late summer Cook-Off. Shockingly, we have only
one topic dedicated to it,
but it's a beaut. You'll find disagreements about whether ratatouille should be a jammy, stewy ratatouille or a discretely sautéed and layered dish. Advocates of Provencal authenticity face off against the fresh, clean, and bright brigade who know no region. And then there's that picky olive oil question.
I'll admit that I've always hated ratatouille, which has been throughout my life the potluck dish I should avoid at all costs, so I'm game to figure out how to make something that doesn't suck. I also have no fear of the mandoline, if it comes to that.
So where do you stand? Jammy goodness or definitive elements? Are you a Provencal stickler or a "what's ready in my garden" free spirit?