Ubuntu

Restauurant and Yoga Studio
1140 Main Street
Napa CA 94559
707.251.5656
Open for almost two full months now without much press coverage besides a
small mention
in the SF Chronicle, my first visit to the restaurant this past Saturday made me want to put it firmly on the eGullet radar. In a period during which many newer restaurants are working out the kinks, this place is already turning out some very solid food.
I read recently that
Ubuntu
is "Napa's only vegetarian restaurant," a fact that quite frankly would not have meant much to me had I not known a bit about the chef behind it. You see, Chef Jeremy Fox came from Manresa in Los Gatos, where he was Chef de Cuisine since 2004. Remembering a couple of flat-out wonderful meals during his time there, I was excited to learn of this new venture. He has essentially taken his wonderful experience there with Chef David Kinch -- a biodynamic garden, and a cuisine with a spirit and philosophy not unlike Manresa's -- and transferred it 90 miles north to Napa.
Remembering Chef Fox's delicious charcuterie back at Manresa, it first seemed almost ironic that he would be offering a meat-less menu. After a few bites of his food, though, I quickly realized he is right at home in his new kitchen. He can make vegetables sing just like his mentor down in Los Gatos. Chef Fox is at the helm in the kitchen while his wife Deanie, also formerly of Manresa, is in charge of the pastry kitchen. and let me say, saving room for dessert here is a very, very good idea.
Before I get into the details of what I had on Saturday, I thought it relevant to share a quote of Chef Fox's that I ran across when reserving my table on OpenTable last week:
"
I am really excited to have the chance to do something that hasn't been done before-this project has the distinction of being more of a vegetable restaurant than a vegetarian restaurant. We are not offering a philosophy of no meat, we are celebrating what comes from the gardens, what shows up at the door and our relationships with farms in Napa...all new rules for what people expect
"
Couldn't have said it better myself. I think this really gets to the heart of what this restaurant's cuisine is about. I don't care if you're vegetarian, pescatarian, or Presbyterian, this is damn good food.
As I said, I went in for lunch on Saturday. My parents were in the area for several days, so I treated them to a yoga class upstairs at
Ubuntu
to work up our appetites fr a nice, leisurely lunch downstairs. (N.B. "Yoga for Athletes" ought to be called "Athletics for Yogis". I work out every day of the week, and I was
dead
after this...). I'm not usually one to notice such things, but I found the restaurant space to be quite nice. Lots of natural light pouring in the front windows. Pizza oven in full view in the back. I liked the feel of the place.
The three of us worked our way through most of the lunch menu (slightly different, it should be noted, than the dinner menu on the website). We started with
chicory-spiced cashews ($4)
from the "Bites" section of the menu. Coated in a simple syrup and dusted liberally with chicory, these nuts were addictive. (Found out later from my good friend
wiki
that chicory is often used as an appetite stimulant, as if my appetite needs further stimulation.)
The
early girl tomato soup -- bellweather ricotta ($7)
was delicious. Its temperature was just right - warm enough to be incredibly flavorful, yet cool enough to refreshing on that particularly early fall day. Next, the
heirloom tomatoes, caprese style -- burrata and basils, regina olive oil, aged sherry vinegar 'solera' ($9)
was as simple as it was tasty. The burrata was impeccably fresh, a blessing for a cheese with such rapidly diminishing returns. The tomatoes, perfectly ripe. The level of acidity in the dish, just right thanks to the vinegar (wiki knows about
"solera"
, too). The
ratatouille and zucchini bread -- local goat cheese and basil bud vinegar ($9)
. Served more like a soup than a stew, the ratatouille was studded with fat zucchini bread "croutons". A tangy, creamy mound of goat cheese sat in the middle, and a drizzle of the vinegar really lifted all of the flavors nicely. The last item we had from the "Starters" section was
cranberry bean & fuji apple salad -- marinated torpedo onions, baby red mustard ($7)
. Aside from the slightly undercooked beans, the textural contrast in this dish was very nice. But though the mustard cut through it a bit, I found the dish to be a bit too sweet. This was my least favorite of the bunch so far.
For our entrees, we started with the
gratin of butterbeans and fideo pasta -- charred scallion and romesco, baked with a farm egg ($12)
. Wonderful. This could make even the unabashed carnivore smile with delight, and in the case of my father, it did. Baked in a cazuela, this dish was hearty and comforting. The romesco was a very nice touch, mixing with the oozing egg yolk to create a fabulous condiment for the beans and pasta below. A little bit of toasted breadcrumbs on top for textural contrast. This was one of the highlights of the meal for me. Then came the
anson mills farro -- roast young root vegetables with saba ($11)
. Very nice. The roasted vegetables were lovely, just the right level of tenderness. The farro was nutty and pleasantly toothsome. Mixed with a creamy dressing, and drizzled with sweet saba, this was a well-rounded mix of flavors. The
mushroom pizza -- puree of the trimmings, bellwether crescenza ($13)
, too, was outstanding. The mushrooms were nicely done, neither under- nor over-done, two common problems one encounters when mushrooms are used as pizza toppings. The cheese was very nice, and the lovely fragrance of fresh thyme immediately filled our noses. Very enjoyable.
Dessert time, now. Three desserts, three of us. How convenient. The
vanilla bean "cheesecake" in a jar -- concord grapes, pine nut sable ($7)
was wonderful. In quotes because it was deconstructed, layered in a mason jar. The texture was light, fluffy, more like a good mousse than a traditional cheesecake. The
bittersweet chocolate ganache -- chocolate puff pastry, garden mint ice cream ($8)
was also nice. I didn't love the chocolate puff pastry, which I found to be a bit dry. But the mint ice cream was refreshing, and packed with flavor. The
blood orange sorbet -- citrus salad, sparkling kumquat lemonade ($7)
was a perhaps the highlight of the entire meal. An absolute knockout. Incredibly refreshing, straddling the line between sweet and tart. Wonderful depth, with every mouthful a different combination of flavors.
In short, I found the food to be quite impressive, and very reasonably priced. I will be back for sure.
We descended upon the first few dishes like ravenous wolves, but I managed to snap a few pictures later in the meal. Enjoy:
cranberry bean & fuji apple salad
marinated torpedo onions, baby red mustard
anson mills farro
roast young root vegetables with saba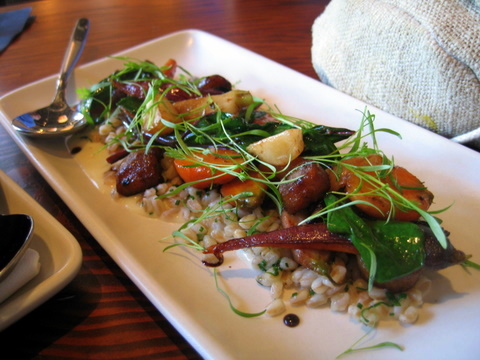 gratin of butterbeans and fideo pasta
charred scallion and romesco, baked with a farm egg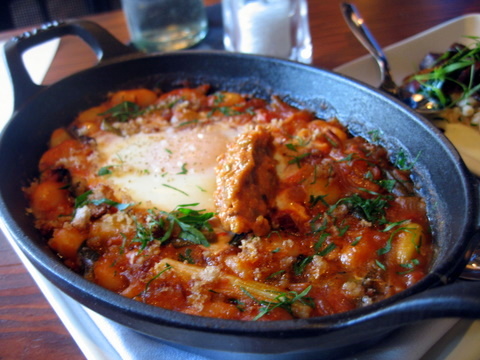 mushroom pizza
puree of the trimmings, bellwether crescenza
bittersweet chocolate ganache
chocolate puff pastry, garden mint ice cream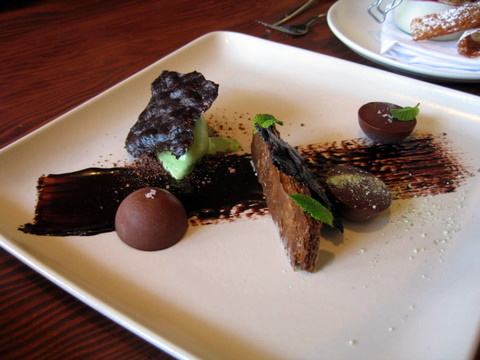 vanilla bean "cheesecake" in a jar
concord grapes, pine nut
sable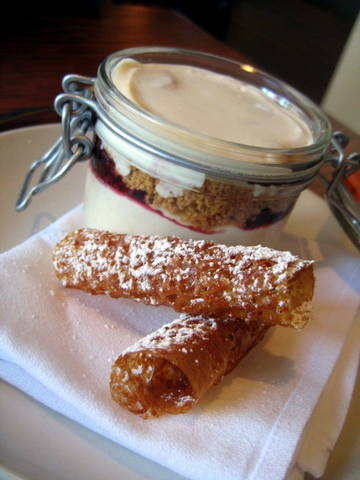 blood orange sorbet
citrus salad, sparkling kumquat lemonade