Happy Valentine's Day Megan!

How wonderful your blog is...again! I loved your last one, of course :) But you're making me COLD! I've been terribly MIA from eG of late but this is the perfect way to jump back in.

Everything looks so fantastic! You live/eat so well! What is it you do for work? Is it mentioned on the prior blog? Is it the same as then?

The best additions to hot cocoa are homemade marshmallows and peppermint schnaps! It'll warm you up in no time!!

Thanks for blogging and being so fascinating!

Genny

OMG, Genny is my Valentine, because she called me
fascinating
!!!! She wins my gold star, hands down.

Thank you, Genny.
I am still in the same job, essentially, though my responsibilities have grown and changed over the last year and my seniority has increased somewhat. Essentially, I work in management consulting. We have a large practice that tells people how to outsource/offshore their technology work, and about four years ago, we realized we didn't do the same - not the best way to sell your knowledge/expertise.
I am part of the small team, therefore, that manages the outsourcing of our IT function. It's not at all technical (I actually got into it via recruitment for investment banking), but involves a lot of management, negotiation, finance, and legal knowledge/skills. Parts of it are really interesting, and parts make you want to cry they're so dull.
Whew, enough about that!
Tonight I got home, watched the episode of
How I Met Your Mother
from Monday night (I am marrying Ted - he is adorable), and then headed out around 7:00 for dinner down the street at Bar Etats-Unis, which is a wine bar attached to the pricier bistro. Both spaces are small and minimalist, with the focus on the food, the wine, and the cocktails.
The bartender, Kate, started me off with a 175 ml bottle of Pommery's Pop Rose - I was at Pommery in October, and really enjoyed their cellar tour. You don't see their wines enough here in the States, in my opinion.
I decided on a salad and the mac and cheese. Basic comfort food, elevated. The salad was the Texas wedge, with iceberg lettuce, bacon, tomatoes, ranch, and crumbled Stilton.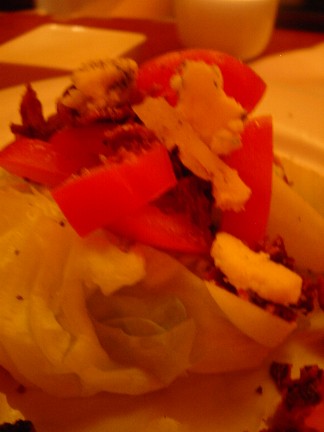 In between courses, I chatted with the couple to my left and eavesdropped on the idiot to my right (He talked over his date and described leaving his most recent relationship as getting out of a "paradigm" - I'm a big word abuser, no doubt about it - but paradigm? To your date? Who you don't know well? Oy. Sorry, b*tchfest over.) I also read a bit of my selected literature for the evening...
On Kate's recommendation, I ordered a glass of 2004 Valpolicella to go with the mac and cheese. One of the coolest things about sitting at the bar is that the kitchen is essentially right there - one prep cook makes everything, and I got to watch him combine the bechamel, parm and cheddar for my mac, and watched him whip cream by hand for my dessert.
The mac and cheese was delicious - piping hot and rich. As a non-cheese person, I was very proud of ordering two cheese dishes in one sitting. I think I have to email this post to my mom.

Finally, dessert. I went for the date pudding, which is served with a caramelized, boozy rum sauce and whipped cream. It reminds me of sticky toffee pudding...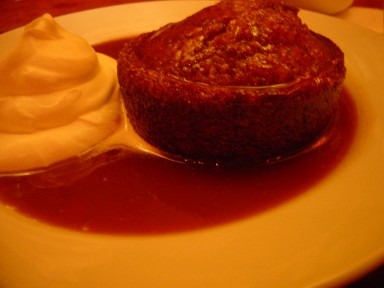 Before I left, Kate handed me a single white rose, which is now sitting in a bud vase on my dresser. Very sweet. A wonderful Valentine's Day.
I came home and poured myself a teeny-tiny cognac, just to make sure the evening was complete...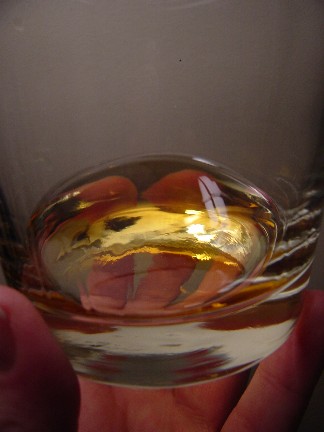 OH! And look what was on my doorstep in a DHL delivery box when I got home from work!