I temper chocolate using a variety of methods, depending on how much I need, what equipment I have available, and the mood I happen to be in on any given day.
I started perfecting this method late one spring, when the house was too warm to temper on my marble slab, and I needed some tempered chocolate to make a couple of hundred mocha chocolates for a wedding shower. I soon discovered the advantage over the marble slab technique, no chocolate dripping off the marble onto the floor, no danger of dropping my 3 inch thick slab of marble onto the tile floor (again).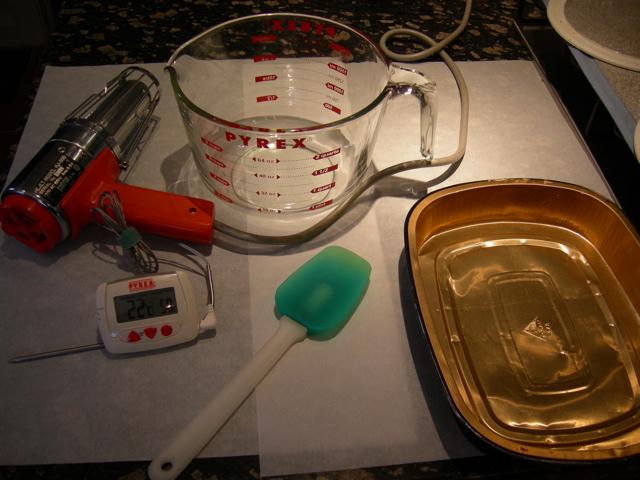 EQUIPMENT LIST
8 cup pyrex measuring cup
microwave safe silicone spatula
accurate digital thermometer
pan to hold cooling water
microwave oven
heat gun
parchment to test temper
chefs knife or chocolate fork to chop chocolate
MELTING THE CHOCOLATE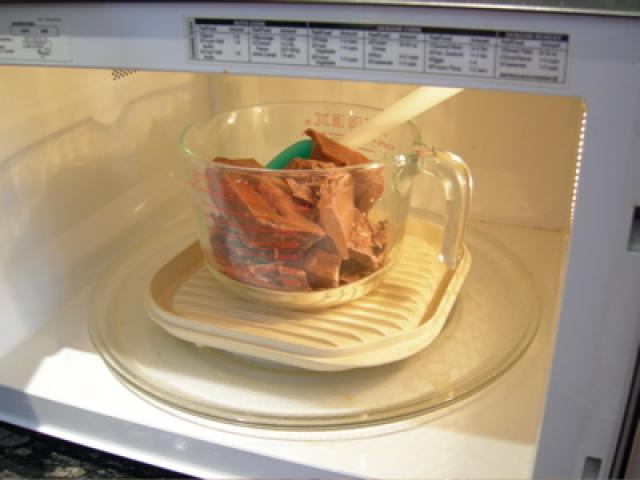 Chop chocolate, place in pyrex measuring cup, place in microwave and microwave on high initally for 1 minute. Stir after heating in microwave. Continue to heat for 20 to 30 seconds at a time, stirring after each heating.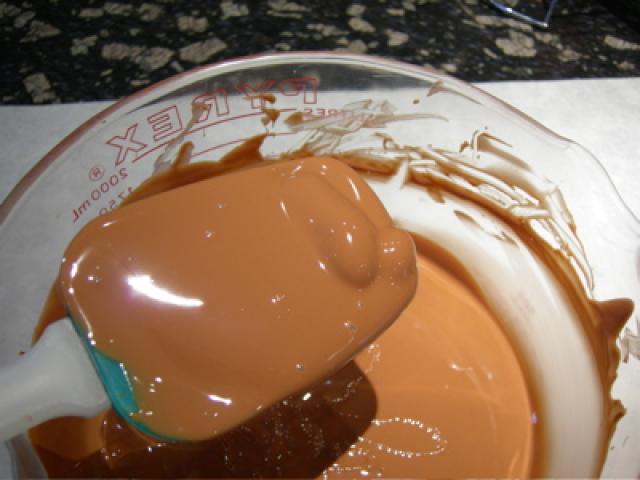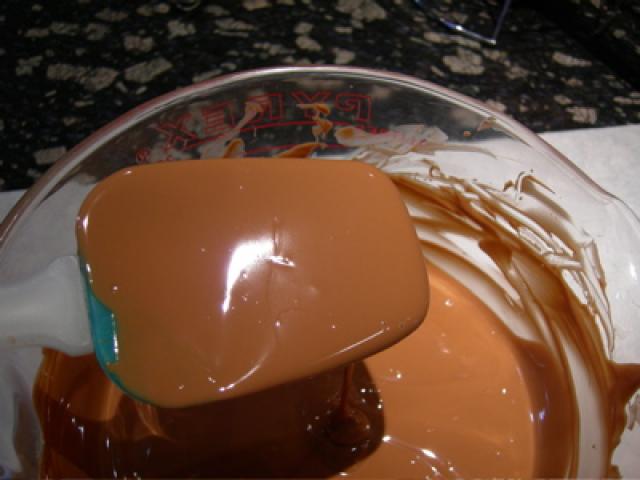 After you reach the point where there are just a few small lumps left (3rd picture), heat again for about 10 to 15 seconds more. The temperature will be about 40 degrees centigrade (104 F). I do not let the temperature get above 45 degrees C (113 F).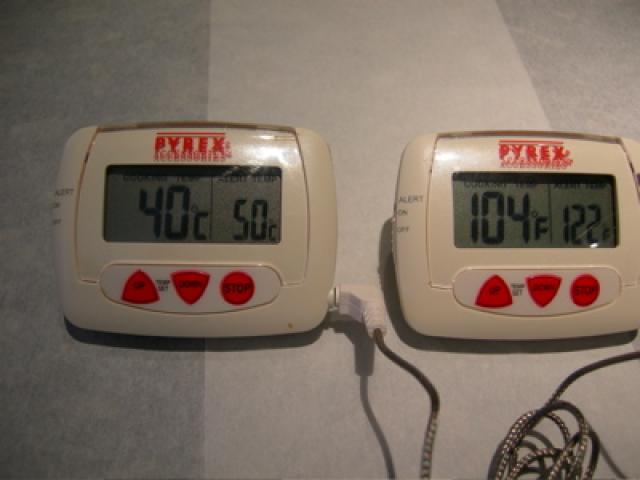 COOLING THE CHOCOLATE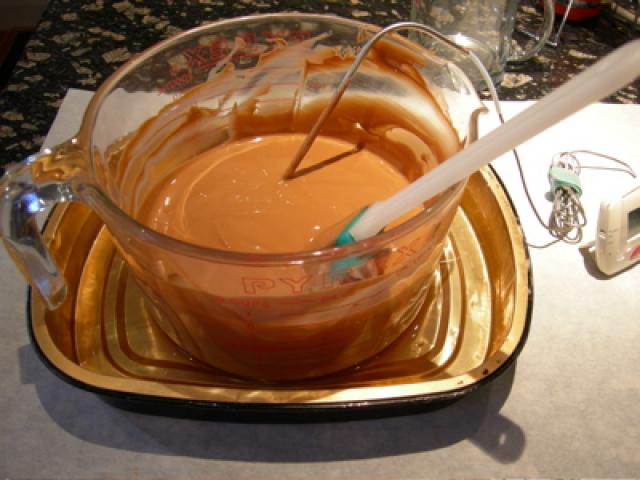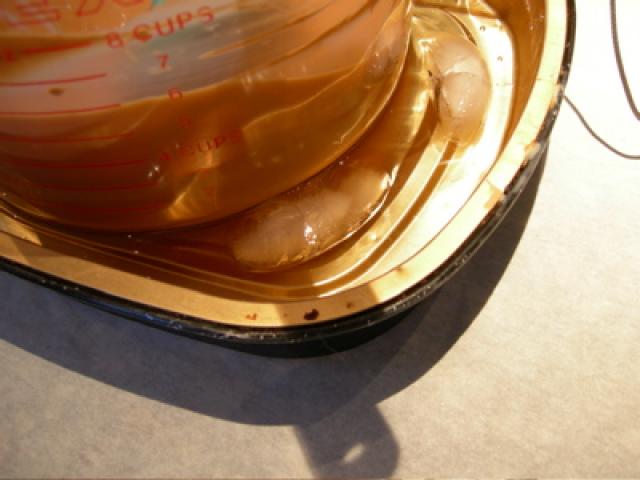 Now place pyrex measuring cup in pan of cool water, taking care not to get any water in your melted chocolate or it will seize. I add a couple of ice cubes to the water to speed cooling. Stir the chocolate away from the sides and bottom of the measuring cup frequently.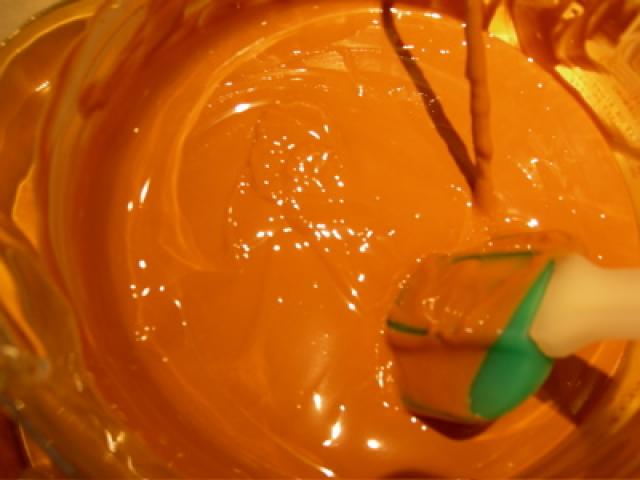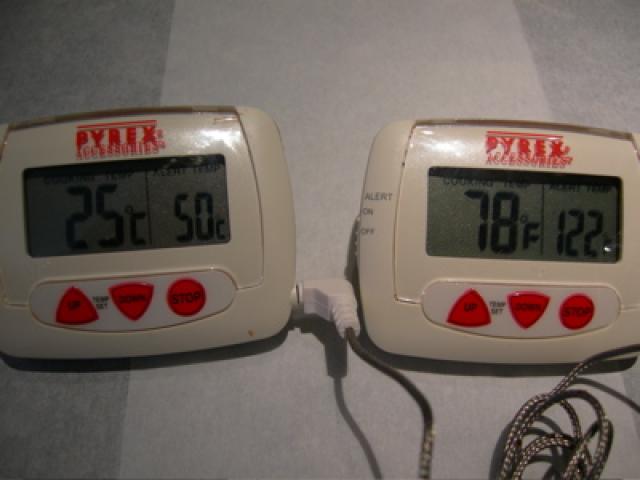 As the chocolate cools you will begin to notice that it lightens in colour and begins to thicken as you can see in the picture. As you drag the spatula through the chocolate you will notice that it forms slight ridges. When the chocolate cools to 25 degrees C (78 degrees F) remove from cold water and wipe the bottom of the measuring cup with a tea towel to make sure water doesn't get in chocolate.
REHEATING TO WORKING TEMPERATURE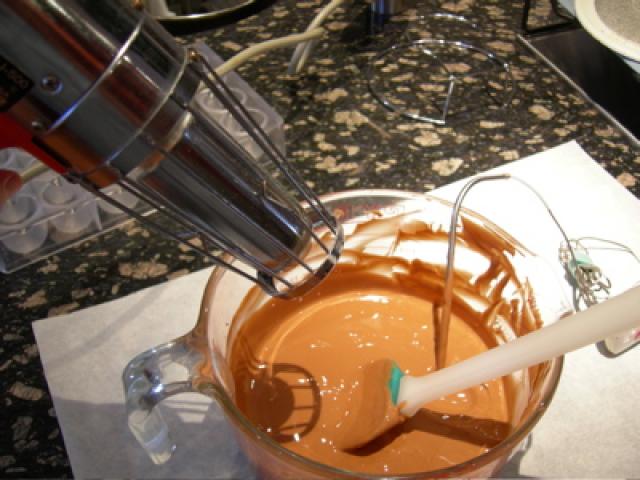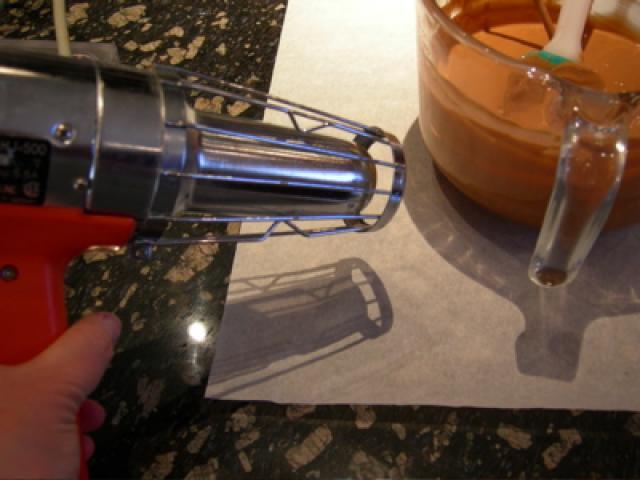 Now I use the heat gun to reheat the chocolate to about 29 degrees C (84 F) which will be my working temperature. I stir continually while using the heat gun to heat the chocolate that is on the spatula, the outside of the bowl and the surface of the chocolate. Once the temperature starts to rise, I remove the heat, stir thoroughly and wait a minute before adding more heat because often as I stir chocolate off the sides and bottom of the bowl the temperature will jump up. I want to be careful that the temperature doesn't go above 31 degrees C (87) or it may drive the chocolate out of temper.
TESTING THE TEMPER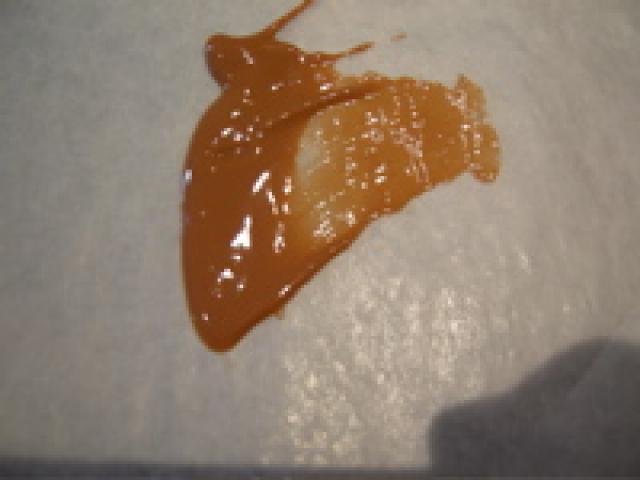 I let the chocolate sit and equilibrate for a few minutes before testing the temper. I place a thin streak of chocolate on a piece of parchment and let it sit for a few minutes. It will lose it's wet shine and solidify. It can easily be snapped in pieces.
If it doesn't solidify in a few minutes let the bowl sit for 10 minutes or so and test the temper again. If that fails, you can try putting it over the cool water until it reaches 25 degrees again, reheat carefully and retest. This is not a technique recommended by 'proper chocolatiers', the standard teaching is that if you are not in temper, you must reheat back to 40+ degrees and start again, however I have had success doing this in some cases.
Once your chocolate is in temper you can start having fun. Molding, dipping, making ruffles, truffles or masterpieces. If the chocolate cools a bit, I heat it back up again to the working temperature either with the heat gun or by adding warm untempered chocolate. The tempered chocolate will act as a seed for the untempered chocolate and put it in temper, as long as you don't exceed the working temperature.
So try it out, post your sucesses and failures. Ask lots of questions.
Kerry