How about books?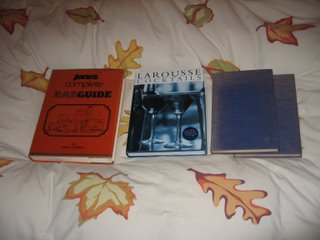 Johnder suggested the Stan Jones "Jones Complete Barguide", which I recently picked up. I haven't had a chance to read through it yet. Some great 70s era pictures of the author with noted celebreties and liquor distributors on the back flap, though.
The "Larousse Cocktails" by Fernando Castellon is full of nice pictures, questionable history, classic and modern European cocktails.
But, mostly, my bedtime reading has been Charles Baker's "South American Gentleman's Companion". My, he is in fine form in this one. I found myself especially amused in the section about Alcohol consumption and its potential problems, where he states, and I'm paraphrasing here, that the reason he has never gotten sick in tropical countries is he is always sure to have drunk
at least
half of a fifth of liquor before sundown. Woo!
Edited by eje, 15 October 2006 - 10:28 PM.