It's pretty cool that the food at Jazzfest doesn't change all that much, so those favorites that you crave will probably still be there next time. So this report won't be too different from any of the previous ones, but I figured an update can always be helpful. I'd love to hear impressions from other folks who went.
I missed the first day, but was there on saturday and sunday of the first weekend, and had a great time eating my way around the grounds, pausing now and then to hear some music. It was pretty muddy on saturday, but not actually raining, and just about perfect on sunday, which let the grounds dry up fairly well. Slogging through deep mud to get to the food stands is never ideal, but it was worth it...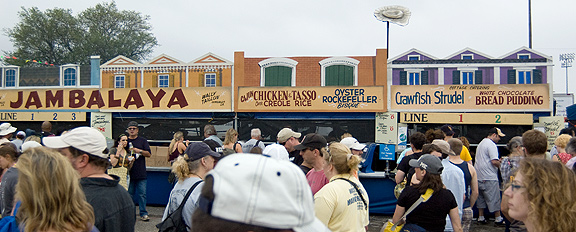 Favorites:
Cochon de Lait Po Boy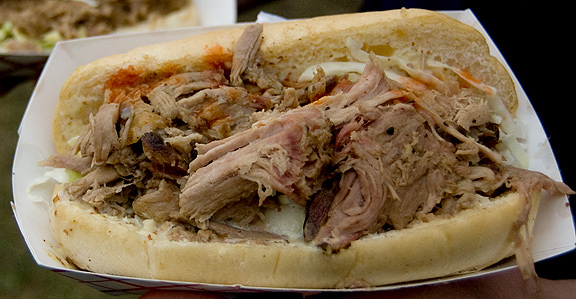 Pheasant, Quail and Andouille Gummbo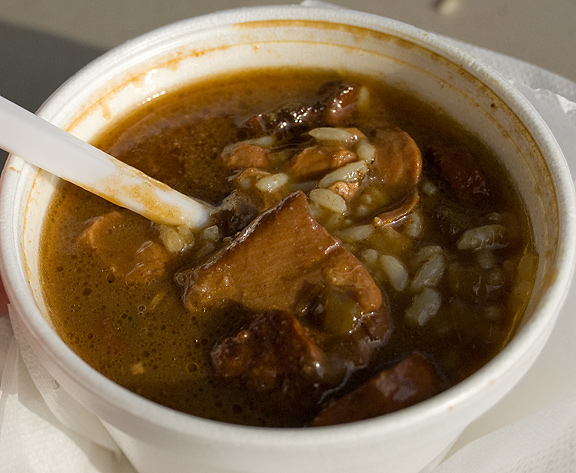 Crawfish Sack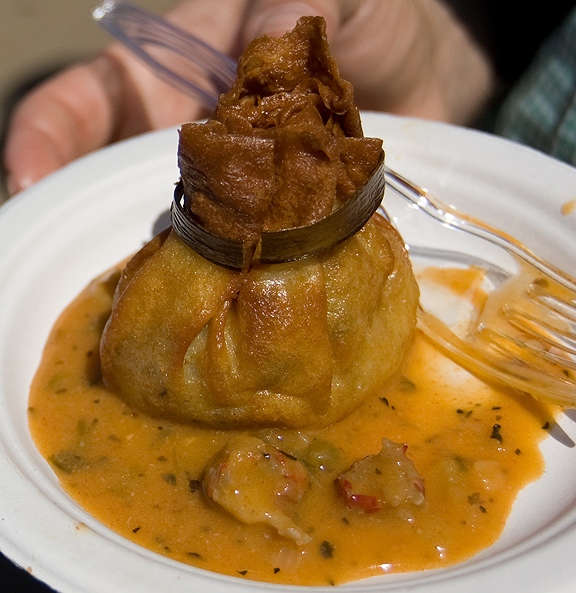 Chicken and Sausage Jambalaya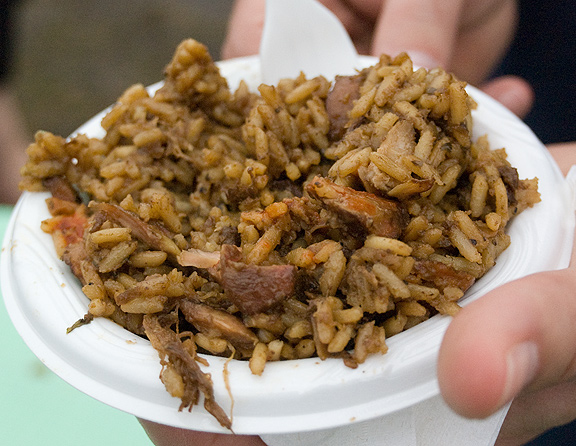 Hot Sausage Po Boy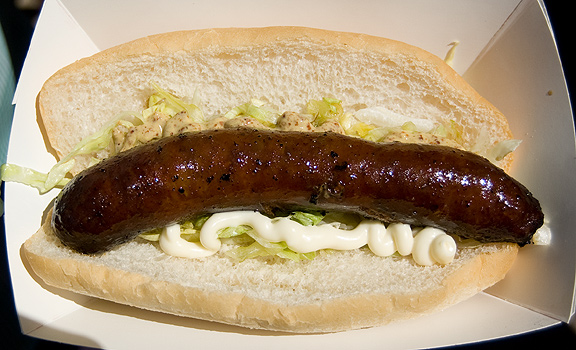 Mango Freeze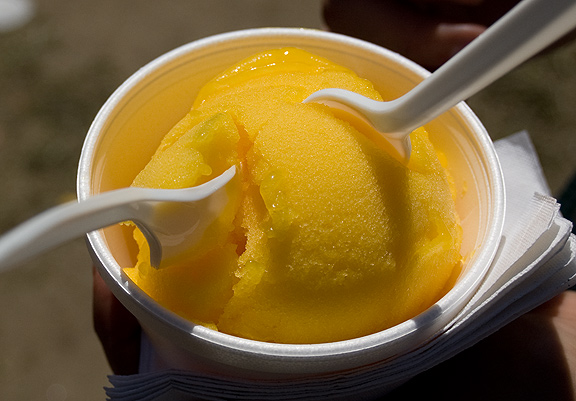 La Divina Gelato (Chocolate Sorbetto, Bourbon and Pecan Gelato)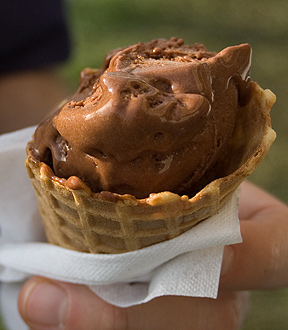 Good:
Lamb Tagine with Merguez Sausage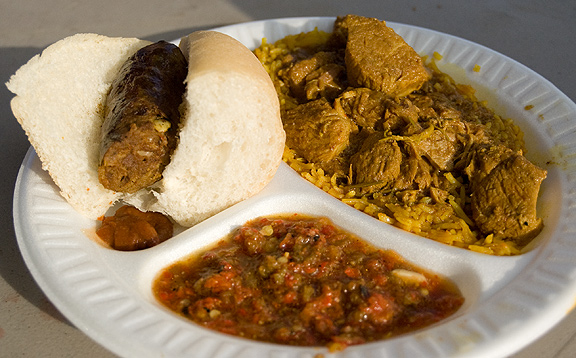 Nachitoches Meat Pie
Crawfish Bread
Crawfish Po Boy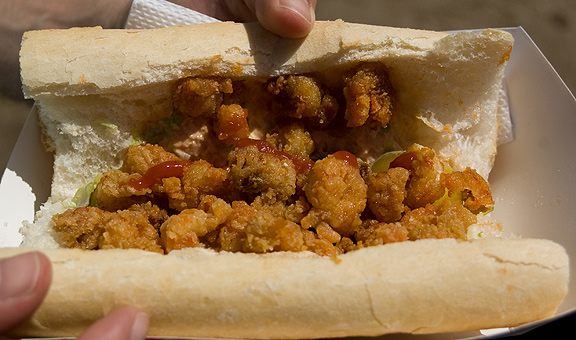 only OK:
Crabmeat Po Boy (too plain)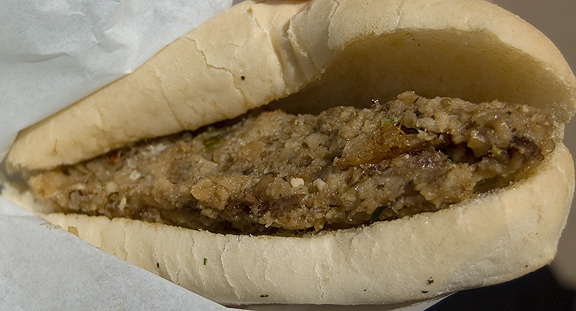 Cajun Duck Po Boy (bland meat on squishy roll)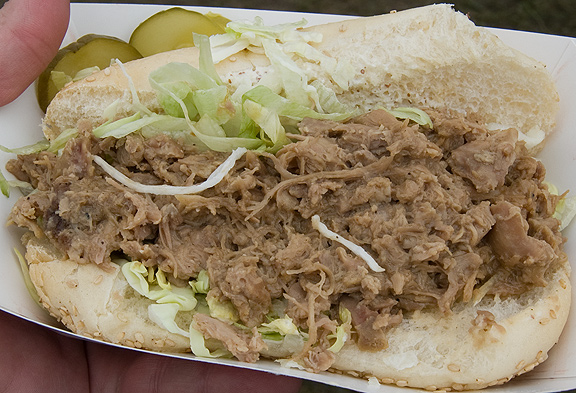 Sno Balls (too sweet)
It's pretty amazing that even the "worst" of what we had was perfectly fine, not bad at all, we'd probably think it was good food at any other festival. But the level is high here, some of these items are so good, I'd be impressed with them at a fancy restaurant. That gumbo might be the best I've had anywhere, it's at least in the running.
The other cool food moment was catching a cooking demo by Donald Link from Cochon and Herbsaint.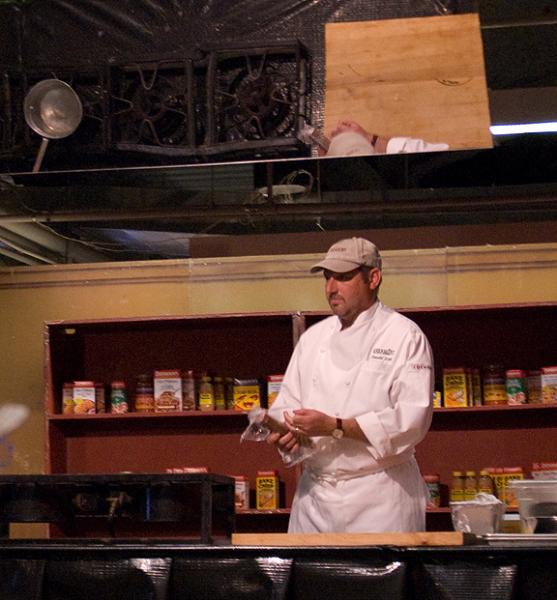 He did a quick, easy gnocchi (apparently pronounced "nah-ki" in Lake Charles... ) with Andouille and spring onions. He was a very entertaining speaker, and gave some very good tips along with the amusing digressions. And then the best part: we got to sample his dish, which was delicious, featuring light, tender sautéed dumplings along with the excellent andouille from Cochon Butcher.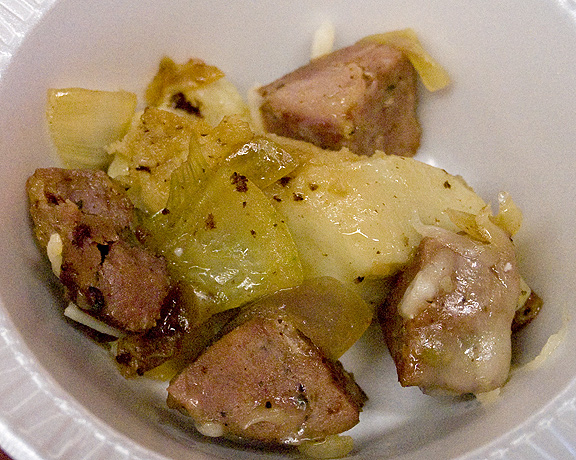 We also watched Tee Eva make Jambalaya. She was so charming that I felt bad that I didn't like the Jambalaya very much - it's very tomatoey, and not very spicy.. Great sausage in there though...
I'd definitely go back to Jazzfest just to eat. But it's nice that they have some good tunes to entertain you while working up an appetite for the next round...
Any other experiences?