The folks over at the
DrinkBoy forum
have been discussing dehydrating various liquors and bitters and grinding them down to make powders to rim glasses. Damon Dyer (bartender at Jack the Horse in Brooklyn, NY) has successfully made Campari powder in the oven for a drink he's doing at his bar but was complaining about the time and effort it takes. After throwing out obvious solution that would require specialized equipment like a
lyophilizer
,
vacuum evaporator
, or
rotory evaporator
I remembered that Thomas Keller suggests using the microwave for making vegetable dusts for garnishing in the French Laundry Cookbook.
As a proof of concept we tried evaporating 1/2 a cup of Campari in the microwave. It took about 6 minutes but then we weren't able to get the result off the pyrex bowl without potentially breaking the bowl. On the second attempt after 4 minutes we poured out the liquid onto a silpat pressed into a larger bowl which resulted in this: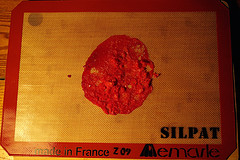 Once ground down Damon verified that the taste and texture were identical to what he was doing in the oven in 6 hours: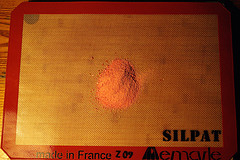 A look in
On Food and Cooking
revealed a few more considerations:
When we dissolve sugar or salt in water the boiling point of the solution becomes higher than the boiling point of pure water. This increase in the boiling point depends predictably on the amount of material dissolved... so the boiling point of a solution is an indicator of the concentration of the dissolved material. ... sugar syrup that boils at 250F/125C is about 90% sugar by weight ... at 300f/149C and above, nearing 100%
as the sugar concentration passes 80% [240F/116C], there's so little water left that both the temperature of the syrup and its boiling point rise more rapidly. As the concentration approaches 100% , the temperature rises very fast, and can over shoot the desired range and brown or scorch the sugar.
Above 330F/165C, the sugar syrup is more than 99% sucrose. It no longer boils but begins to break down and caramelize.
Based on this and more experimentation I have a more streamlined process.
1.) Use a silicone baking mold, it can handle temperatures up to 400F and is much easier remove the final product. For experiments I've been using a cupcake mold which is good for a 1/4 cup sample.
2.) Heat in short increments at the beginning (more violent boiling at a lower temperature due to the alcohol first boiling off) and at the end (sharp increase in temperature as the sugar concentration rises).
3.) When experimenting constantly take the temperature between short heatings (20-30 seconds). This will give you a good idea of how long it takes to evaporate the liquid.
For Maraschino (Luxardo) I had to use 20 sec intervals for the first 1.5 minutes, then could let it go for 3 mins straight before going back to 20 sec intervals until 303.5F was reached. The result when cooled is an easily removable "puck" of Maraschino: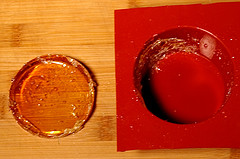 A quick grind in my mortar results in a fine powder: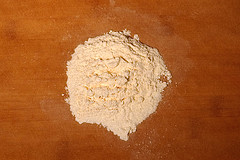 Thus far this technique has worked for Campari, Angostura Bitters (with added sugar), Green/Yellow Chartreuse, and Maraschino. Sloe Gin didn't work so well but I think I can add more sugar to make it work. I plan to go through the rest of my liquors to see what else can be made into powders.
One outstanding question is if the high temperature changes the flavor/aroma of the liquor. The Green/Yellow Chartreuse lost most of their more floral aroma about half way though the process and ends up tasting more vegetal (not unlike the Elixir Végétal).
Disclaimer: Your results may very depending on your microwave and elevationedit: spelling and pictures now link to higher resolution pictures on flickr
Edited by donbert, 20 March 2007 - 11:27 AM.