I think this is deserving of its own thread, even though there is already a Lola/Lolita thread, because last night's dinner was as much about Jamison Lamb as it was about Lolita.
John and Sukey Jamison trundled across from Latrobe PA to Cleveland last night to host this fabulous meal featuring their lamb. I have never had lamb this good and was concerned that I'd
have
to go to Lola or Lolita to get it - until I learned that it (and the entire Jamison story) is available to the world through the magic of the internet and overnight shipping!
Jamison Farm
And I'd like to thank Linda Griffith for typing up the menu items for the Cleveland Food & Wine Forum - so I didn't have to!
Course 1:Baby Arugula Salad with crispy lamb rillette,tiny cubes of feta and cherry vinaigrette, accompanied by a splendid Greek Rose, Kir-Yianni, Akakies, Naoussa, 05. I sighed with delight as I ate this - lamb cooked in lamb fat, oh my!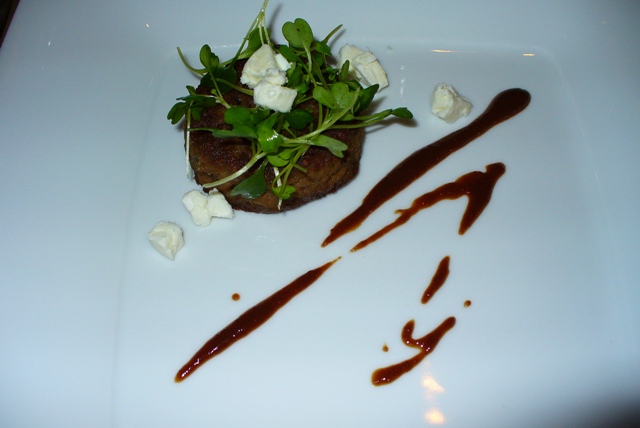 Course 2: Two divine Pan-Seared Scallops with small bits of house-made Lamb Sausage, and Baby Butter Beans, plated in Lamb Saffron Broth.
Course 3: White Bean Agnolotti that were made by hand by Lolita Chef Matt Harlan. Light as a feather, with just the right balance between the cheese and the bean. Superlatively-flavored and tender pieces of braised lamb, tender chard and some of the braising broth. Wine: Anne Amie,Couvee A, Pinot Noir, Oregon, 05.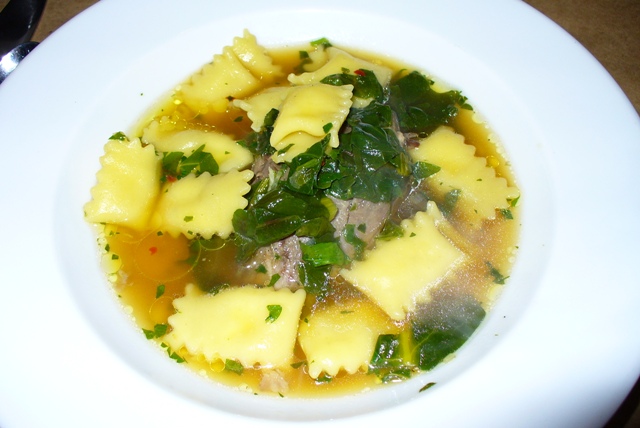 Mr. DeMille - I'm ready for my close up:
Course 4: A Grilled long-Frenched bone lamb chop topped with a salad of Meyer Lemon, Mint, Pistachio and a coulis of roasted/smoked Eggplant. After reading about Micheal Rulhman's recent chicken-bone eating experience, I was tempted to eat this bone, it was so delicious! Wine: Langmeil, Valley Floor Shiraz, Barossa, O5.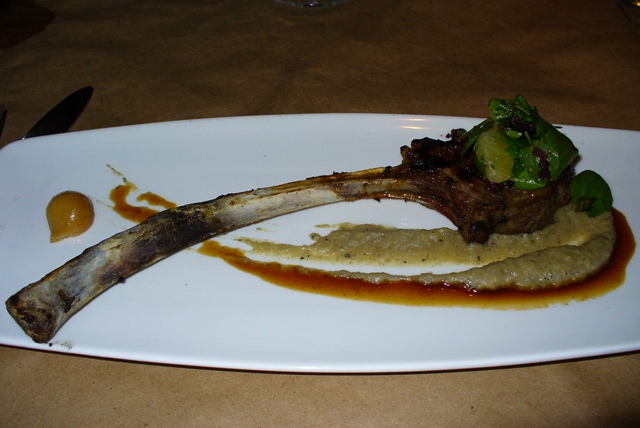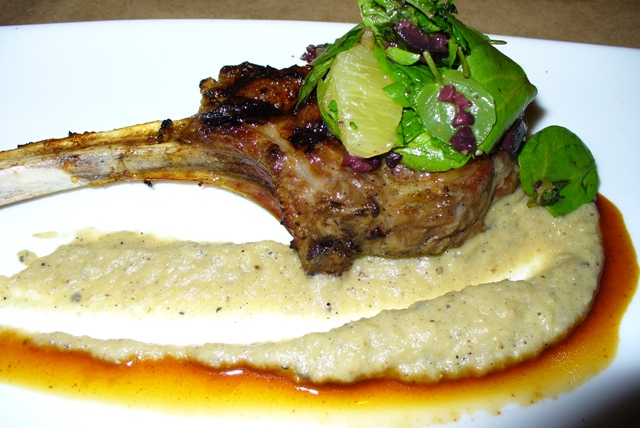 Course 5: Slow Roasted Leg of Lamb on Butternut Squash Polenta, topped with Pickled Fennel and Mache. I tihnk Linda described this spot-on: "Medium rare, thin slices of lucious lamb...delicate and sweet...tender as a baby's ahem...the polenta was exceptionally delicious (a mental reminder to try this myself) and the fennel was a delightful counterpoint." Wine: C.G. Arie,Zinfandel,Shenandoah Vallley 04.
For this photo, I moved the salad to the side so the photo might better illustrate the lamb (a dangerous move, since Michael Symon had already admonished one diner for taking their greens off the meat during an earlier course

)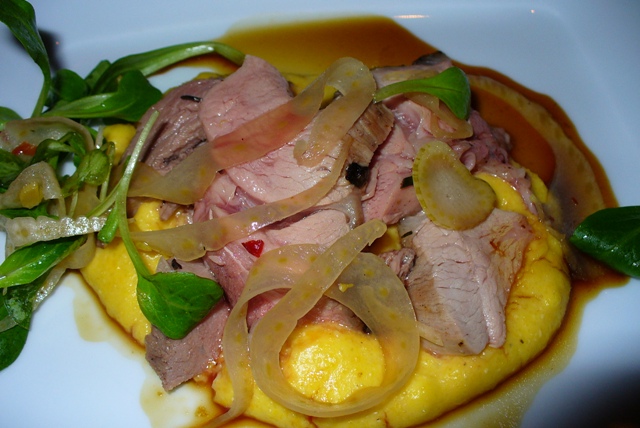 Dessert...Parsnip-Carrot Cake applause for Chef Cory! Again, Linda nailed it with her description: "A thin cap of gelled raisin over the cake was totally delicious, as was the long drizzle of pineapple caramel. And I want more of the sheeps milk yogurt that appeared at first to be a cloud of whipped cream on the side.: Wine was Chateau Cadillac Bordeaux, 02 which, as Linda noted, was a marvelous shade of gold.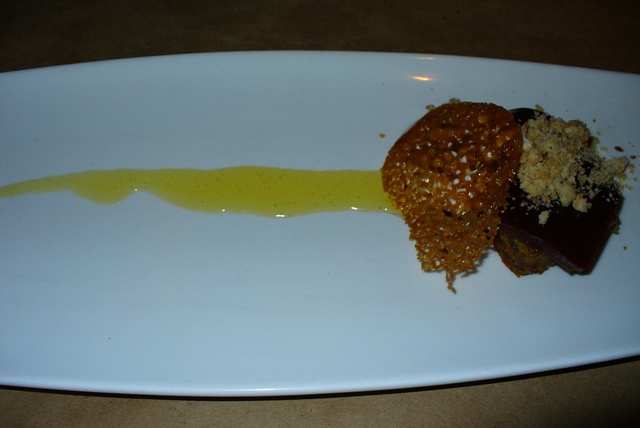 What a wonderful meal - Chefs Symon and Harlan truly displayed why this lamb is so special and worthy of expense and trouble to acquire!
Edited by NancyH, 15 March 2007 - 06:00 PM.