On Friday, April 28, at 9:32 am, Chris Amirault welcomed into his loving home this magnificent vintage
Hobart Meat Slicer
, weighing in at well over fifty pounds. Hobart was adopted thanks to the fine folks at craigslist for $100, and he's in good working order. Here's a few photos of the little bugger: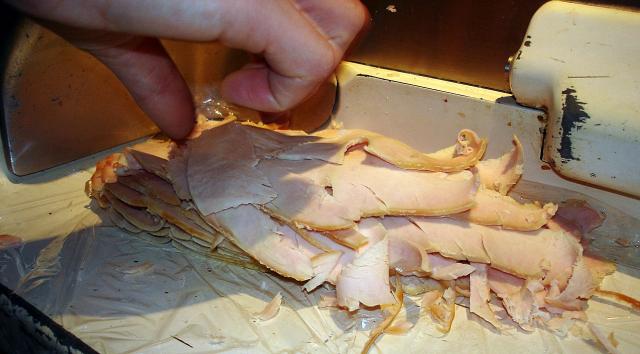 That's the turkey breast I brined and roasted, sliced nice and thin.
This beast is fantastic. I took it apart -- it's all screws and grease and metal, so I could figure it out more or less -- cleaned it, sharpened the blade, and it's working like a charm. Plus it's absolutely beautiful, don't cha think?
So... what to do with it? I'm planning on curing ham, bresaola, and who knows what, smoking turkey, roasting beef, the usual and I'll slice 'em up with this baby. I'm also thinking about carpaccio at home, something I've craved but never managed to pull off for obvious reasons. What else is there to try?
And does anyone know of any things I should be doing to keep it in good shape other than keeping it clean and sharp?
Finally, I'd love to hear about other people's slicers. What do you do with them? Where do you store them? What do you use them for?