HOMEBREWING FOR THE ABSOLUTE BEGINNER
by Chris Holst, aka cdh
The Course
Welcome to the eGCI course on homebrewing. This course will be divided into five classes spaced two weeks apart to allow you to gather equipment and ingredients, and to let the yeast alone to work their magic.
Class 1, which follows, is a basic introduction to the concepts and necessary equipment. It ends with a shopping list for Class 2.
Class 2 will step you through the most simple kind of beermaking you can do, extract brewing. You'll make a strong golden ale.
Class 3 will teach you what you need to know about bottling your Strong Golden Ale, and brewing another beer that combines malt extract and specialty grains for added complexity and body.
In Class 4 you'll make a Red Ale using what we discussed in Class 3.
Class 5 will walk you through the next step up in complexity and control in brewing, where you'll derive some of your sugar from malted grain, and some of your sugar from malt extract. This is called partial mash brewing, and incorporates all of the steps involved in all grain brewing. We'll brew a Belgian Abbey style ale. We'll not do any all grain brewing, since it is more equipment-intensive than this course envisions, but if you complete Class 5, you'll know the procedures if you get the urge to try it.
The Instructor
Chris Holst spent some time living in England in the early 1990s, where his attention was caught by the homebrew kits that the Boots pharmacies stocked. The idea of making beer stuck in the back of his mind. After returning from England, the space and time to brew were available, so the hunt began for a homebrew shop. Luckily one was nearby, and staffed with helpful folks who got things off on the right foot. He's never looked back. Since then, he's brewed at least 3 or 4 batches a year, experimenting mostly with Belgian ales and English bitters.
CLASS 1Prelude
Brewing is an ancient human activity. Making drinks out of grains has been a part of human civilization for a long, long time -- archaeologists have found evidence of Egyptian and Babylonian brewing. Over the ages we've refined the process, but in essence brewing remains simple in its process but complex in its ingredients. The process involves three steps:
1) Turn grain into fermentable sugars in the concentration you want, with the flavorings you want.
2) Let yeast loose on the fermentable sugars and leave them alone.
3) Carbonate it.
Getting at the fermentable sugars in raw grains is the art of malting. Although brewers used to malt their own grains, it is now a separate industry, which takes that element out of the job of the brewer and replaces it with a wide variety of prepared products you can buy at a homebrew shop. The primary factors that differentiate fermentable grain products are how far the natural starch-to-sugar conversion processes are allowed to proceed, and how much caramelization of the resulting sugars occurred. We'll address grain options and the techniques associated with them in later lessons in this course.
Most beers today are flavored with hops, so we'll look at the information they carry with them to give you the knowledge you'll need to make an informed purchase and have an idea about what your hops will do.
Yeast gives beer a distinct character depending on what type of yeast you use. We'll look at the commercial options available to you, and the tricks to use to get the best performance out of your yeast. Leaving the yeast alone means effectively removing competing organisms from the environment it will work in so it won't be bothered by the wild yeasts and other beasts that might sneak in, and having the patience to let the yeast sit in your beer for a week or more to eat through all of the sugars.
Carbonation is more yeast work, which requires sanitation, and sealable bottles to keep the carbon dioxide in there once the yeast make it.
EQUIPMENT AND INGREDIENT BASICS
So, you're curious about brewing and want to give it a try? Brewing in small batches is quite easy and within the reach of just about anybody interested in making a simple beer all on their own. This lesson will introduce you to a minimalist's essential brewing equipment. As a bit of advance warning: homebrewing is a gadgeteer's paradise, having been adopted wholeheartedly by folks with an inventive spirit and mechanical aptitude, so there is a vast array of toys and goodies designed to streamline some aspect of the brewing process. Here we'll eschew all of them and strip the hobby down to the absolute basics.
Equipment
The first thing we'll do is list the equipment you'll need to get a batch of beer brewing. Since this is a tutorial, I'm going to scale down the recipes from the homebrewer's standard 5-gallon batch size to a more manageable 2 gallons, which will yield just short of a case of beer, and won't require you to purchase a whole new kit of equipment. To get from here to beer you'll need to get the following equipment together before the next lesson (you'll probably have some of these already; others are specialty items you'll need to purchase):
A pot that holds at least 12 quarts, and a tight fitting lid.
You'll use this to boil the malt extract and hops together for an hour. You want this to be a non-reactive metal, so cast iron is out. Enameled canning pots are good, so long as the enamel is intact and not chipped. Stainless steel is the gold standard.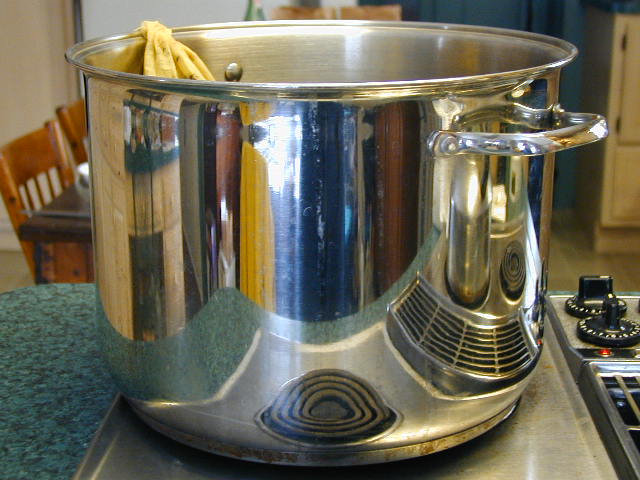 A container that holds at least 12 quarts.
This is where you'll be fermenting the beer. Fermentation takes between a week and two weeks. You could use the pot you boiled in, or you could use a food grade plastic container. The standard in the homebrewing world is a food grade plastic bucket with an airtight lid and an airlock device that allows the gasses the fermentation produces to leave, but allows no new air in. It is great if you have one, but we'll assume you don't yet at this early stage in your brewing adventures.
A scale.
Recipes call for certain weights of ingredients. Eyeballing can get you into the right ballpark, but a scale is really necessary if you want to be able to properly follow recipes or build your own reproducible recipes.
A thermometer
. When you're dealing with grains rather than just extracts, you'll need a thermometer. Grain husks contain astringent compounds that are extracted at temperatures above about 170F, so you need a reliable method of ensuring that the water your grain is sitting in is not above 170F. There are other critical temperatures that activate and deactivate enzymes in grain that we'll address later.
A large metal spoon.
You'll stir boiling liquid with this, so a long handle that doesn't conduct heat would be the best.
A sanitizing agent.
Homebrewing is as much about keeping unwanted additions
out
of the beer as putting the right ingredients
in
. As we all learned from those swab and swipe experiments in our high school biology classes, the world around us is crawling with microscopic life. Our job is to make sure that the microbeasts we like (namely our chosen yeast) get to eat all of the sugary nutrients in our beer, and to keep wild yeasty and bacterial party crashers from busting in, chowing down and leaving the beer a mess. That means we have to be vigilant about sanitizing everything that comes into contact with our beer. A great sanitizer that is likely already in your cupboard is chlorine bleach. If you're using bleach, then one tablespoon to a gallon of water will make a fine sanitizing solution. I've been using either an activated oxygen cleaner (a lot like Oxyclean, but no blue crystals in it) or a bleach solution for my dozen years of brewing, and haven't had an infected batch. There's a lot of infection paranoia out there, but if you're careful, you should not have problems.
A balloon whisk.
You'll use this to stir and aerate your wort after you have boiled it and cooled it down to room temperature.
Muslin hop bags.
Hops should be isolated and easily removable from the pot. Homebrew shops sell little knit muslin bags really cheap; you'll need to buy ingredients from a homebrew shop anyway, so pick up a few of these too.
hop bag, center
A nylon grain bag.
Grains are something we'll deal with in later lessons, but if you're going to use them, you need something able to contain them. There are little nylon bags and there are big bags that can be fit inside big pots. I'd recommend the latter because they're tougher, and more versatile. A little bit of grain in a great big bag is less of a problem than a lot of grain in a little bag. Some people advocate using nylon stockings for this purpose; make sure they don't have runners in that will let your grain out.
A clean white dishtowel and a rubber band.
Since we're operating on the assumption that you don't have an airtight fermentation vessel, it is important to keep airborne stuff from settling on your beer while it is fermenting. A clean dishtowel that has been soaked in sanitizing solution and wrung out can be stretched over the top of your fermentation vessel and kept in place with a rubber band. This will mean that you're conducting an "open fermentation," which is more traditional in some beer styles than others, but will work for everything.
A 4-foot length of flexible ½" (or so) tubing.
Transferring beer from vessel to vessel should be done by siphon, and you need a tube to get a siphon going.
A racking cane and a bottle filler
. These are rigid plastic tubes that attach to the flexible tubing. The racking cane has a device on the bottom end so that your siphon will not draw up sediment from the bottom of the vessel. The bottle filler has a pressure activated valve at the end, so that you can fill bottles without overflowing. Buy these and your tubing at the same time from the same place to insure that everything fits together.
Bottles.
You need something that can handle the pressure of carbonation and can be sealed tight. If you are a beer drinker, you can save thick returnable bottles and cap them with a device you can buy from a homebrew shop, but the more common twist-off bottles are not recappable, nor are they sturdy enough to safely carbonate beer in the bottle. Since most people don't have a case of empty recappable beer bottles sitting in the pantry, I'll suggest an easier and cheaper alternative: PET seltzer bottles. You can get one- and two-liter bottles of club soda for less than the cost of shipping a case of empty bottles to you. You'll need to take care about light exposure while your beer is aging, but that is as simple as keeping them in a dark closet. Don't use soda bottles, as the flavorings in soda can persist in the bottles, and you'd probably not want to get stuck with two gallons of lemony-limey-brau.
Ingredients
Malt, hops, yeast and water -- Beer advertisements over time have extolled those four ingredients, which are the bare minimum needed to make a beer. Marketers love the ancient German beer purity law called the Reinheitsgebot for its mysterious name and simple message: pure beer is good beer. Under that law (since overridden by the EU) only malt, hops, yeast and water could go into beer, and Germany still managed to produce a wide range of beer styles. Other countries without such a legal restriction on what goes into a beer have created a wildly varied array of beers by adding herbs, spices, non-yeast microbes and alternative sources of fermentables.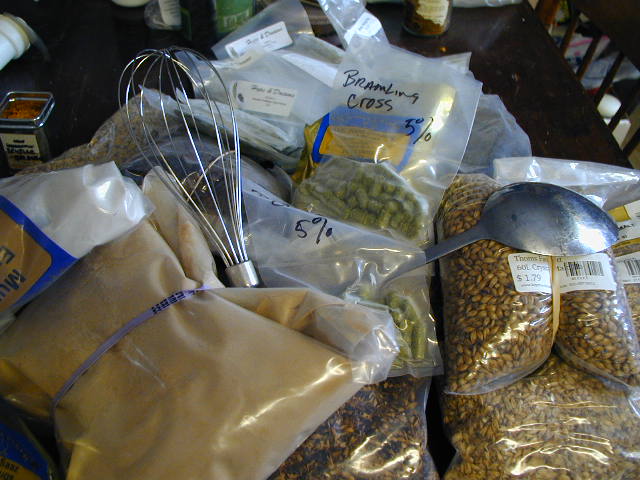 Since this is designed for new brewers, we'll keep it simple early on, and only talk about what we will use to brew the first batch in our next lesson.
Malt
When a kernel of grain begins to sprout, a complex alchemy of chemical reactions begins, converting the starch we grind into flour into sweet sugary compounds to feed the growing plant. Malting grain is the process of capturing the kernels in the midst of their transformation from starch to sugar, and then heating and drying them to kill the sprouting plant and take its energy stores for our use. These dried malted grains have a set of activated enzymes within them that will transform most of the starches into sugars when exposed to the right environmental conditions. When brewing directly from grain, part of the brewer's art is setting the environmental conditions such that the transformative enzymes turn the starches into the right mix of fermentable and unfermentable sugars that will give the beer both its strength and its body. As a bit of trivia, the brewer's word for the sugary solution is "wort," though we'll try to keep the specialist vocabulary to a minimum early on in these lessons. (Brewing does have its own well developed jargon that can confuse folks who don't speak the language.)
In this introductory course, we are going to use a common shortcut and employ malt extract. Malt extract is the concentrated sugars derived from malt that has gone through its enzymatic transformation. There are two broad types of malt extract, liquid and dried. For our purposes, we'll be using dried malt extract because it is easier to deal with in small portions, and is frequently available in pound increments at homebrew shops, whereas liquid extracts are often only sold in big cans that would leave you with sticky leftovers to deal with and sticky measuring cups and kitchen counters and clothes. In your homebrew shop, you'll find a variety of dried malt extracts -- most often you'll see light, amber, dark, and wheat extracts. Light extract is the best base extract to use, as further on in this course we'll learn about using specialty grains to add color, flavor and body to our beers. We'll learn about specialty grains in the second brew we make in this course of lessons.
Homebrew shops may have dry malt extracts from various sources. Keep in mind that Dutch type extracts tend to contain more unfermentable sugars, which give a beer a heavier body and thicker sweeter flavor and mouthfeel. Extracts from other sources tend to be more fully fermentable, and produce drier beers. By mixing Dutch and ordinary extracts you can affect the body and mouthfeel of your beer.
Hops
Hops are the flowers of a vine that sprouts from underground rhizomes. They contain an array of aromatic and bittering compounds that both preserve beer and give it the characteristic flavor we associate with beers. Hops can contribute many aromas and flavors, ranging from grassy to floral, from piney to citrusy, and all of them contribute a bitter counterpoint to the sweetness of the malt. Using hops is an exercise in the art of balancing, and where brewers demonstrate their skills. Since bitterness is such a personal matter of taste for people, a beer that appears well hopped to one person can seem overwhelmingly bitter to another. You'll have to learn what you like and don't like, and remember it the next time you brew.
The effects of adding hops to a brew changes depending on how long you allow them to boil. The longer the hops boil, the more bittering effect. In homebrewing there are conventions to hop usage, commonly called bittering, flavoring, aroma and dry. Bittering hops are supposed to be boiled in your wort for an hour. Flavoring hops are boiled for about 10 minutes, boiling off most of the volatile aroma compounds, adding a bit of bitterness and leaving the flavor compounds from the hops in the beer. Aroma hops are added right at the end of the boil and liberate their aromatic compounds, which don't boil off because the boiling stops. Dry hopping is a technique where the brewer adds hops to the cold beer after it has already fermented, this adds even more hop aroma to the beer. Since brewers love experimenting with the rules, there are beers out there that don't boil any hops for 60 minutes, but instead boil more hops for less time to achieve the same level of bitterness, but with more hop flavor retained in the beer as well. Other all-grain brewers have revived an old practice called first wort hopping, where hops are added to the vessel collecting the wort as it runs off of the grain. This long steep before the boil changes the way the hops express themselves in the brew, increasing the hop flavor. For our introductory purposes, we'll break our hop addition into thirds to acclimate you to the different hop additions.
Hops are usually labeled with a name and a number. The name is the varietal of the plant that produced the flowers. Hops are like tomatoes or wine grapes, insofar as they are all one species but exhibit a wide array of flavors. The number is a measure of the percentage of Alpha acids present in the hops, and is most often abbreviated %AA. Alpha acids are the bittering compounds that turn into the bitter flavor in beer once they have been boiled together with the malt sugars for a period of time. High alpha acid hops require less hop volume to contribute bitterness than low alpha acid hops. The longer the hops are boiled, the more of their aromatic compounds vaporize and waft away with the steam from your brew pot, and at the same time more of the alpha acids are converted to bittering agents.
Hops are sold in three forms. For our purposes they're equivalent since we'll be using hop bags to contain them. The options you might be presented with are "whole leaf" hops, which are just the dried flowers of the hop vines, "plugs," which are those flowers crushed down into a compact little puck, and "pellets," which are the flowers pulverized and then extruded into little pellets. The pellets will leave much finer particles in your beer if you tossed them without any hop bag or other hop separation technology. While doing so with pellets would be problematic, it is theoretically possible to just throw whole and plug hops into the boil and strain them out later, but we're not going to do it that way because the spare change that each hop bag costs is worth it.
Yeast
Yeast are the microbes that eat sugar and turn it into alcohol and carbon dioxide. They produce other byproducts as well, often depending on the temperatures at which they are working and the magic of the organic chemistry going on in the fermentation process. There are many varieties of yeast, each with its own characteristics. Many types of beer, particularly Belgian beers, are distinguished by the contributions of the yeast used in brewing it. The crisp dry aspect of lagers that we are accustomed to is a byproduct of the species of yeast used to brew it and its preference for fermenting over long times at low temperatures. Since most homebrewers don't have a fridge dedicated to brewing, lager beers are an advanced brewing project that requires significant investment. Ale yeasts, another species, are happy to do their work at room temperature or thereabouts, but they do contribute a number of flavors if they ferment too warm. Often flavors like banana, clove, bubblegum and butter are produced by yeasts fermenting outside of their favored temperature range, but you can also get spicy and complex flavors out of yeasts as well. Most ale yeasts prefer to ferment between 65 and 75 degrees Fahrenheit, which should not put too much inconvenience on the average brewer who lives in a climate-controlled space.
Brewing yeast is sold both in liquid preparations and dried. Dried yeast keeps better and requires less effort than liquid yeasts to use, but is more limited in the varieties available. Early in the evolution of homebrewing the consensus was that dried yeasts were inferior to liquid yeasts. That is no longer the case, since dried yeast manufacturers have increased the quality of dried yeast available to consumers. Liquid yeasts are more expensive than dried yeasts, and when used in standard 5 gallon batches, they benefit from having their cell counts ramped up by making a starter culture before throwing the yeast into the hopped wort. Surf over to some online homebrew shops and look at the range of yeast available to get an idea of how distinctive and different yeast's effects can be. That's why it is a very bad idea to use yeasts bred for baking in beer. Don't be tempted to try it, because you'll probably not like the results.
Water
By volume, your beer is mostly water, so you want to make sure your water is as tasty as it can be. If you have treated municipal water, you might want to boil it all by itself for a bit to boil off the chlorine so that it can't latch onto compounds in your brewing ingredients. In more advanced homebrewing, some people advocate using distilled water and water treatment products to replicate the local water of the origin of the style of beer you're brewing. That is well beyond what we're doing here, but it does point out that your water chemistry will make your beer unique to your locality, so that if you went to visit friends in another state and brewed your beer at their house with their water it might not come out exactly as you expect. This is also why some parts of the world gain fame as centers of brewing or baking. Burton-on-Trent in England became famous for its beers because its water chemistry affected the grain and hops in ways that most other British water did not. New York bagels and Philadelphia cheesesteaks and hoagies are distinctive because of effects of the local water supply on the breadmaking process.
THE RECIPE
For a first small brew we'll aim for a strong pale ale type beer, with a medium hoppiness. This beer will be about as strong as a Belgian trippel. We'll use light dry malt extract to provide the fermentable sugars. For our hopping, we'll use the archetypal citrus-y American hop, Cascade, which should be readily available in homebrew shops.
We're shooting for a beer with the following characteristics:
Original Gravity 1.068
IBUs 23
Light yellow color
Original gravity is a measure of the density of the solution you drop your yeast into. Water has a specific gravity of 1.000. Ethanol's gravity is less than that. The sugars in the solution push the number up to 1.068, though it will drop again once the yeast convert most of the sugars to ethanol. Your final gravity should be somewhere between 1.005 and 1.014. If you take density measurements at the beginning and end of your fermentation, you will be able to calculate its alcohol content exactly. As a rule of thumb, the digits after the decimal point in the original gravity reading will let you estimate how strong your beer will be by dropping the 1 entirely and moving the decimal 2 places to the right. That tells us that our beer will be somewhere around 6.8% alcohol, or about 1.5 times as strong as average American beers. The tool used to measure the density of a solution is called a hydrometer. For the moment, I'm going to advise strongly that beginners not get a hydrometer because it will provide the temptation to take lots of readings while the yeast is working and is better not disturbed. As you progress in your brewing you might want to get a hydrometer, but I managed to break mine a couple of years ago (they're fragile glass things) and haven't missed it and haven't replaced it.
IBUs (International Bitterness Units) are a measure of how much hop bitterness is in your beer, calculated from the amount of alpha acids in your hops, and how long they've been boiled. The 20s represent moderate hoppiness. Some extreme beers have IBU measures above 100, and others have measures in the single digits.
The following recipe will yield something like what we want.
2 Gallons water
3 lbs. Light Dry Malt Extract
1oz. Cascade hops, divided in three parts for different stages of the brewing process
.25 oz crushed coriander seed (optional addition with the aroma hops, for its bright citrus-y notes)
Danstar Nottingham dry yeast
Now you have a shopping list for ingredients and supplies. Find your nearest local homebrew shop and stock up.
If you can't find a shop nearby, there are homebrew shops on the web that do a fine mail order business. I've had good experiences with
morebeer.com
and
Hops & Dreams
, and have read that many people are happy customers of
Northern Brewer
and
Homebrew Adventures
.
(Three of these have very active discussion forums that attract vocal homebrewers who write about brewing and are worth reading, although you should realize that there are plenty of contradictory opinions out there.)
Shopping list for the brewing supply store or website:
3 lbs light dry malt extract
1 oz Cascade hops
1 packet yeast
3 Muslin hop bags
Siphon hose
Racking cane
Bottle filler
A packet of priming sugar (we'll use this later as we bottle -- and carbonate -- the beer)
See you in a couple of weeks.
Please post your questions about the homebrewing course
here
.