Ciao,
I just came back from an amazing trip in Israel. My primary reason was to visit family, especially my grandmother, but not even that can hold back a curious cook like me.
My first meal in Israel was about 12 hours after I landed in Tel Aviv. Using a few different sources as inspiration and 'guide' I chose Raphael in the Dan Hotel as my first adventure.
Raphael was on Rogov's top 10 list and is the place everyone talks about – except the people who know food best.
The only memorable menu item I enjoyed was the first course which was a corn soup he called 'fresh polenta'. It was nice and tasty. All the other dishes had some major flaw. The special yellowtail tartare we ordered was on the house because of the length it took to prepare – and we sent it back anyways because the small amount of fish that it consisted of was all the tendenous trim – that inedible chewy part of the fish - MAYBE NEXT TIME RAFI!! The chicken livers with red wine and mashed potatoes were cooked perfectly – but now where on the menu did it say PEPPER CRUSTED. There was sooo much black pepper that I tried rubbing some of it off with my napkin. Trying to cover up an off taste?? The desserts were ok – but the ice creams served were all crystallized and icy.
From the amount of praise I have heard about this place – I was truly let down. I don't think I will give the momma's boy another chance either. (kind of rough!!)
The next evening I went over to the Manta Ray on the beach in Tel Aviv. This place was not a fancy kind of place like the previous night but the food was straight forward and decent. I enjoyed a great sweet potato soup there with a thai influence.
After those two meals though, I lost a lot of hope for there being decent food left to taste. I switched my view to the more homey, rustic style and moved on to the 'Schoonat Ha' Tikva'
I good friend named Moti, a Yemenite (teymani) showed me around his 'hood' and took me along to eat at some of the most memorable places. For on the grill foods and foods enjoyed in a Iraqi style pita, we ate at Ceaser (Kaysar). They made a great foie gras Lafa.
For the more original Yemenite fare we ate at 'Boaz' or the Boaz brothers or something like that. We enjoyed a Meat Soup and Moti liked his with "extra cholesterol!!" The eating of the soup was a new and amazing food experience for me. Before we walked across the street from Moti's house to the restaurant, he grabbed a lemon off of his tree.
We walked into the restaurant and Moti went up to see what was cooking for the day. Like I said earlier, he ordered us two meat soups with chicken.
His with the more cholesterol (thick layer of fat on the top) came out of the kitchen first, mine followed seconds later. Moti cut the lemon in half and put all the juice into the Schoog (a mixture of cilantro, hot peppers and other seasonings), stirred and added half into his soup and half into mine. Then the fresh pitas came in from next door, where they actually make the pita breads fresh to order for all the restaurants nearby. We 'rolled up' the pita nice and tight and let the bread soak up a nice amount of the soup, then enjoy. Once the chicken came out, we both pulled the skin off of the leg/thigh portion and Moti told me to put the whole thing into the bowl of soup.
I followed my commander's orders and watched as he began to devour the flesh from the poor bird, using nothing but his fingers!!! There was a brief moment where we finished all the pita bread and a neighbor offered us some of her "Lachooch" – a type of pancake bread kind of thing with lots of little air holes – imagine making a large thick pancake and cutting it in half.
I quickly followed suit and before too long we were stuffed and ready to hit the road. The whole experience, with 'Bira Schorah' (malt beer or black beer?), cost a whopping 56 shekel for both of us. That is the equivalent of 10 Euro!!
OK,
Then I met BOAZ!!
Boaz and I met here on eGullet and he showed me a really great and amazing time (thanks!!). He picked me up one morning with his brother and we drove over to Yaffo to enjoy some Massabecha (chummus) at Abu-Chassan (or many other names aka Ali Caravan??).
That was a great way to wake up. The Massabecha is a type of chick pea dish where it is much runnier then classic chummus but you still use a pita to 'le nagev' or wipe the dish clean. The addition of a lemon juice and hot pepper mixture only intensifies the experience and in about ten minutes you are in and out of this place. If you come around lunchtime there will be a huge line way out the door. Total price – 18 shekel per person (3 Euro or so).
Next of with Boaz and his brother Gideon was a coffee break at Pauls's Café in Yaffo and that was followed by some traditional sweets including these delicious delights.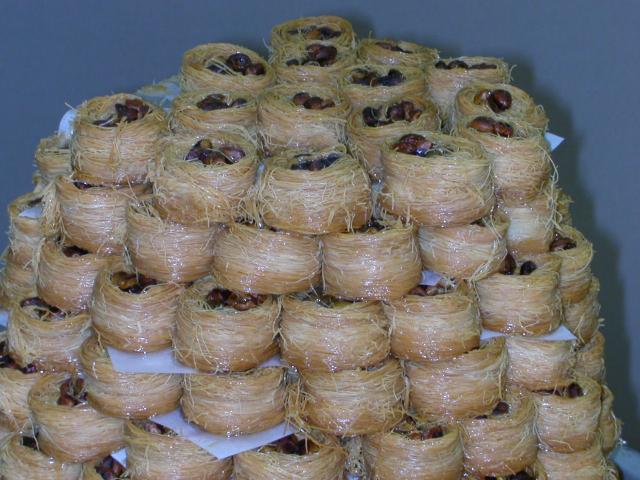 and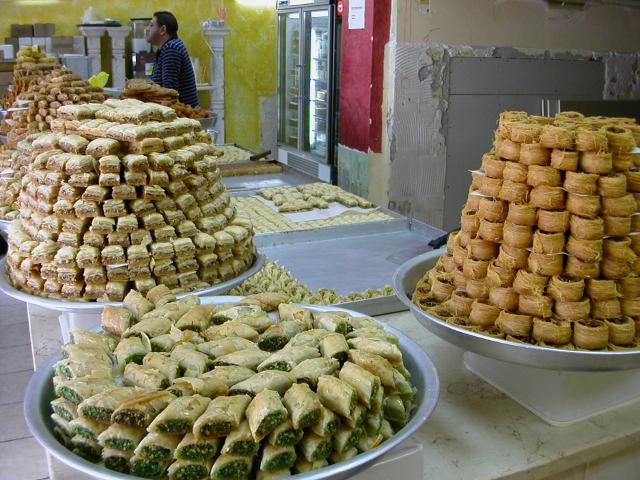 This below is klafe (knafe?) and it is a sweet pastry filled with goats cheese – must be eaten when fresh out of the oven like we enjoyed for a super experience! The red/orange is a coloring added and is always present to help identify it quickly. The store they took me to also sold great string halva and real palestinian tchina (tahini paste).
The fresh lemonaide is a must to cut through the fat!!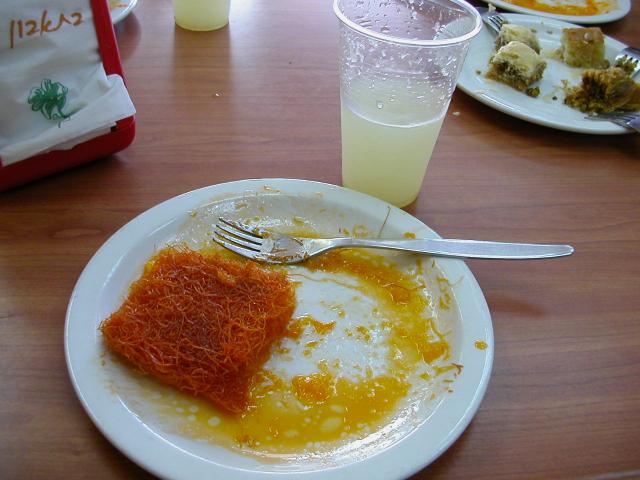 and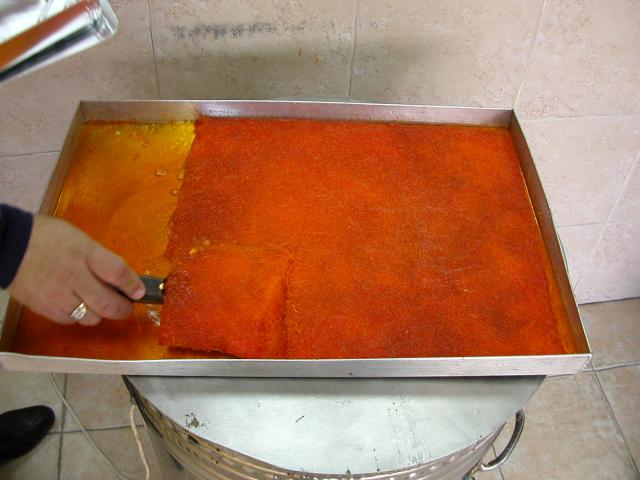 To be continued…
Ore