Happy double nine day! It's the ninth day of the ninth lunar month, and I can barely hear myself think for all the firecrackers going off in the neighborhood.
Our next stop in Beijing was a Sichuan place called Dezhe Xiaoguan. In an alley in the middle of Dongcheng district somewhere, our cabbie was in the dark as we were trying to find the place. I thought at one point I'd seen the hutong sign, and stopped the cab, only to see after getting out and paying that I'd read the sign wrong. My husband and I had one of those conversations you have when you've been dropped out of a cab on a dark, quiet street in a strange city where you can barely read and speak the language. Blame was eventually assigned to me. Our faithful attendance of language lessons finally paying off, though, we were able to call and get guided to the right hutong, not a block down on the other side of the road. It's not a difficult place to find, but please note no English is spoken, nor is there an English sign to this place.
It's in a restored courtyard home, with first-date sort of atmosphere. Warm, naturally finished wood tables and chairs; traditional blue and white china; Jack Johnson on the stereo.
The food, as I noticed in Beijing, came in HUGE portions, and we over-ordered so badly that even our server felt compelled to tell us we'd ordered way to much. We were greedy guts and were undeterred by his warnings.
We ordered the cold sesame and chili chicken in a vain attempt to recreate the magic from the night before, and while their version was fine, the chicken flesh was nowhere near as silky as that of Da Dong's.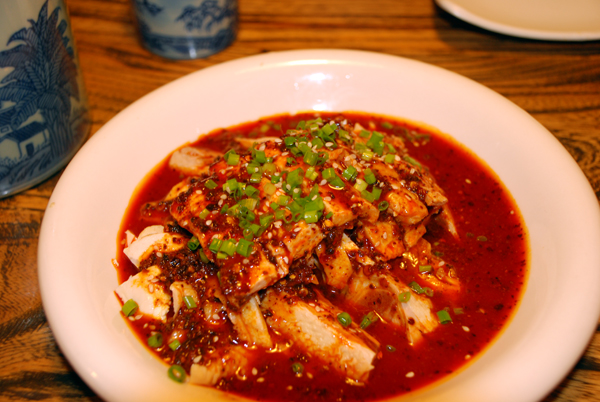 Beef with wild mushrooms was rich and moreish. The beef was cut what I think of as Japanese-style - very thin in sheets with lots of flavoursome fat laced on the edge of each sheet. These mushrooms -I have no idea what kind they are, but have long, hollow stems and tiny caps carried the earthy taste of the beef, and they were bound together in a slightly sweet, slightly hot sauce that made you take mouthful after mouthful trying to get sated of it - but each mouthful led to more of a craving, instead of sating it. It was a Sisyphean sauce.
It pretty much ruined my appetite for the two further dishes we'd ordered; the braised green beans with yellow-bean sauce - soft and salty; very nice.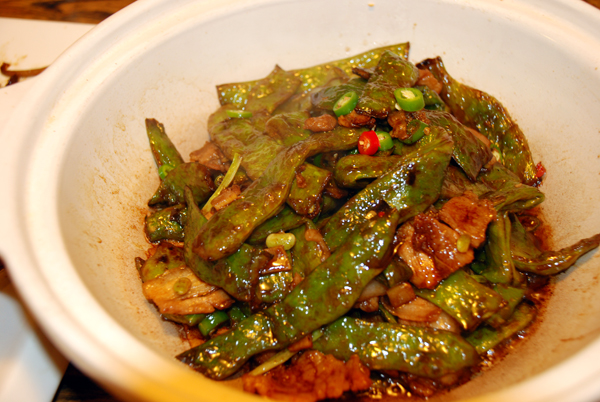 Chili-fried radish with smoked ham.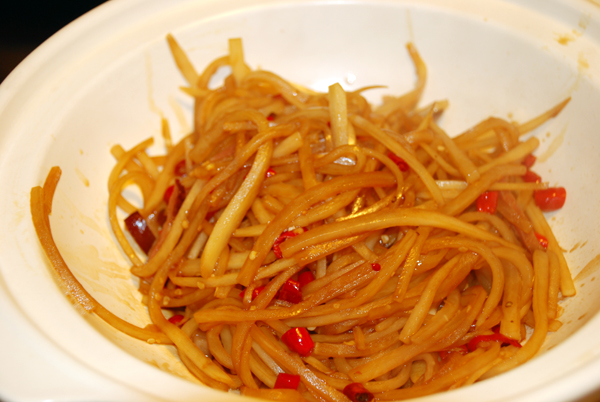 The smoked ham is what makes me wonder if the true deliciousness of Chinese country cooking can be truly experienced internationally, without access to these cured meats. This pork was so smoky, so rich, that a few small pieces infused a wok full of radish shreds so much that it was like we were eating crispy vegetable chili bacon. It pained me not to polish off every scrap, but we were just too stuffed. My husband and I routinely finish three dishes between us in Suzhou with room to spare, but the portion sizes there are so much smaller. We got da pao of the extra.
There is lots of lovely game and offal dishes on the menu as well, including crispy kidneys and rabbit head, but we couldn't order everything, even though I've been meaning to make a go of enjoying offal dishes. When I go back to Beijing, it'll be difficult not to revisit.