Good morning and welcome to my foodblog! I'm Amy and I'm blogging from Tokyo, where spring is just getting underway after an unusually snowy winter (by "snowy winter" I mean it snowed a few times, even piling up as much as 10 cm in some places).
I'm more of a lurker here on eGullet and mostly stay in the Japan forum-- I just checked and I have a grand total of 606 posts. I also just noticed that I joined in March 8th 2003, and I can't think of a better way to celebrate 5 years of eGullet membership than this foodblog.
I actually have a regular blog, which is almost a foodblog, but I post just a few times a week so this will be a bit more intense than usual. I think it will be fun though, and I hope you enjoy it. I'll be happy to answer any questions, although among the frequent posters in the Japan forum I am probably the least knowledgeable about Japanese food. I'm also happy to take requests: if there is any particular food or dish you are interested in I'll see if I can make it.
Let's get to it then. I just ate this: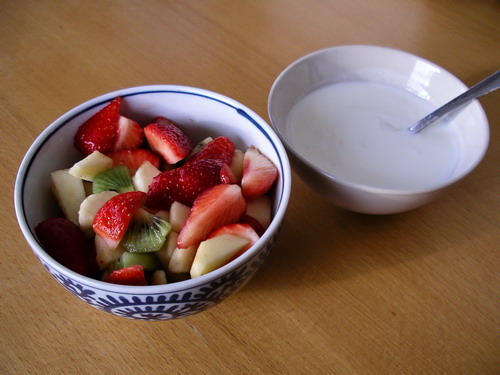 Fruit salad with strawberry, apple, banana and kiwi; homemade yogurt. Eaten in front of the computer, this was my pre-breakfast-- I'll have oatmeal later. I sometimes eat in stages like that because I don't have much of an appetite in the mornings.
I'll post a bit more about myself later, but right now it's time for my morning coffee. See you in a bit!