Retirement can do strange things to people
I have an uncle who has always been a bit of DIY freak. As he and my aunt get older - they are becoming more and more careful of what kind of food they eat. Now that that they don't have growing kids to feed - they try to eat as much organic food as possible and grow alot it themselves.
News reports out of HK last year detailed alot of the lack of quality controls in foods produced in China - so they decided to start making their own soy sauce. I wanted to provide a little update as to how this is done - and I was surprised that it was not as hard as you might think - just a little time and care.
My uncle remembers growing up in post war Hong Kong when food was scarce and making ends meet was not easy. The war had left my grandmother virtually broke (from bribing officials to keep her kids safe), widowed, and still having to find a way to feed 8 kids. One easy source of protein was to make miso at home - fermented soy beans that was cooked with a little pickled plum and rock sugar. My uncle said it seemd like the most delicous food at the time.
Making soy sauce is simply removing the liquid that the soy beans are fermented in. They still end up with miso that they use as a condiment for cooking things like fish and pork - it gives a plumlike sourness . Now in Vancouver - we don't get as much sun as we would like - so the fermeted soy mash does not cook in the sun for as long as it should - so there is more acidity in it then you would find in industrial soy. Still - its pretty good.
Dried organic soy beans are cooked till they are soft and fall apart into a meal when squeezed between your fingers.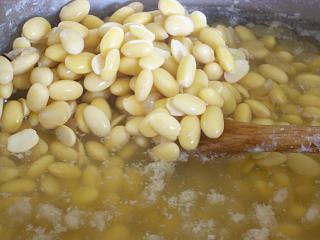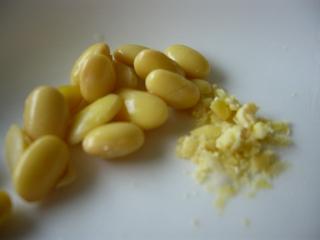 The soy beans are mixed with flour - ratio that my uncle uses is 16 oz of soy beans (dry weight) is mixed with 12 oz of flour.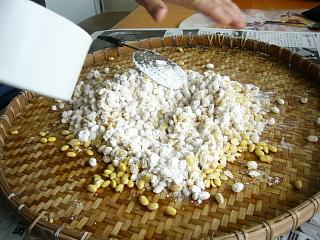 The beans and flour is kneaded together to make a loaf. My uncle says that from what he's seen, alot of industrial producers skip this step.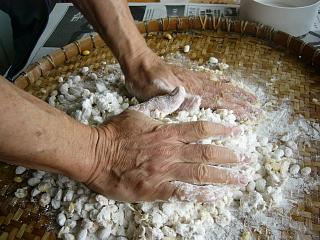 The loaf is then cut up into disks - and the whole basket is wrapped in layers of towels to promote mold growth.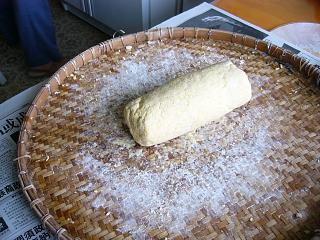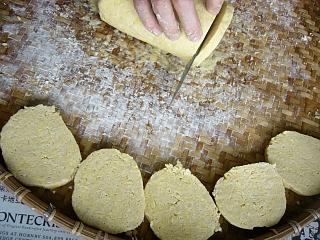 The mold growth part takes about a week - I will take some pictures then if the mold takes hold like it should.
The saltiness for the soy sauce will come later when the fremented disks are soaked in a brine that contains 8 oz of salt. It's funny - the salt water has been prepared for a few weeks now. Large containers sitting out in the sun (under plexiglass). I actually don't understand why this needs to be done - but my uncle says that my grandmother would always let the sun cook out the water - sometimes for a whole month. Perhaps this was a way to remove impurities - when tap water was not so safe - and nowadays, it may be good to let some of the chemicals used to treat water, evaporate off. Vancouver is notorious for its use of cholrine.
Hopefully the mold will take hold and I will have new pictures soon.
BTW - I have no idea what kind of mold takes hold and how my uncle ensures that it is not some killer strain. So - that's my attempt at a legal disclaimer.