This past Saturday I presented 56 boxes of chocolates to a friend as wedding favors for her reception. My wife has shipped care packages of my truffles as far away as California and Australia, but this was my first time being under the gun to produce a large and varied batch on a deadline.
I of course, drastically underestimated the time it would take and only started my first batch the weekend before. To make matters worse I lost a couple days due to the heat wave and high humidity before I bought a dehumidifier to augment the central air. That lowered the humidity enough to resuming tempering and dipping on Thursday. My wife and I were tying ribbon around the boxes at 2am Friday night with a 6am alarm for the long drive to Toronto.
Still, it all came together. I want to thank all of those here who have provided tips, techniques, and encouragement. I have gotten quite a bit of information from the demonstrations, threads, and individual messages which brought me to the point that I had confidence I could pull this off.
Here is a single box showing the variety. Thanks to chiantiglace for the demo on praline making and Kerry Beal and others for the tip on how to keep the crunch when it goes into the ganache.
The box top with a label explaining what each chocolate is. My wife had whole sheets of sticky label and I cut them with a table cutter.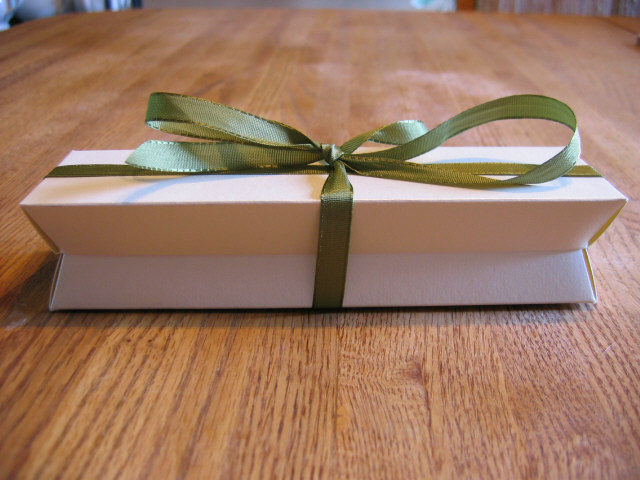 The finished box all tied up in the brides colors. Special thanks to WhiteTruffleGirl for sharing her find of these great looking Empire boxes!
And finally the entire batch that made the trip.