Ma Po Tofu (麻婆豆腐)
Ma Po Tofu is a Sichuan specialty. There are many versions of the Ma Po Tofu recipe. This pictorial is my interpretation of it.
Dedicated to
SuzySushi
.
Picture of the finished dish: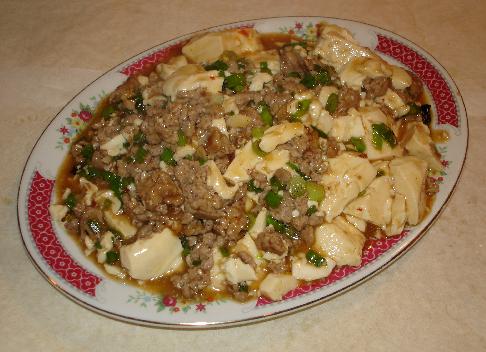 Serving Suggestion: 3 to 4Preparations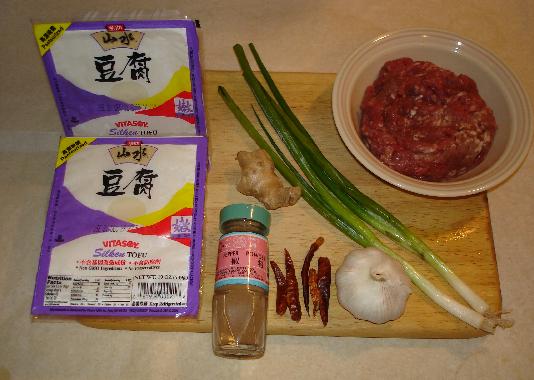 Main ingredients: (From upper right, clockwise) 1/2 to 3/4 pound of ground pork, 2 stalks of green onions, 4 to 5 cloves of garlic, 5 to 6 small dried red chilies, ginger (about 1 inch in length), Sichuan peppercorn powder, 2 packs of silken (soft) tofu, 16 oz each.
Note: You may use ground beef in place of ground pork, or use pressed tofu if you are a vegetarian. I like to use silken tofu for its soft and smooth texture. You may use firm tofu or regular tofu if you like. Roasting and grinding whole sichuan peppercorn is the best if you have time. I use Sichuan peppercorn powder for convenience.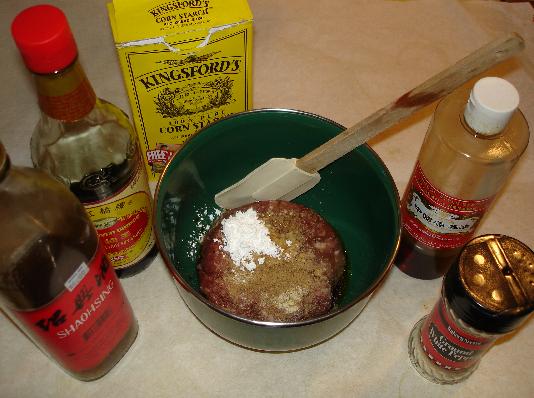 Marinating the ground pork: Use a mixing bowl. Add the ground pork. Add 1/2 to 1 tsp of ground white pepper, 1 tsp of sesame oil, 1 tsp of corn starch, 1 tsp of light soy sauce, and 1 tsp of ShaoHsing cooking wine.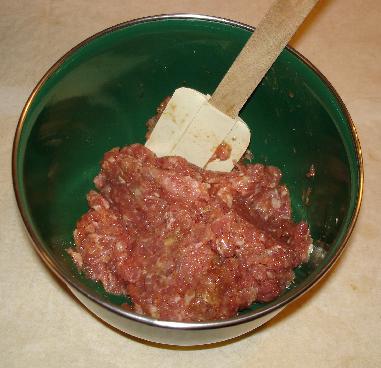 Mix all the ingredients. Set aside for 20 to 30 minutes before cooking.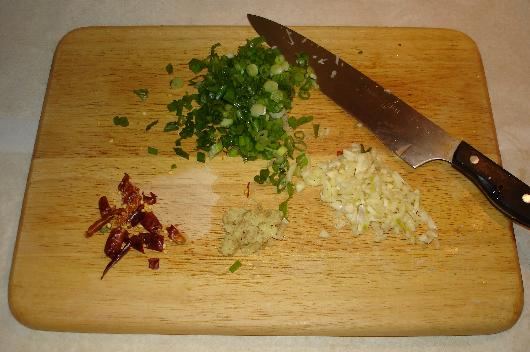 Meanwhile, trim off the ends of the green onions. Finely chop. Peel and mince the garlic. Grate the ginger. Cut up the dried red chilies into 1/2 inch pieces.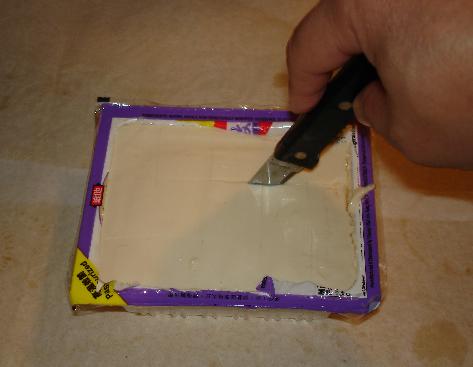 Open the tofu packages. Use a small knief to make roughly 3x4 cross cuts. These silken tofu will break apart during cooking. No need to take them out of the box for cutting.
Cooking Instructions:
Use a wok/pan, set stove to high temperature. Wait until pan is hot. Add a generous 3 to 4 tblsp of cooking oil. Velvet the ground pork until cooked, about 5 minutes.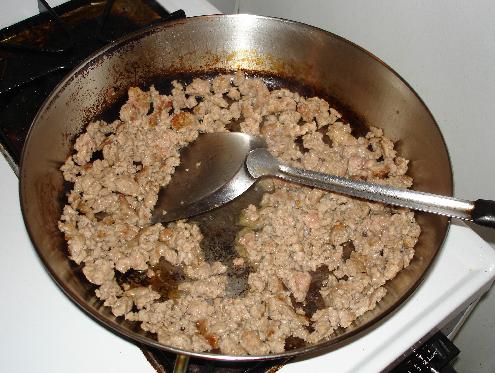 Use the spatula to cut up the lumps of the ground pork. Try to break up the pork as much as you can. Remove the pork and drain the oil with a strainer.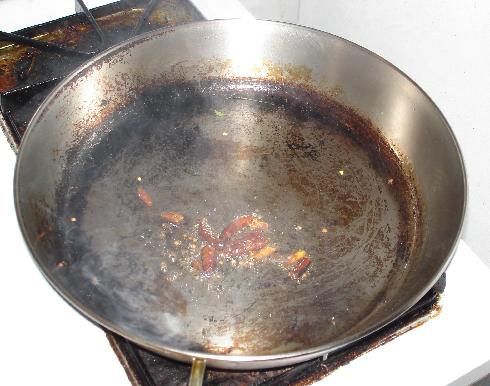 Start with a clean wok/pan, set stove to high temperature. Add 2 to 3 tblsp of cooking oil. Wait until oil starts fuming. Add cut dried red chilies. They will turn black very quickly. You need to act fast.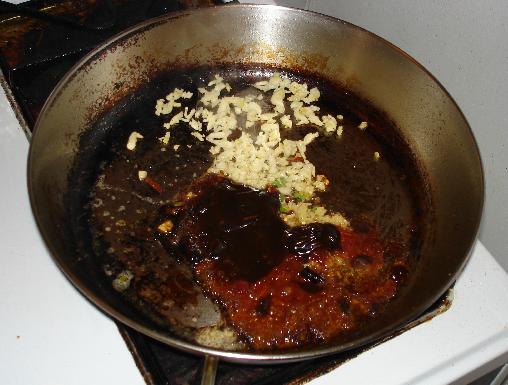 Add minced garlic and grated ginger. Add 2 tsp of chili bean sauce, 4 to 5 tsp of hoisin sauce, perhaps 1 to 2 tsp of brown bean sauce too. Stir. Dash in 2 tsp of ShaoHsing cooking wine and 1 tsp of white vinegar. (Optional: add some chili sauce if you like it hot and spicy. No need to add salt because the chili bean sauce and chicken broth are already salty, or you may add a pinch of salt to taste.)
Stir well and let the sauce/garlic/ginger cook for 10 to 15 seconds under high heat.
Add 1/2 cup of chicken broth, 2 tsp of sugar.
Bring the mixture to a boil. Fold in corn starch slurry (suggest: 1 to 2 tsp of corn starch and 1/8 cup of water) to thicken the sauce to the right consistency.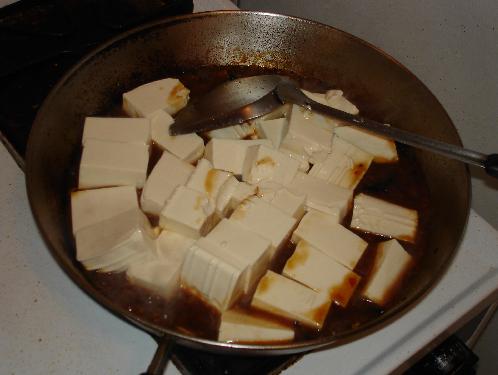 Add the 2 packages of tofu. After you put in the tofu, minimize the stirring. Silken tofu breaks apart very easily.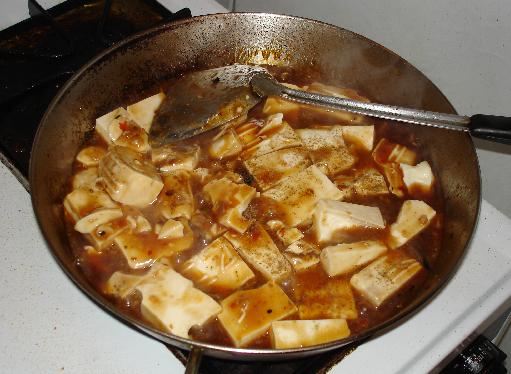 Wait until the mixture boils again.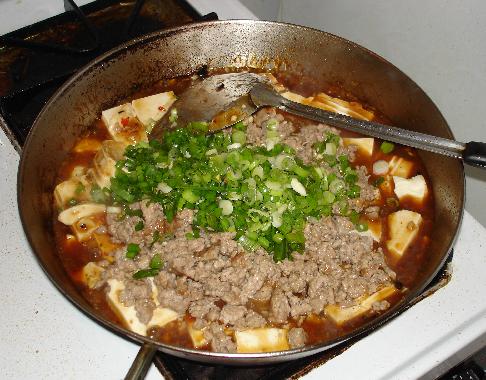 Finally, re-add the ground pork. Add the chopped green onions. Add 1 to 2 tsp of ground Sichuan peppercorn powder. Stir and mix. Cook for another 2 minutes or so. Finished.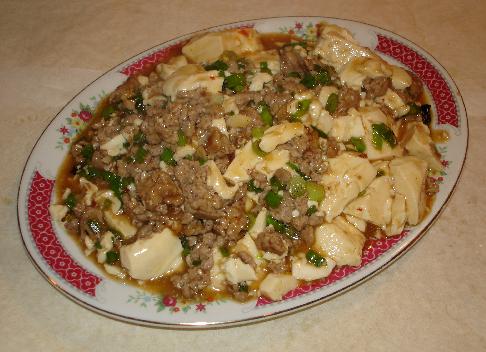 The finished dish. The quantity of food made in this recipe is about twice the portion shown in this picture.
Edited by hzrt8w, 13 November 2005 - 02:32 AM.