I typically use fresh duck hindquarters for my Confit, but unfortunately the local Asian market no longer carries them.  They were priced for the cook, usually no more than $1.99 a pound, far less than the per pound cost of a whole duck, butchering not included.  So a new adventure began substituting chicken hindquarters. 
This is the recipe that I developed about 15 years ago and it never disappoints-
4 duck, (or chicken), hindquarters
Kosher salt
1 tbsp. juniper berries, crushed
3 sprigs fresh rosemary
4 springs fresh thyme
4 fresh sage leaves, torn
3 dried bay leaves, crushed
8 cloves garlic, smashed
Fresh ground black pepper
Pork lard, (takes about 1 to 1 1/2 64oz. buckets, depending on size of pot and poultry)
I'll take this opportunity to bring up a pet peeve. I prefer the flavor and aroma of dried bay leaves over fresh, but the stuff in bottles is for the most part terrible.  Look into a bottle of dried bay leaves and if they are brown, do not buy it, it's an expensive waste of a wonderful herb.  I buy fresh bay leaves and dry them at home for about a week, then crush them to release the flavor.  The fragrance of fresh juniper berries adds a wondrous perfume to Confit and reminds me of Central Oregon and many successful hunts for wild mallard.
The chicken goes into a large dish and is liberally salted on both sides-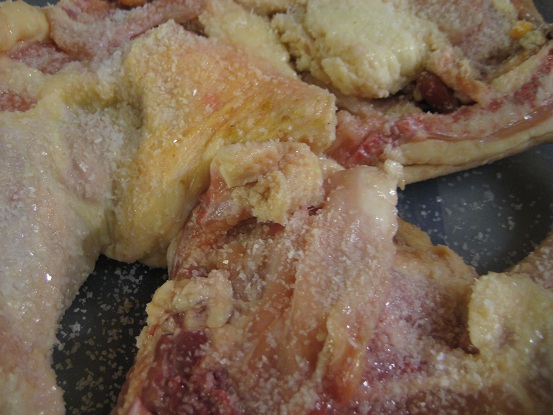 Now the herb mixture is spread over the chicken along with garlic and a hearty dose of black pepper-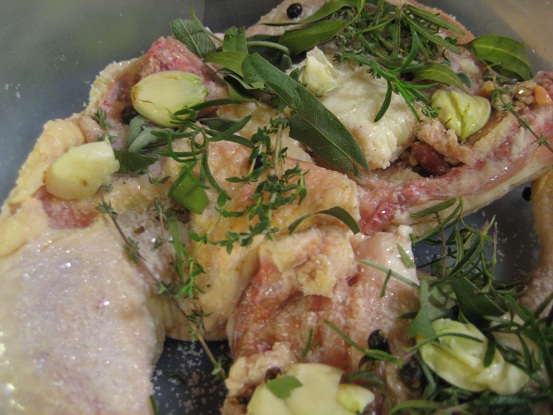 A Le Creuset pot starts over a low heat on the stovetop to melt the lard, then the chicken is pushed down into the pan and additional lard is added to cover-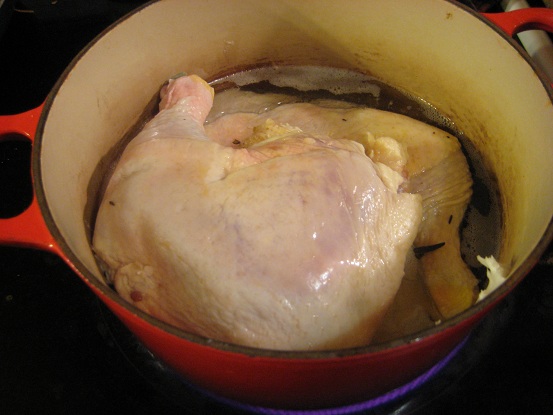 Into a 200 degree oven for six hours.  Some recipes call for letting the Confit cook on the stovetop just below a simmer.  Cooking it in the oven sounds a bit dangerous since oven temperatures vary and one worries that the pot with boil over, but at 200 I've never had a problem.  Once out of the oven I let the Confit cool to room temperature then into the fridge.   I usually can't wait long to eat Confit, but I made three batches this time and I plan to taste each one over the span of about two months to see if aging adds an additional layer of flavor.