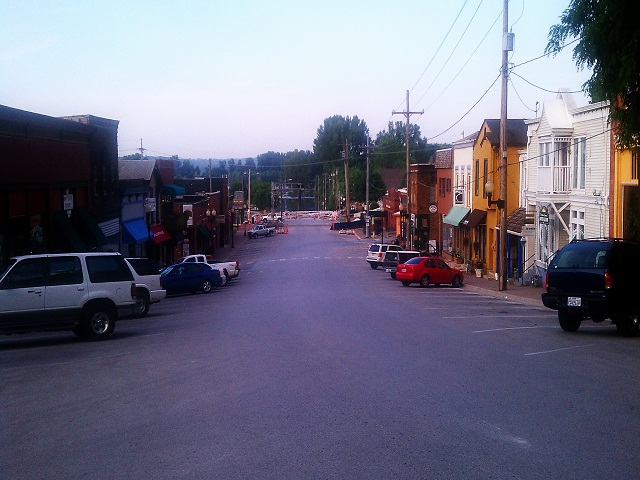 Well, it's officially Sunday and we have a whole lot to cover this week, so...hello and welcome to Missouri. I'm a troll's troll. And as much as I'd like to pretend that I actually DO live under a bridge waiting for goats to walk by, I am looking forward to putting my OCD to work and showing you a little bit of "MY Kansas City". To begin my blog I'll open it with an absolutely true story…in addition to changing the way I approach food, whether it's dining in a new city or trying a new recipe, I owe the largest part of my happy life to eGullet. For it was HERE that my lurker wife (I'm sure she'll pop in here at some point) first spotted my gleefully grammatically challenged wordsmithing and began to stalk me…and it went like THIS-
A few months after my gastric bypass surgery in 2007, I hosted a dinner party and talked about it on the Sopranos food thread:
The Sopranos Dinner Thread
So she saw that and was like "Oh man, this guy is going places!", and she fell into the vortex that is my blog
(which DOES contain adult themes and language…BIG time)
after hopping over there to read the extended version of the dinner. My blog is kind of like a landfill and gets about ten accidental visits per day, one comment every three months…it is absolutely shill and self-promotion proof. So in the interest of including some important non-food info I'll link to a specific post without feeling too bad about possibly boosting my traffic to twenty over the next few days. If you skip to the third comment, that is where this whole story took off after a random dinner party report. My wife-to-be happened to post to something I wrote about online dating...comments complete with John Cusack references. Anybody here have a heart?!?! Isn't it PRECIOUS?!?!?
Thoughts about dating that reeled in a wife...
And so thanks to eGullet we were off and running! I was in Kansas City, she was in Richmond, Virginia...and after several months of phone calls and literally hundreds of pages of emails we arranged our first face time. Planning for a worst case scenario, she would drive to DC (which would give her a quick escape if needed), and I would fly in and have three days to eat and drink in that town…with our without her.
So where was our official "first date"? Is that a rhetorical question? We were going to be in DC, and you don't remain a bachelor until almost forty without learning a thing or two about "classy" first dates. So no brainer…minibar. BOOM. You can't make that stuff up. And my wife mentioned how much she likes it when the eG food bloggers include a picture, so here you go- this is us on that first date, at the bar at Café Atlantico, waiting to be summoned upstairs:
We had a small destination wedding in Savannah, Georgia in Whitefield Square's gazebo. On June 25th we celebrated our second anniversary during a roadtrip to Deadwood, South Dakota (Corn Palace, Wall Drug, the works). We live in Parkville, Missouri, which is about ten minutes northwest of downtown Kansas City (Missouri…there's another one in Kansas

 ). No kids, but we do have three rescue animals...one cute but common decency-challenged cocker spaniel and two one-eyed cats. Overall, life right now is grand. And this is a FOOD blog, but I will add that what makes life so great is making it through a pretty crazy first couple of years...I mean, we did everything you're NOT supposed to do. Long distance relationship where we both bounced back and forth between Richmond and KC, planning a wedding with the full knowledge that in a few months I would be laid off from my job, getting married and then having her leave home to move a thousand miles away...finally arriving here with no job prospects and me being out of work for what ended up being seven months. 2009 was crazy….five people in my family died that year, I got married, I quit drinking, my whole team got laid off, my bachelor pad was about to be retrofitted for estrogen-friendliness, wife looking for a job, a one-eyed cat thrown into the mix...you don't realize how crazy it is when you're in the middle of it. So now I am literally thankful every single day for what we've got; we're both employed (I'm in IT, she's in healthcare), we have a happy home, great family and friends...and we love our food. When the good times come you devour them, and you pass on as much good as you can to others. And life will always come back and happen to you at some point…and sometimes quickly, sometimes slowly, the good times will return. And when they DO return, YOU CELEBRATE WITH A FANTASTIC MEAL!
So I just wanted to give that little backdrop to set up what I'm wanting to do with this week. I could have gone a million different directions or just try to make this what I think of as "eGullet-y". But as my wife told me, there isn't really any NEW ground to cover on this site, so best to just personalize it and see where it goes. I'm just going to blog how I blog, food-centric and minus the wildly excessive profanity... other than that pretty unedited and full of self-amusement. You're going to see some good food, I promise you that. I'm going to test your limits with my rambling, horrible photography, and movie references...and I AM the king of the ellipses... but it's going to revolve around food, who we are, and what makes us love eating in KC. I've lived in Arizona and Minneapolis, but Kansas City Kansas is where I was born (on the 4th of July!) and most of my life has happened in the major metropolitan area. I moved to the Missouri side after my broken-hearted return from Minneapolis in 1995, because it is just better than Kansas. Sorry, it's just true

.
I'll have to leave a lot of stuff out that may tweak folks familiar with the area, but I'm always available for questions, requests, and whatever is of interest about food in my town. If it exists here, I'm probably at least aware of it, I am deeply familiar with the current scene, and we eat EVERYTHING, too bad we've only got the week. Like many eG bloggers it will be a big one-off as far as overall dining costs and calories in a seven day span. Oh, and here's the big kicker...no BBQ. I create world class bbq, I love talking about it, and am happy to chit-chat, but that is one serious all-or-nothing topic. Plus, a Kansas City blog without bbq is just funny. I gotta be FREE! Some NEW stuff! For its size, Kansas City has an amazing food community, and I will give you just a tiny fraction….and please ignore any eye-rolling and fact checking from other KC eGulleters because MY KC is the coolest version...full of folklore and intrigue!!!
Oh, and "zeemanb" is a screen name I've used since around 1995 when I first got online. Sadly, some from KC think it has something to do with the Z-Man sandwich at Oklahoma Joe's BBQ…but cheese belongs on bbq about as much as mango chutney or pop rocks…or bbq sauce…so not hardly. I took the name from the character Z-Man Barzell in the Russ Meyer classic "Beyond the Valley of the Dolls", written by Roger Ebert. My holy trinity of movie directors would be Stanley Kubrick, John Waters, and Jim Jarmusch...so there is a big clue into my voice and worldview- with deepest apologies.
In the morning I'll detail how we approach hard narcotics, er, I mean COFFEE in this house. We've got friends coming over in the afternoon for some Ad Hoc fried chicken, and I am DYING to post dinner from tonight. I know it happened a couple of hours earlier than the start of the blog, but I assure you it is not to be ignored. Gotta hit the hay, so until then here are a few random shots to tide you over:
Photo of my favorite spoonrest. And by favorite, I mean my only spoonrest:
We find that the best use for the extra plastic grocery baggies we steal is- cheap cat toy:
Lastly, before I head to bed, here is some super cool food photography we bought while we were on our anniversary roadtrip: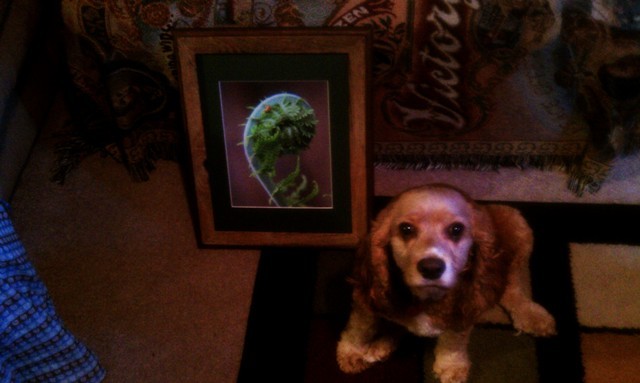 More rambles once I get the caffeine in my veins.....