Good morning from
State College, PA
(and congratulations to Kerry Beal for
guessing my identity
!)

. I only wish that the
first teaser photo
was current---alas, it was taken last summer, things aren't quite that green yet at this latitude. Thanks, Susan, for inviting me to do a foodblog this week.
First a little background: "Hennes" rhymes with "tennis," I'm 27, and I'm working on my Ph.D. in Aerospace Engineering at Penn State. My wife is currently finishing her Ph.D. in Accounting here, and you're catching us an an exciting/scary/stressful time in our lives: tomorrow we have to decide where my wife is going to accept a job that she will begin at the end of the summer. More on that later...
In the grand tradition of foodblogs past, here is how I begin my mornings (at least, when I have time!):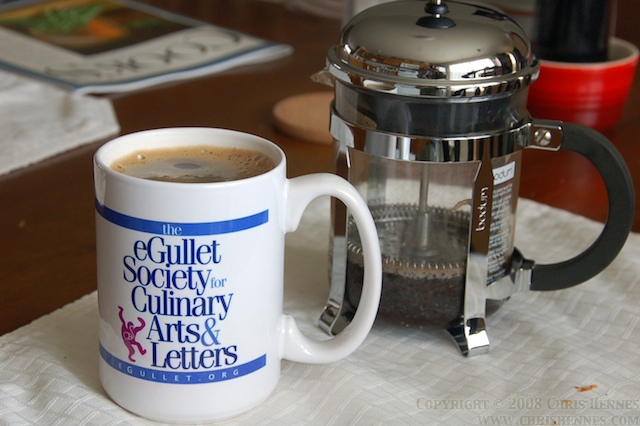 The eGullet mug is an unusual embellishment: I usually drink my morning coffee out of a stainless-steel thermos mug so I can nurse it for a couple hours. But the mug seemed appropriate for this blog, so here it is! Coffee is typically my only breakfast: I don't get hungry until around 10:30 or 11:00 a.m. I know, this is horrible and unhealthy, but there it is... you won't be seeing much breakfast food this week!
What you will be seeing is a lot of pork, and a lot of chocolate: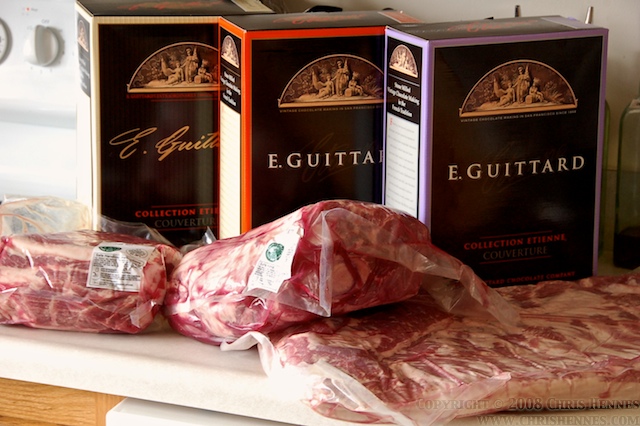 Sorry to disappoint those of you who are hoping to see chocolate-covered bacon, but this is as close as the two will get to each other this week

. I've had bacon in a chocolate bar: it was good, but I can think of better uses for both ingredients

.
Other items on the menu this week include such thrilling entries as tacos, stir-fried green beans, and BLTs. Ah, the culinary adventures of a graduate student!

I hope you'll drop by and say hello from time to time despite the mundane dinners! And I hope no one is too disappointed that I don't hail from anyplace exotic!