Much like cookbooks, what the world needs now is many fewer restaurant critics. Over the next week, it's my goal to ensure that you talk me out of my job, while I, meanwhile, try to talk you into it. So to speak.
In other words, I want you to ask me lots of questions.
My life
doesn't
hang in the balance of my next review, something that I've been doing professionally for the past 15 years. But from writing about restaurants I've also come to know the food service business quite well, I suppose. And behind the swinging doors lie much bigger stories, especially of the collaboration of chef, farmer and fisherman; distribution; cross-cultural influences (Vancouver, where the culinary DNA is still knitting itself together, is a fine laboratory to observe that in); the collusion of wine with food; and more recently, the necessity of sustainability, especially as it relates to the global fishery. This week I'm going to eat my last Russian caviar. Ever.
No, restaurant reviewing would be much less interesting if I couldn't write about these bigger stories. So I hope that I can transmit to you how the research works, how the writing gets done, and ultimately, lend a sense as to how culinary cultures--born from diversity--emerge with a sense of their new locality.
We'll be covering a considerable amount of real estate across this big, raw-boned place:
• We'll begin today In British Columbia's Okanagan Valley Wine Country and for the next two days and nights look in on some agricultural history (in an attempt to track the area's culinary evolution) and wineries, cook with chef Michael Allemeier of the Mission Hill Family Estate Winery (braised boar cheeks will be featured at a Friday night dinner party with some wine folks) and a revisit to a restaurant to demonstrate our review process and methodology.
• On Saturday I'll return to our home in Vancouver—where we have some friends joining us for a little seasonal cheer, 'Seven Hour Sacrificial Lamb' and 'Cheesier-Than-Mariah Carey Scalloped Potatoes.'
• On Sunday morning we'll be flying to the wild outside coast of Vancouver Island to the ecotourism town of Tofino, which is about an hour's flight in a twin engine aircraft. Once there we'll be looking in at coastal cuisine from the pans of chef Andrew Springett at The Wickaninnish Inn and, in a more casual vein, at the construction of excellent fish tacos at Sobo.
• On Monday we'll be returning to Vancouver to go behind the scenes at pastry chef Thomas Haas's (he was the opening executive pastry chef at Daniel in Manhattan) lovely production facility, and observe John van der Liek at the Oyama Sausage Factory, which carefully produces more than 150 products. We'll aslo track the history of a new restaurant, from development menu to opening night and review.
• Through the balance of the week we'll look inside many more professional kitchens and markets, hopes and dreams.
I'm sure we'll find a few other things to do too. Once again, I very much encourage your questions.
Last night, the Ice Wine harvest was supposed to start. In order to trigger that, Vintners' Quality Alliance reguations demand the temperature must stay at or below -8 degrees Centigrade through the entire pick, which can take a while. Anything else is just Late Harvest fruit. Alas, there was a slight inversion off the lake yesterday afternoon and it was called off. So we stoked the fire and rolled back into bed.
But now I'm off to pick up some croissants down the hill at La Boulangerie. We baked some Irish soda bread yesterday as well. I'll make some strong coffee when I'm back, and begin to tell you a little more about this disturbingly beautiful place . . .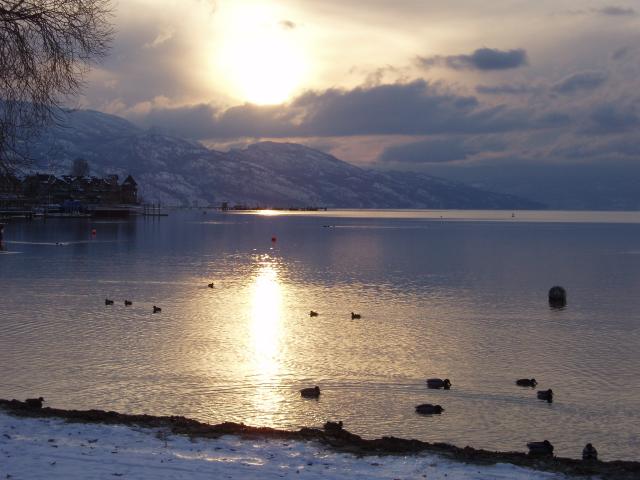 Welcome,
Jamie
Image:
On the Beach - Okanagan Lake last afternoon, 1530 hours.
Edited by jamiemaw, 08 December 2005 - 05:55 PM.