NOTE: This topic is part of the Eating New Orleans series.Pampy's Creole Kitchen
2005 N. Broad St., 949-7970
Moderator Note: Pampy's was destroyed by flooding in September 2005, and Executive Chef Austin Leslie passed away several weeks later. It has not been determined whether Pampy's will be rebuilt.
Those of you familiar with our previous trip to New Orleans in 2003 no doubt have heard our praises of Austin Leslie, the genius behind the fried chicken and second-in-command at
Jacques-imos.
Pableaux Johnson discusses Austin at length in the Jacques-imos entry in his new June 2005 book,
Eating New Orleans
, who's restaurant reccomendations we used as the basis for our trip this year. Unfortunately, Jack Leonardi and Austin parted ways in November of 2004, and the book was not updated in time.
In December, the 71-year old Austin quickly bounced back on his feet, and is now heading the kitchen at Pampy's, a swank Creole-Soul fusion eatery owned by Stan "Pampy" Barre', who was once the head of security for former New Orleans mayor Dutch Morial. We ate at Pampy's twice during our visit, the first a quick lunch with Upperline owner Joanne Clevenger, and the second via invitation from the man himself, who dazzled us with his generosity and his incredible skill as an accomplished Creole and Soul Food chef. The man definitely knows how to run a kitchen and his way around a skillet.
If
Willie Mae's Scotch House
is the ultimate expression in Soul Food minimalism, then Pampy's is the polar opposite -- here Soul Food and Creole cuisine, the culinary legacy of poor African-Americans in Louisiana is elevated to the highest of highs. If anyone ever thought that Austin Leslie was nothing but a glorified fry chef, they would be wrong -- dead wrong, as you can see from the photos of food we had at Pampy's here. This is a destination restaurant that should not be missed -- and if you have to drag yourself out of the French Quarter or downtown New Orleans to do it, then you damn well should.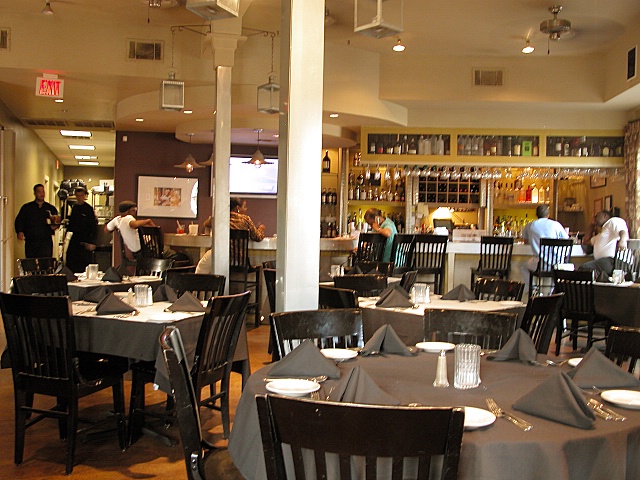 Pampy's Main Dining Room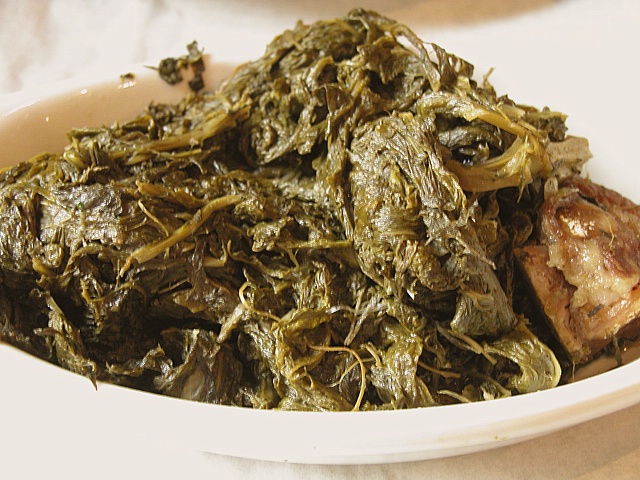 Mustard Greens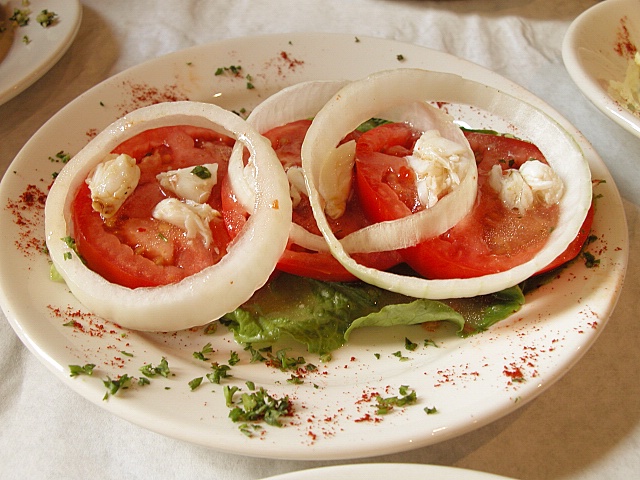 Tomato / Onion / Crab salad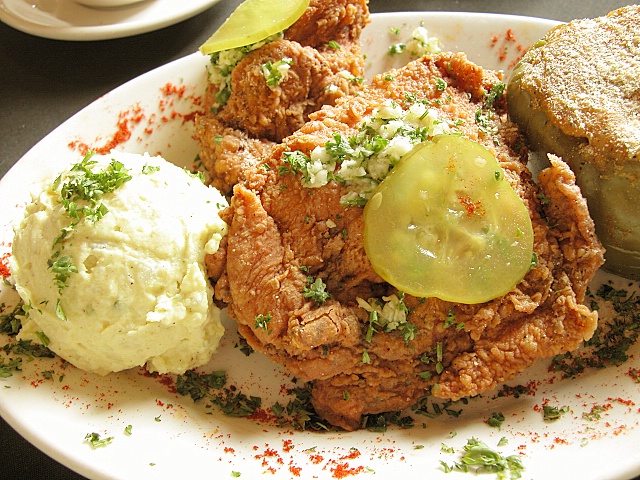 Austin's fried chicken with Garlic/Parsley Persillade. Perhaps one of the best examples of fried chicken I have ever had.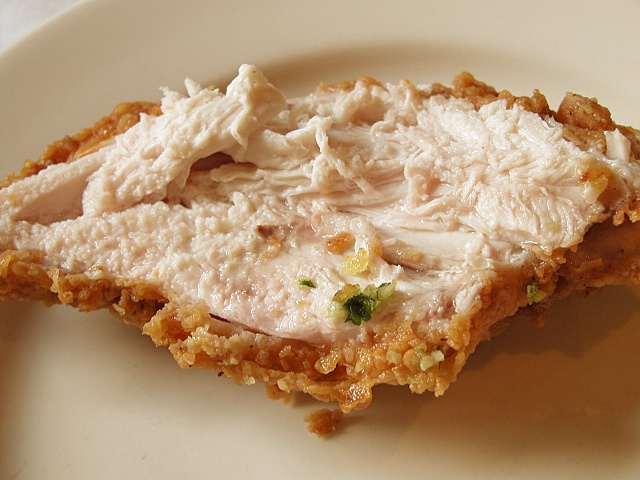 As you can see, it was real juicy inside.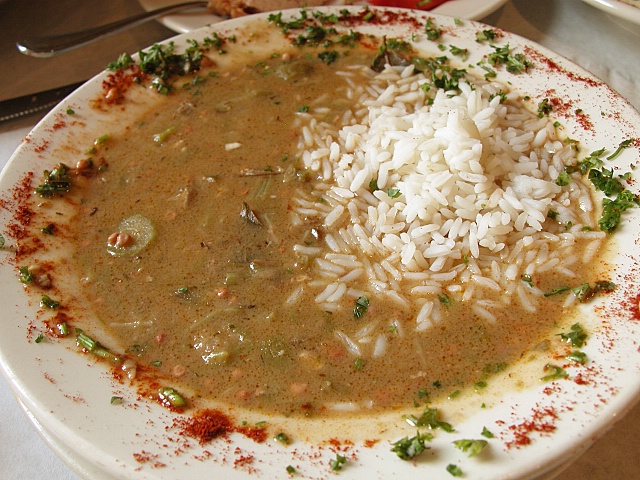 Seafood Okra Gumbo
Fried Pork Chop with Red Beans, Smoked Pork and Rice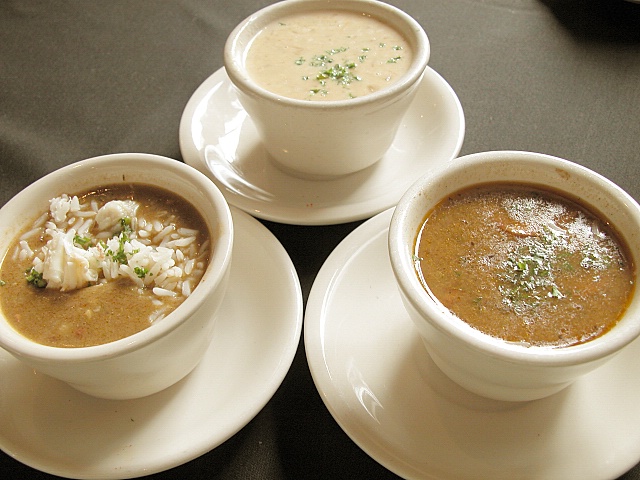 A Trio of soups -- seafood okra gumbo, file gumbo, and crab/corn soup.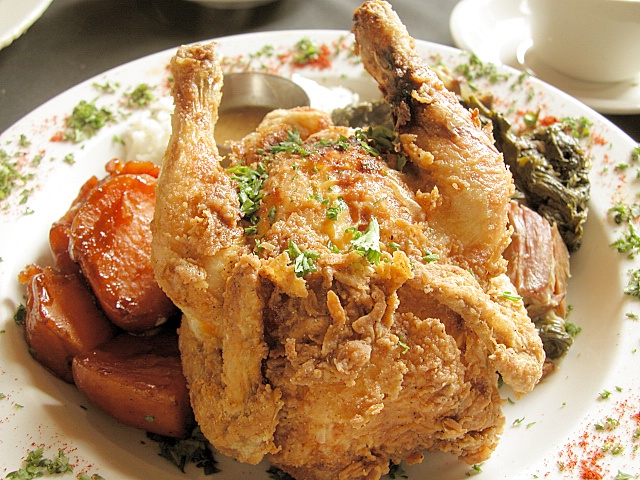 Cajun-injected deep fried cornish hen. In many ways, we felt this was one of the best dishes of the evening.
Buffalo Shrimp with habaneros. HOT!
BBQ Shrimp -- a creole and New Orleans classic. These were outstanding.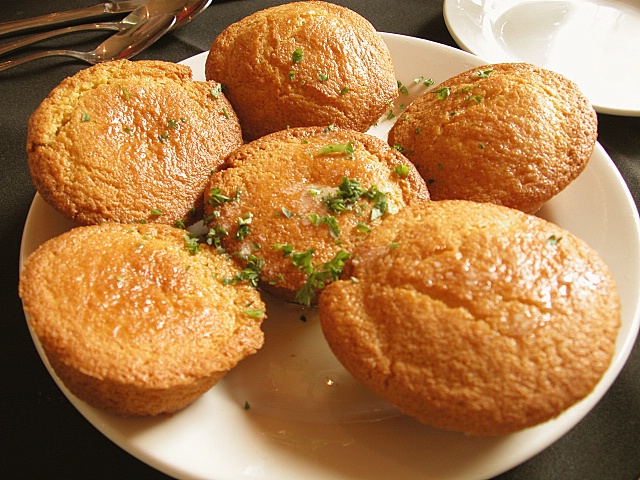 I am not joking when I say these are the most amazing cornbread muffins I have ever had in my life.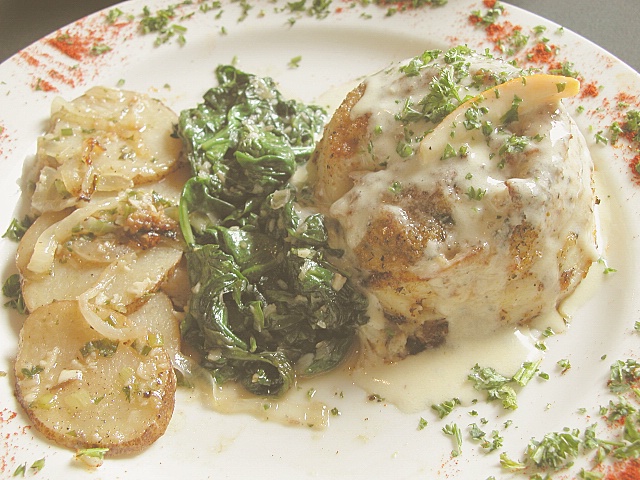 Stuffed Speckled Gulf Trout Meuniere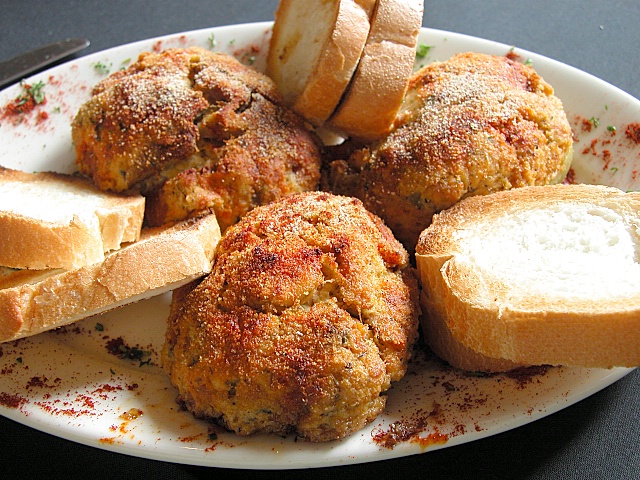 Stuffed Peppers
Bread pudding with a vanilla/sugar/bourbon sauce. Fantastic.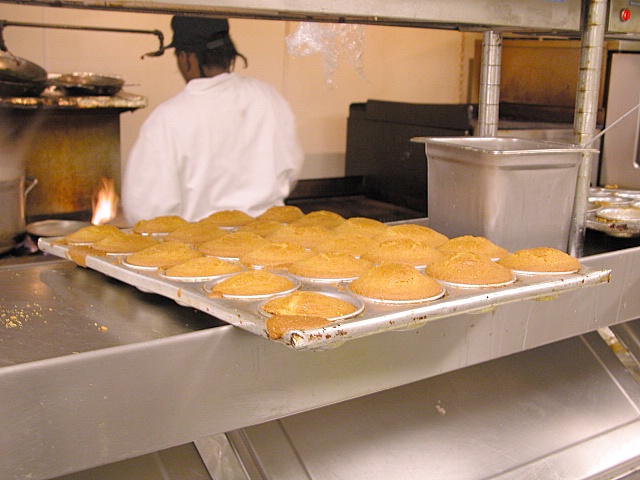 Cornbread just out of the oven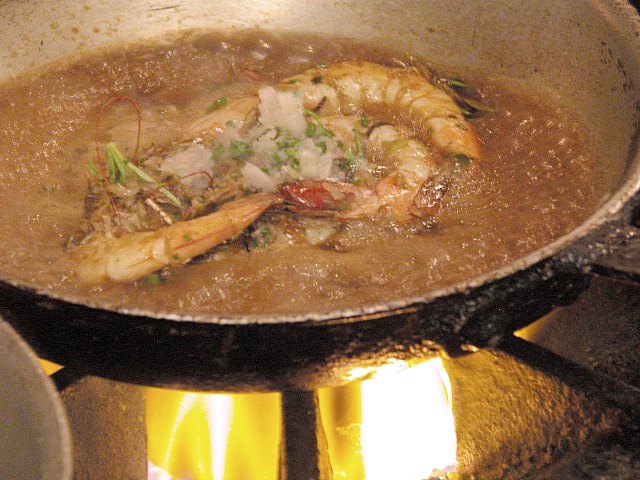 BBQ shrimp, in the pan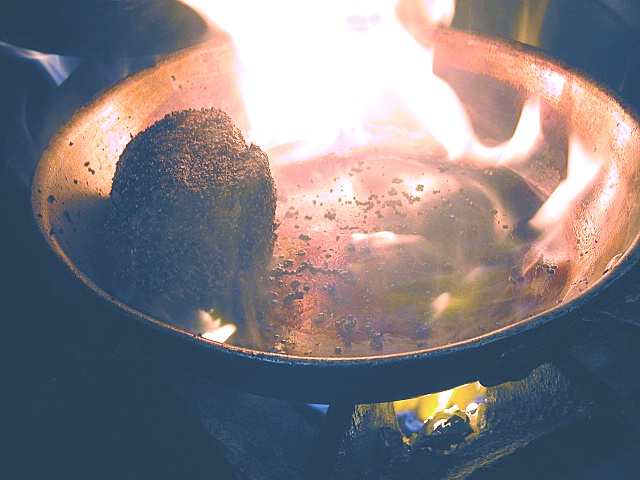 Pepper crusted Filet Mignon getting a nice sear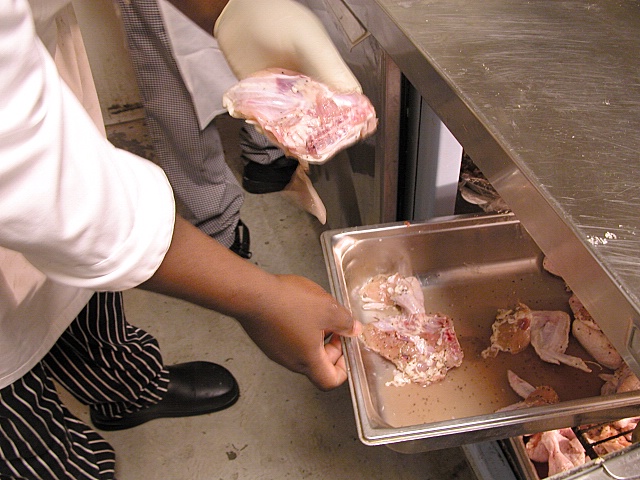 The secret to Austin's fried chicken -- NEVER BEEN FROZEN CHICKEN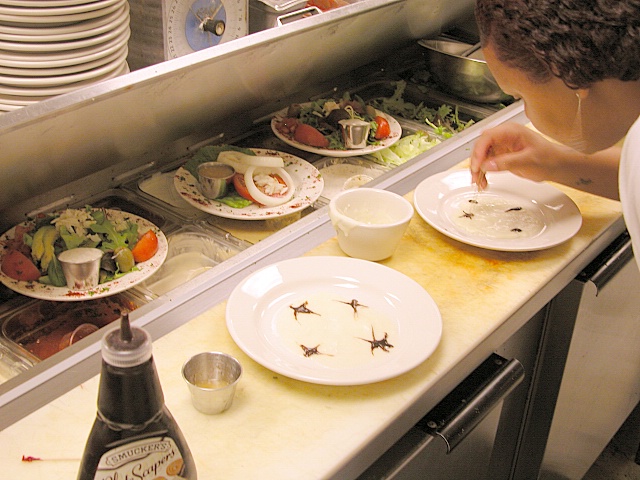 Finishing touches at the Salad and Dessert station.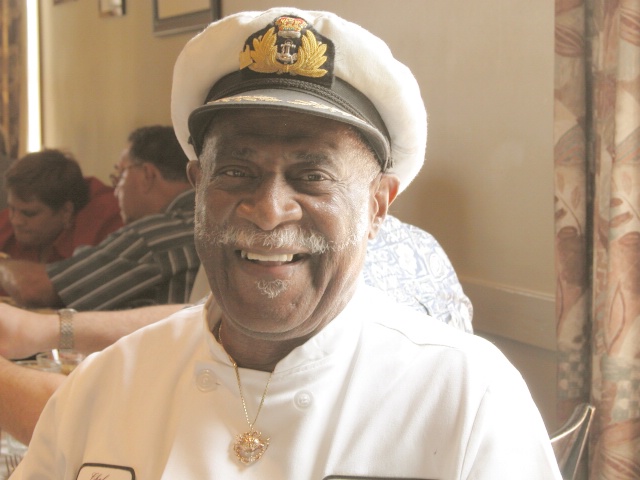 The "Godfather of Fried Chicken" himself