Bleh. Now that I let it into my brain I can't get rid of the "don't be a poser…the chicken wasn't enough…cook something you've never tried before that will make you want to kill yourself" broken down carnival music that is blasting at full volume. The good news is, the thing stuck in my brain can't be done on Friday night because I need stuff from the market Saturday morning. The bad news is, the potential for total meltdown and backup BLT's on Sunday night is very high. With meats that are new to me, I work backwards the majority of the time…I choose a Mt. Everest (for me) of a recipe so that if it is successful anything from that point forward will be really easy. Full glory or nothing….which goes back to the whole "my wife is the REAL cook" dynamic. I will probably just encourage Meredith to go and enjoy herself at the local cinema. I love to plan and I love the end result, but when I'm in the middle of one of these things and doing the actual cooking…I'm not someone you want to be near. Danny isn't here, Mrs. Torrance.
Gotta hit the road in about an hour, will be back around in the early evening with a full belly. Meredith might showcase one of our favorite veggie burger recipes at some point.
Speaking of the wife, we had some zucchini left over from our CSA this week, so she made some of these muffins. And of all places, Whole Foods had a $4.99/lb sale on Rainier cherries this week.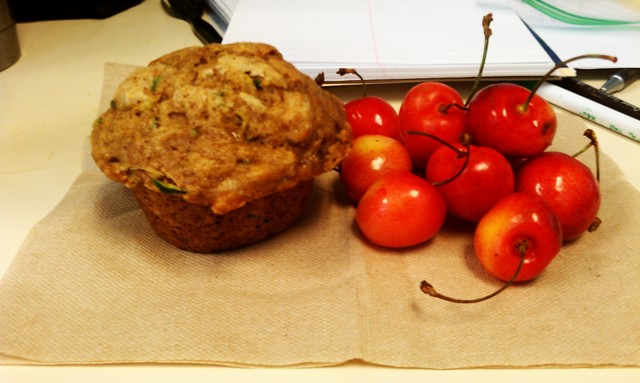 Here is lunch from earlier-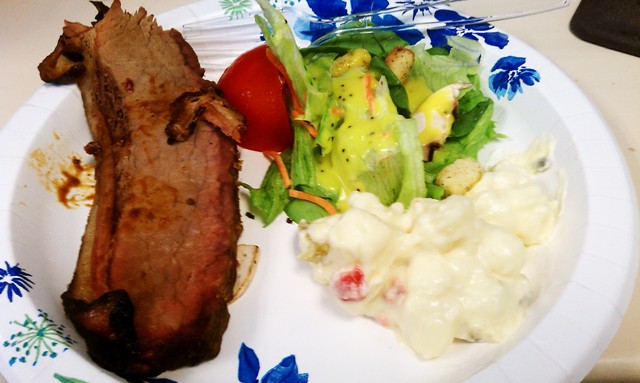 I wish I had more time to talk about lunch. This is a rant, it may make me sound angrier than I actually am. The monthly potluck at the office is just...it is hard to think of the word...annoying, a little depressing maybe. I would never ding someone on the quality of their food if they put forth any effort, and I'm willing to put the definition of "effort" on a very, very forgiving sliding scale. Let's say on a scale of 1 to 10, I'll give Jello a five for effort. Fair enough. When it saves me from cooking for myself, I will eat anything.
But what we have here is a situation where about five out of fifteen people do any actual cooking each time, and the bozos who bring in a pack of Oreos, hot dog buns, or a 2 liter of Best Choice soda reap the benefit month after month. Which would still be fine, BUT they are the first ones to do recon to make sure someone is planning to make something they want to eat. AND they are the first ones to get in line and end up going back three or four times to fill their plates at least twice as full as my picture. No exaggeration. And of course, it just goes without saying, they probably also brought sandwich bags and/or Ziploc containers in which they can pack stuff to take home. Minimum effort, maximum return, and a heaping helping of entitlement drizzled throughout. It's the "I don't know how to cook or I just don't want to, so the joke is on you! You have to feed me!" philosophy.
Like a gullible fool, I learned about the entitlement the hard way when I first came onto the team. I was doing a bbq the Sunday before my first monthly luncheon, so I thought it would be a cool thing to bring in a big container of pulled pork. Well it WAS a cool thing. People who are used to regular restaurant bbq lost their damn minds. What I failed to realize, silly me, was that in THEIR minds, the people who either cannot or will not actually cook real food have you hostage...until the end of time it is your responsibility to put forth the same level of effort every month so that they can look forward to it, load their plates, take it home, etc. etc. No exaggeration, that's the mindset. And once I realized it was a trap and blew it up with a tactical nuke, as is my custom, there was actual agitation and head scratching as to why I wasn't going to keep that effort and expense in the rotation, for people I don't even really know. Not even sure how to approach that one, don't expect any answers, I'm simply stymied. I bring delicious pie from the Corner Café now. Absolutely excellent pie, total overachievement for anyone who wasn't stupid enough right out of the chute to bring in thirty dollars worth of meat that took sixteen hours to prepare.
I try making inroads into the mindset when I talk to people, and ranting aside I can be pretty diplomatic. But it's like that movie "Nell" with Jodie Foster. We just don't speak the same language. But the problem is- who is Nell in this scenario? If I'm going against status quo maybe it's ME going "shikka shikka may way".
Anyway, a hard earned couple of pieces of brisket today...off to have a REAL meal.