Good Morning Egullet! I am so excited to have been asked to do a foodblog this week. I too, was sad to see Nina have to cut her's short, but am very excited to see it when it continues. So in the meantime, grab your cup of coffee or beverage of choice, sit down, relax and let me start the show.
First, I will introduce myself, since most of you don't know me. My name is Stephanie and I live with my boyfriend Mark and our two dogs and two cats in Sacramento, CA. The city of Sacramento is divided up into different areas or neighborhoods. My neighborhood can either be considered East Sacramento or Midtown. Here's our house.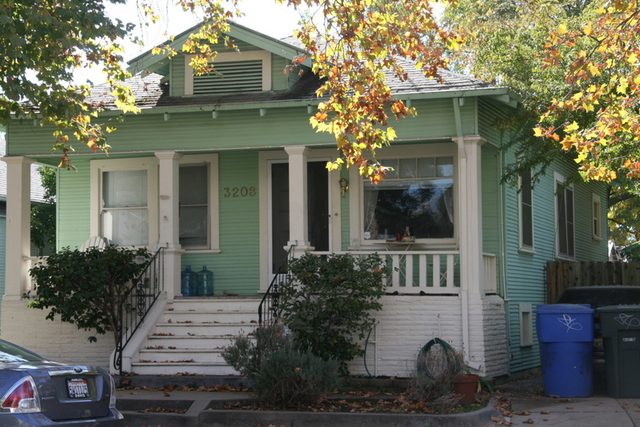 This neighborhood is great! All of the houses are from the 20's and probably even older than that. My house was built in 1922 and I guess they call these highwater bungalows. Here is the view from my porch, which was one of the teaser photos: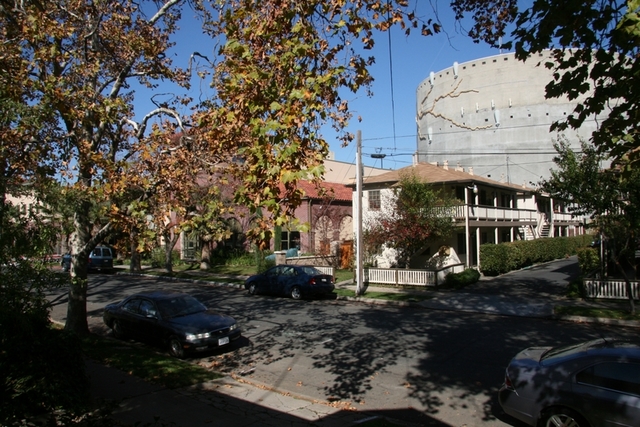 To keep this food related, the water tower there is called the Alhambra Reservoir and it apparently holds 3 million gallons of water that supplies the neighborhood with drinking water. There are several of these in the greater Sacramento area. Here's a sort of recent
article
about the Reservoir, since you can see from this picture the edge of the "artwork" that was applied to the front of it, that is viewable from the freeway, not too far away. The article has a fuzzy picture of the art, so I will see if I can get a better one for you before the end of the week. I am also going to try to get a picture of the camouflage the article mentions, since it is sort of historical.
Also in this picture, to the left behind the trees, you'll see a brick building. When I bought this house a little over 3 years ago, that building was in the process of construction. Housed in it is an imaging/xray center. Come to find out from the previous owner of this house, that was slated to be a Trader Joes, and he was head of the neighborhood committee to fight against it, then he moves. I guess he was concerned about traffic, which is still a problem regardless. The best thing about this neighborhood though is that we are in walking distance to a Safeway, which is right behind that imaging center, several restaurants and several bars, which will be visited during this blog.
How I got into cooking? Well, I have been cooking for as long as I can remember. When I was 10, my mom came down with ALS..to make a long story short, as it progressed, she was unable to cook for my younger brother and myself. My dad had to travel alot for business, and so it was up to me to learn how to cook to feed the family. I also learned at a younger age than most people, to grocery shop, which next to going to Williams Sonoma or Target is my favorite type of shopping. So mom taught me several easy type of recipes; tacos, spaghetti, chicken and mushrooms, basic stuff. In college, I tried to enhance my skills, on a college budget and then things just grew from there.
Over the years, I have gone to different cooking classes or demonstrations, watched many hours of Food Network and just experimented on my own. Almost four years ago, I met Mark who loves to cook as well as being a hopeful chef one day. So we started cooking together a lot. Which leads us to why we are doing Atkins, which Insomniac, I think, guessed from the teaser photo: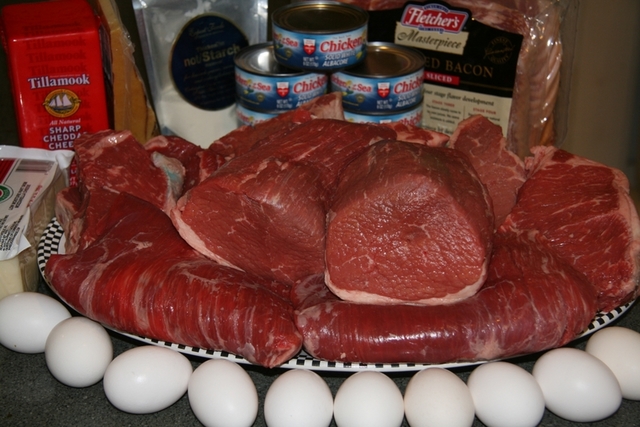 We generally cook more at home than go out to eat. Well, the pounds starting packing on and his sister suggested we try Atkins. I know in my life, I have tried every crazy diet, except Atkins, in fact, a few years ago, I thought Atkins sounded crazy. We even tried the cabbage soup diet last year to no avail. So we said, what the hell, lets give it a try.
We started Atkins on July 2 of this year. To date, he has lost 40 pounds (damn men!) I have lost about 25. I will disclose this up front, we by no means are Atkins fanatics, because there are a lot of them out there. We also fudge a little here and there. I suppose if we followed the program to a T, I'd have lost more by this point. But overall, I am happy with the diet, I don't go hungry, I am seeing progress which is the most important part and I get to eat steak whenever I want!
So what's in store for this week? Well luckily, I am only working today and tomorrow. I am in pharmaceutical sales, so my day consists of traveling around and discussing drugs with doctors. So basically my blogging for the next two days will be in the mornings and evenings. Since we are trying to be really good on this diet and with Thanksgiving on the horizon, we'll be eating strict today, tomorrow and Wednesday. We do plan on some "cheats" although Mark calls them "treats" on Thursday, since it is Thanksgiving. Friday, we are going to go out with some foodie friends to a lunch at a new upscale restaurant and we'll also be going to visit some local wineries in the foothills. We'll have lots of cooking in all of this, lots of pet pictures and of course, after the fridge is cleaned up a little, the mandatory fridge shots.
I hope that you'll enjoy my blog, feel free to ask any questions about Low Carb food, food in general or anything else on your mind.
Edited by lucylou95816, 19 November 2007 - 08:51 AM.