L'Angle/ October 19, 2008
Last year, I discovered Chef Jordi Cruz's incredible culinary talent. My review of L'estany clar can be found here. After some delays, his new place L'Angle finally opened. The restaurant is part of
HERE
, a beautiful complex that includes the romànic monastery, the moderniste house, Alícia (Ferran Adrià's food and science institute), a very sleek hotel, several restaurants and Chef Cruz's L'Angle. I highly recommend spending a whole morning/afternoon to visit the installations, mainly the impeccably restored monastery. A cab ride from the Manresa train station will set you back around €15, a cab to/from Barcelona around €80-90.
I want to apologize for the quality of the pics. They do not do justice to Chef Cruz talent.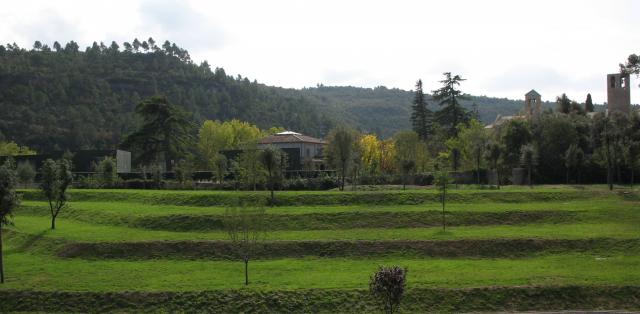 The restaurant has been appointed very elegantly, clean lines, a torrent of light, wood and black stone. Everything merges seamlessly with the setting. It is a contemporary space that feels very inviting and warm with a beautiful view of the monastery. The gardens that surround the hotel/restaurants are an olfactory delight thanks to the many herbs that grow there and that Chef Cruz uses in his creations.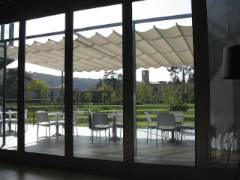 We had the tasting menu with the wine pairing. However, we asked for a limited number of wines (we had plans that required a somewhat clear mind).
1) Gin tonic subtil. Gin tonic foam, apple, lemmon ice cream. A very refreshing start.
2) Esqueixada de bacallà infusionada. Cod esqueixada. A staple of Cruz. The little "spheres" are romesco and black olives. A highly fragrant Arbequina olive oil finishes the dish. An excellent dish.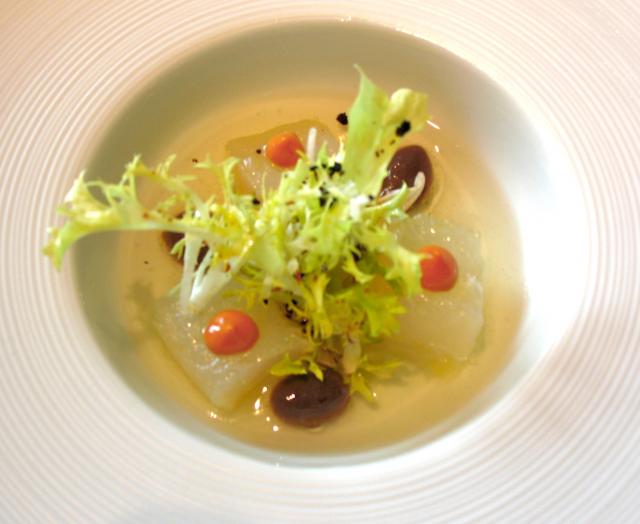 3)A very delicate "focaccia" with foie and not your usual roasted beef.

4)Ostra amb destil.lat de poma verda. Another Cruz classic but with a twist. The leaf tastes, itself, like an oyster and the delicate bitterness of the green apple beautifully contrasts with the oyster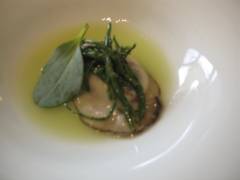 5)Fals nyoqui de tomàquet.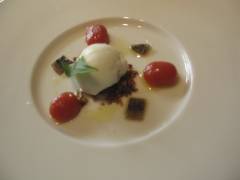 6)Truita de riu amb pinya (River trout with pineapple)
7)Rogers tractats com una amanida
8)Foie rostit amb pera al cardamom (Roasted Foie with pear and cardammon)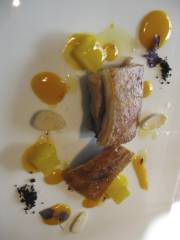 9) Arrosset gorgonzola amb escamarlans de costa, gelea veneré I rúcola. Another classic from Chef Cruz large cannon.
10) Turbot salvatge rostit amb infusió de bolets
11) Garrí ibèric pur amb poma
12) Criofiltrat de maduixeta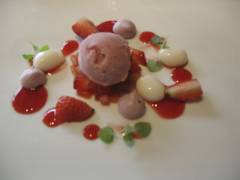 13) Masses de xocolatata a les espècies.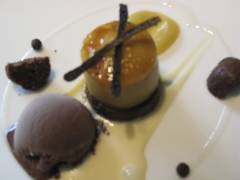 14) Sopa fresca de meló amb kefirs. (A very delectable and refreshing dessert)
And a week later, I had to go back to try the other "tasting menu." I am only including different creations that were not part of the other tasting menu.
1) Mojito. The same technique as in the gin-tonic and still very refreshing.
2) Guisat de cloïsses amb fals nyoqui de carxofa.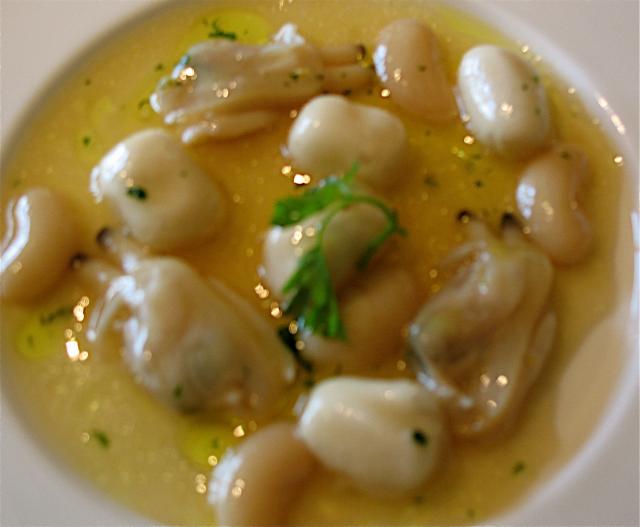 An outstanding dish. The false artichoke gnocchi and the "cloïsses" ("clam" does not accurately convey a cloïssa or almeja) were absolutely sublime, the whole dish came together wonderfully.
3) Calamar de potera amb aigua de calamar I allioli de citronella.
The allioli was in the tube, but the "calamar water" was strongly infused with that, surprisingly, did not overwhelm the calamar: tender and lightly accentuated with black rice spaghetti.
4) Vieira saltejada amb textures d'oli d'arbequina, crema bretona, api-nap, soja en estats I clorofil.la. (Scallop sautéed with arbequina oil textures, bretonne crème, parnsnip…)
This is another classic from Chef Cruz. Superb ingredients and a wide arrangement of flavors.
5) Pop gallec amb gelea de pebrots, aromatitzat amb fum de faig.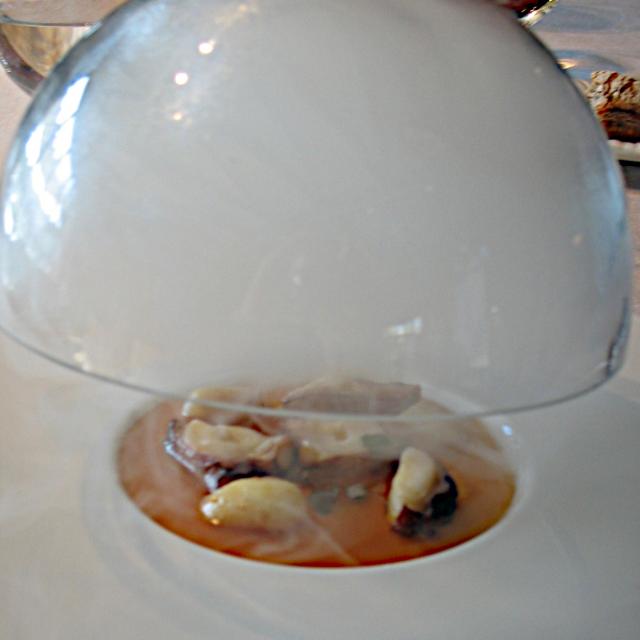 A technique that I have seen before (Celler, for example) but it worked wonderfully here. Not for the weak of palate, the peppers gelea was strong complementing the delicate "pulpo" superbly.
6) Arrosset de llagostí I foie.
7) Llom de rap I gamba de costat amb guisat de pells I coralls, nyoqui tradicional de safrà I taronja amb oli Donostiarra.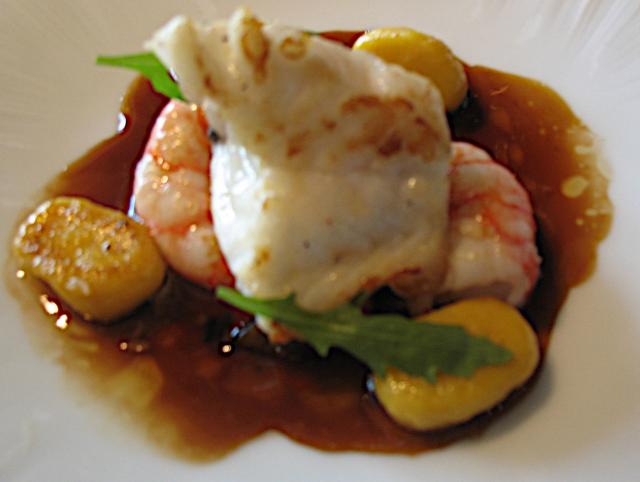 Another explosion of flavors and top quality ingredients.
8) Espatlleta de cabrit amb bolets
A perfectly executed traditional dishes with some gustatory twists that shows how perfectly Chef Cruz combines traditional catalan cooking and modern techniques without compromising any and accentuating both. This is a trademark that is evidently in all his creations.
9) Brioix rostit al fron amb gelat de mel I cruixent d'anís.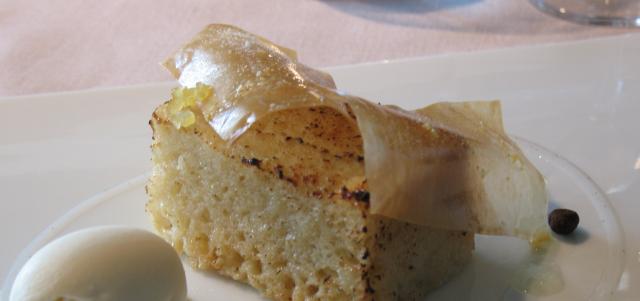 All the desserts were incredible, but this one was devastating in its simplicity. The moist cake mixed with the honey and rosemary ice cream was a perfect way to end my reencounter with Chef Cruz.
If someone needs more info. on the dishes and would like a more detailed explanation or some pictures (I cannot upload them on egullet for some strange reason) email me and I will do so. I think he is a very talented chef and the new setting is incredible, a great compliment to his dazzling talent.
Lenski