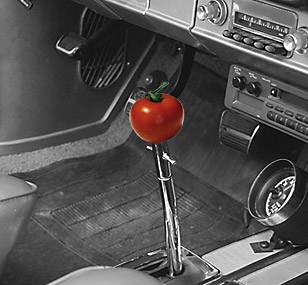 By
Priscilla
Driving, driving driving driving after having taken my Mother out for an appointment and to lunch and then returned her to her home. Pretty much drained am I, and anticipating the cloggy southbound freeways in SO not a good way.
I remember to turn on the radio for the last half hour of Steve Jones's
Jonesy's Jukebox
just in time to hear him noodling around on his guitar like he does, a part of his show I love. Course there isn't a part I don't. He plays a snippet of this and a bit of that, then begins to pluck a barely recognizable "Roadhouse Blues" by the
The Doors
, stops, starts, tries again, asks his ever-hovering producer if thatís right. Finally he jettisons the idea, muttering, "Itís useless, anyway," meaning the song, and makes a couple of almost unintelligible cracks about Jim Morrisonís dress sense. Hee hee -- don't tell Ivan, major Doors proselytizer, whose favorite song that is. But then Steve Jones and I donít always see eye-to-eye with Ivan musically.
"Your Pretty Face is Going to Hell" by
The Stooges
rips open the radio, and before I am consciously aware my bare foot is tapping on the accelerator and I'm sitting up straight and bopping discreetly, so discreet as to be imperceptible to my fellow drivers, I assure you. (In a startling and life-affirming who-knew, the Ig has recently been revealed as a cookbook-owner essential in
this delightful recent eG Forums topic
.) A couple more headbangers -- Steve Jones is in a headbanging mood today, clearly -- and I'm grooving, allowing everybody that wants to to merge and join the flow of traffic, join MY flow, thinking inevitably if fleetingly of Joan Didion's merge metaphor from
Play It As It Lays
. Didn't young B.E. Ellis reference it in
Less Than Zero
? Homage? Hmmm. Whatever. Let's face it, he ain't no Joan Didion, however his heart may be in the right place.
I'm pondering dinner -- back to normal, or what passes for normal 'round these parts. Anticipating, in a good way this time. Anticipating The Last Caprese.
Sounds like a movie made from a
Mario Puzo
novel, almost, only this is an insalata: The last several tomatoes from Ivan's this-year's crop are lined up on the table, facing this fate. They are all save one from the orange variety, which was something hillbilly I think, a name I get a kick out of because my dadís people, before they were Okies were Missouri hillbillies. And of course that leads me inevitably if fleetingly to
The Kinks
' "Muswell Hillbillies," which I have life-long taken to be a Ray Davies personal aside to me. The save one was a pink Lebanese, an especially good-looking tomato. All are good to eat.
There's basil remaining on the plants, lots, in fact. These have been the least-bolty basil plants evereverever, impulse-purchased while walking through a little plant boutique I like to call Target Garden Center, in frustration over every single one of the sprouted-from-seed startlings having been consumed by some predating arthropod or another. It is just the kind I like best, too, huge succulent leaves with huge flavor. When the weather is hot, and wasnít it hot this summer, that flavor is just what I want
Todayís Indian Summerish 85 is fortuitous, because it lends even more savor to this final expression. The mozz ainít anything to write home about, just Trader Joe's "Caprese Log," which happens to taste good and, despite my slight aversion to the somewhat manipulated shape (putting one in mind of those square hard-boiled egg contraptions, or similar), excels at its job: making nice uniform Caprese stacks, which is how I've been doing it this summer. Over the years Iíve done rustica-messy-chunked, beefsteak-overlapped, even teensy with cherry tomatoes, delicious one-biters. But the little stack is what Iím liking for the past couple of seasons, and I didnít even have Trader Joe's log at my disposal at first. But I'll take it!
At least for now, for this Last Caprese. Who knows what next year will bring? Will Ivan even grow any tomatoes? We know I won't. And whither Target Garden Center bolt-resistant basil? Or indeed, any of us.
+ + + + +
Priscilla writes from a Southern California canyon populated by the typical mix of old hippies, wannabe off-the-gridders, equestrians running the gamut from 20-acre Thoroughbred full dressage to clip-clop nag-riding busted flat in Baton Rouge, schoolteachers, artists, wealthy entrepreneurs, and law enforcement officers (for some reason).