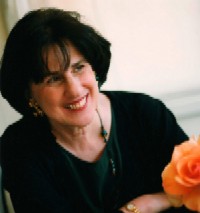 Paula Wolfert, a resident of the San Francisco Bay area, is the author of six previously published cookbooks, all considered classics. Among them:
Couscous and Other Good Food From Morocco
and four books on Mediterranean cuisine including the much praised
Cooking of the Eastern Mediterranean
. She has won the Julia Child Award, The James Beard Award, The M. F. K. Fisher Award, The Tastemaker Award and been a finalist for the Andre Simon Award. She also writes a regular column for
Food and Wine
magazine under the "Master Chef" section.
Craig Claiborne wrote of her: "I think she's one of the finest and most influential cookbook authors in this country. Her recipes are done with incredible accuracy. She brings a sense of wonder to matters of taste. She has an uncommonly fine palate. In sum, she is one of the leading lights in contemporary gastronomy."
Background
Paula traveled all over the Mediterranean and her cooking reflects that. Her recipes include Lebanese, Tunisian, Morrocan, Spanish and Italian dishes. Her love for the region was sparked when she moved to Morocco with her husband in 1959. They socialized with co-expatriates Jane and Paul Bowles, William Burroughs and Tennessee Williams; and little by little she became fascinated with the richly flavored local dishes and Mediterranean ingredients. Paula is still passionate about Mediterranean cooking and slow cooking in particular.
More than a decade later she decided to write a Moroccan cookbook at the urging of her second husband, the crime novelist William Bayer. They moved to Tangier in 1971 and stayed for five years, during which time she wrote Couscous and Other Good Food from Morocco (1973) and Mediterranean Cooking (1976). Both books were enthusiastically received by an entire generation of curious cooks who were hungry for unfamiliar ethnic fare.
Although Wolfert was criticized early on for including hard-to-find ingredients in the name of authenticity, she's remained relentlessly adamant about their use. "Ingredients from a given region have amalgamated gracefully over the years, and if you change them, you simply won't get an authentic taste," she says. "When people return from their travels they want to replicate what they have tasted. It is my job, as a food writer, to explain how to integrate unusual tastes. Most of the ingredients are now readily available, at least by mail order. But you have to be romanced into searching them out. That's part of the fun."
No matter how unusual or common a recipe may be, Wolfert's criteria for including it in a book have always been brutally simple: "Would I like to eat this dish again? Am I absolutely in love with it?".
The Cooking of South West France
When Paula wrote The Cooking Of Southwest France in 1983, it became an instant classic. Now, Twenty-plus years later, Wolfert has completely revised her groundbreaking book. In the new edition you will find sixty additional recipes, some totally new, and some updated from her other books. Wolfert explains that "Southwest France is very much part of the Mediterranean. Most French food isn't very forceful; it's delicate, complex and built on subtlety. But the southwest employs robust ingredients -- truffles, peppers, cepes and chicken and goose fat; hardly subtle ingredients." It's Wolfert's style of cooking: country food with layers of taste, simple dishes that showcase the natural affinities of ingredients that lures us in and makes us converts as soon as we begin cooking.
In order to convince readers not to be put off by the region's reputation for high-fat dishes. Wolfert describes how to use animal fats as a flavoring agent, the way one might use a cinnamon stick in a red wine fruit compote. If she uses good, duck or pork fat in a stew, she simmers it all very gently so that the fat mingles with the wine and juices but does not bind with them; then she chills the stew in the refrigerator and skim off all the fat, leaving behind just its flavor, soluble in liquid, to impart what she calls big taste.
She is currently working on her next book, focusing on claypot cookery.
Link to
Paula's Website
Link to
2003 eGullet Q&A with Paula
Link to
"Cooking with 'The Cooking of Southwest France', Paula Wolfert's new Edition" Thread