Hi,
I've just started experimenting with a bit of chocolate making and am loving it - I've had a few problems with tempering and I'd love a bit of analysis of my results:
The chocolate i've been using is Lindt 70% dessert chocolate (labelled as a good one to use in desserts/pastry, not sure if it's actually different % cocoa butter).
However, it's out of date by 6 months now, and i don't know if that is the source of my problems. One of my blocks had gotten slightly warm and looked like this when I opened it, the fat had separated I guess, but when I melted it it looked fine.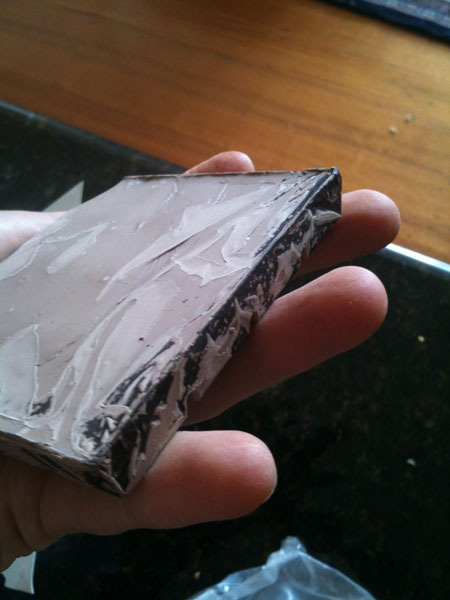 Anyway, I tried to temper but didn't have a thermometer, so I'm pretty sure I got it wrong. That's fine, I've just bought one so will try again and anticipate more success! Do you think the results I've gotten (see below) are all caused by lack of temper, or is the age of the chocolate also a problem? The big blob is a pool of leftover stuff after I dipped, and it set up with a weird swirl pattern and also was a bit crumbly when I snapped it... this is what I'm unsure about (the streakiness I guess is just varying temperatures of the chocolate around the bowl?).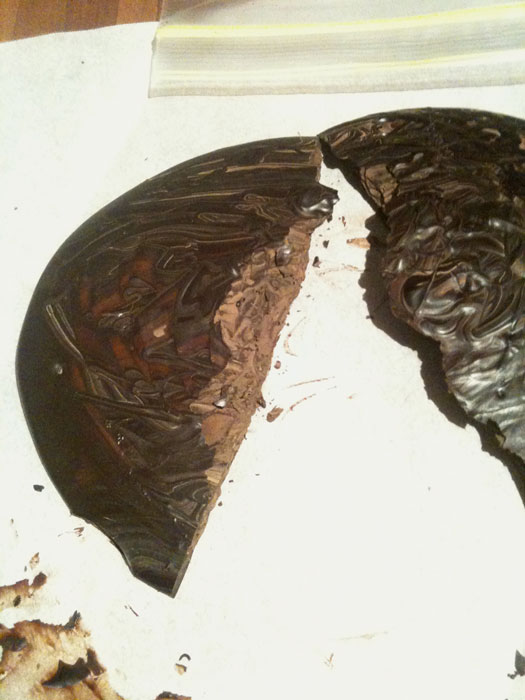 These are three truffles from the same batch of chocolate - the different combinations of matte, slight shiny bits (is that in temper?!) and even some blooming have me a bit confused.

And lastly, one general question that I haven't seen an answer for - I've been using the method in Kerry's Demo, but I wonder if the chocolate needs to be already tempered to work? (i.e if I buy "regular" chocolate from a supermarket, apart from maybe not tasting great, will it still temper if I get the technique correct?.
Thanks :) I look forward to many more adventures!