@Duvel – I think you missed a question that I asked back a bit.  I was very interested in the Maultaschen that you posted on October 2 and I asked if you had a recipe that you liked.  You didn't respond, but then on your latest post you made it😁!  Can I please have your recipe? 
@mgaretz – I'm glad to see that it looks like you are feeling better now.  That meatloaf looked fabulous – what a great crust.  But if you have to eat soft food, you make great looking tuna and egg salads! 
@liuzhou – I'm sorry to hear about your wrist.  A lot of trouble for someone living alone!  Hope it heals quickly and cleanly!
@RWood – caramelized onions, Gorgonzola, pear and arugula is probably my favorite pizza ever.  I was introduced to it (with the addition of hazelnuts) by California Pizza Kitchen many years ago and it was my go-to pizza there until they discontinued it.  I need to try making pizza again so I can make my own.  Thanks for stirring a wonderful memory!
@Shelby – oh, dear.  Those tomatoes.  We are not getting those lovelies right now.  Even if I go to the farmer's market and get the heirlooms. I would seriously have whole meals of those if I could get them.  I always have to laugh at the people who don't get the peeled tomatoes.  My Tennessee farm raised grandmother would have thought I'd turned into the most shiftless, lazy girl in the world if I stopped peeling tomatoes😄.  And I cook every meal with her over my shoulder gently, but firmly, guiding me❤️. 
@Ann_T – I'm now craving a turkey dinner.  Time to start haunting the grocery stores for turkey necks so I can make my stock/gravy.  Can you please give me a link to your dressing?  It looks perfect.
@Dante – "chopped cheese sandwich"?  I'm intrigued.  Can you elaborate, please?
Sorry for the long post.  I have been MIA preparing for house guests, working with Jessica to get her apartment move out ready and having said house guests.  We had some Florida friends here to stay from last Wednesday until Monday morning.  During their last visit in July, we took them to Beauvine, a fantastic burger place.  They asked if we minded going again!  Nice to know they really liked it!  We started with pickled vegetables and onion rings: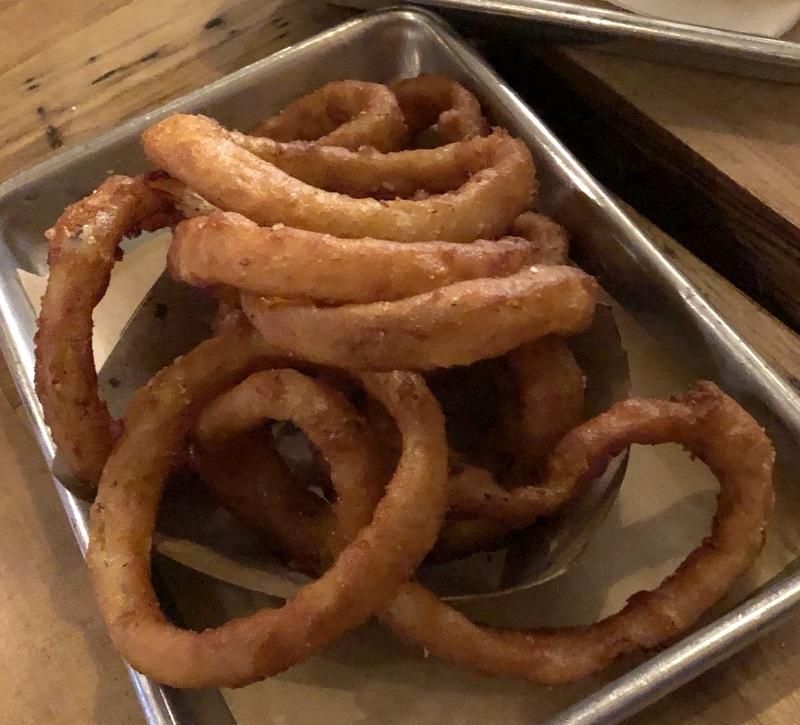 My burger: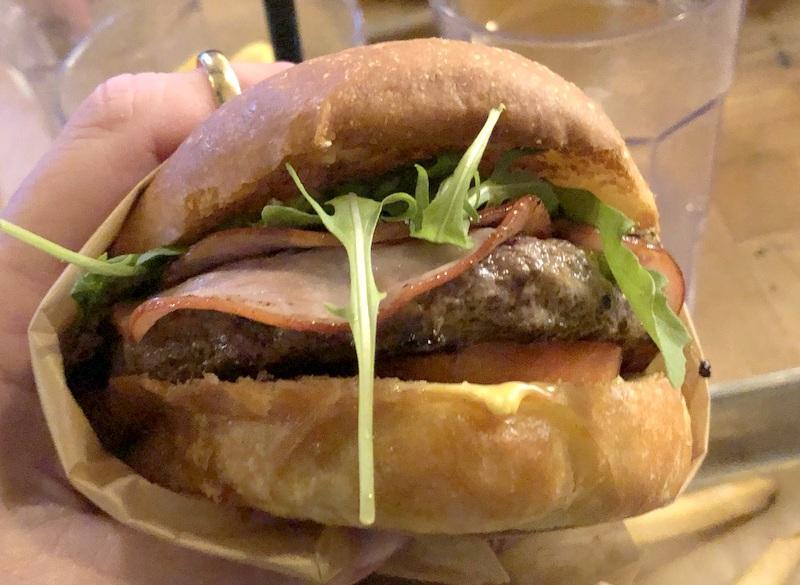 The burgers are great, but look basically alike, so no more pictures.
On Thursday our friends' niece and nephew came through town so they had dinner with them.  Mr. Kim, Jessica and I went to Jessica's favorite Thai place, Chadar Thai.  We shared shrimp tempura: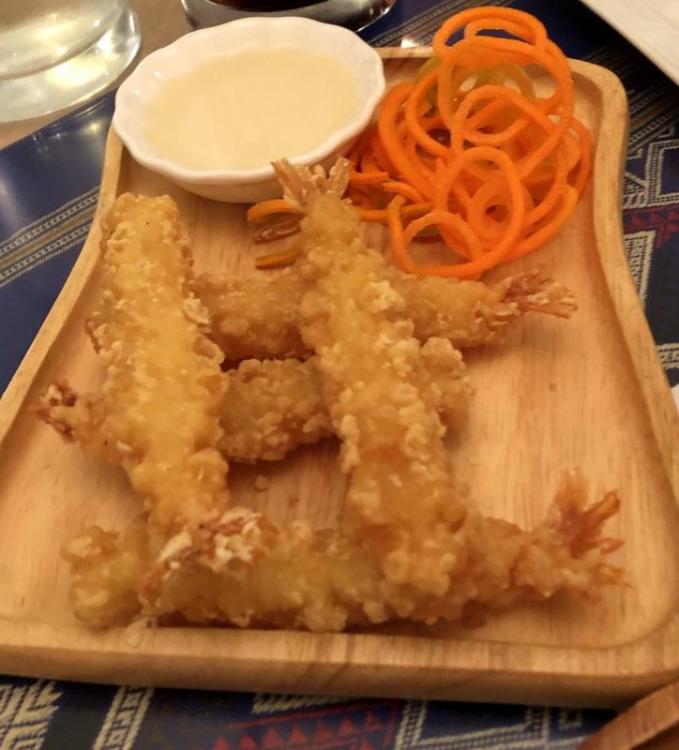 Thai dumplings: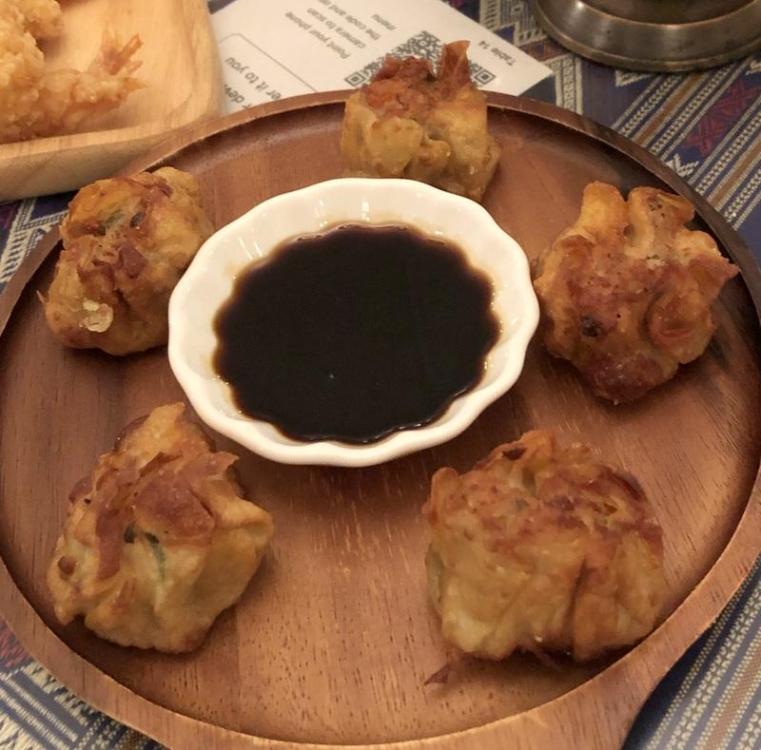 Crying Tiger: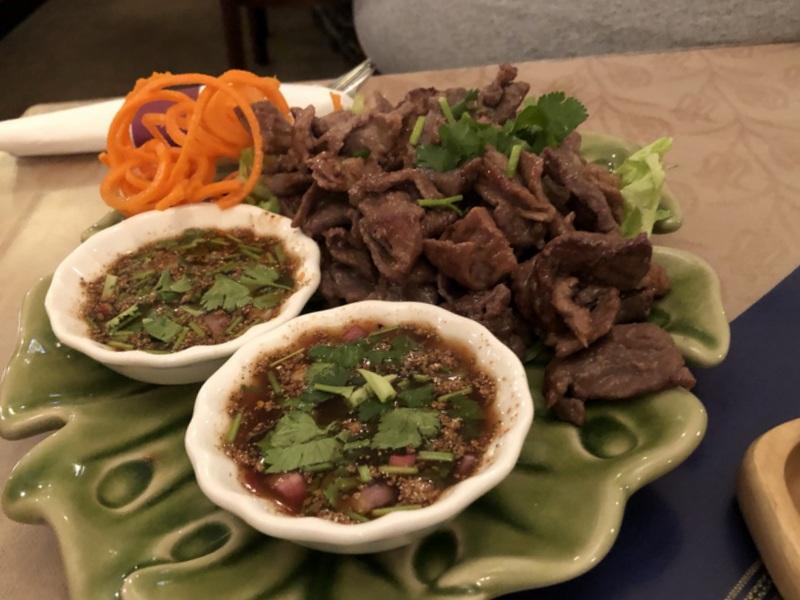 I had the Shrimp-Pineapple fried rice: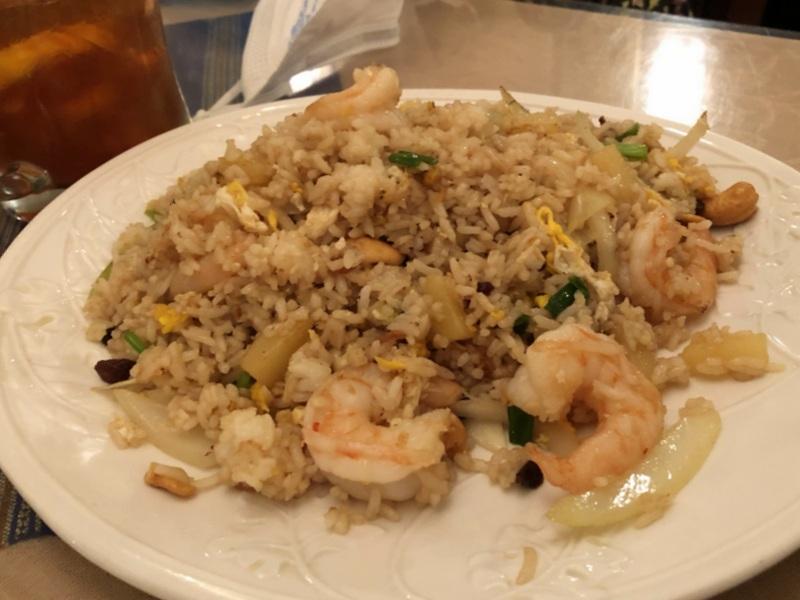 Mr. Kim had the Red Curry:
Jessica had the Massamun curry: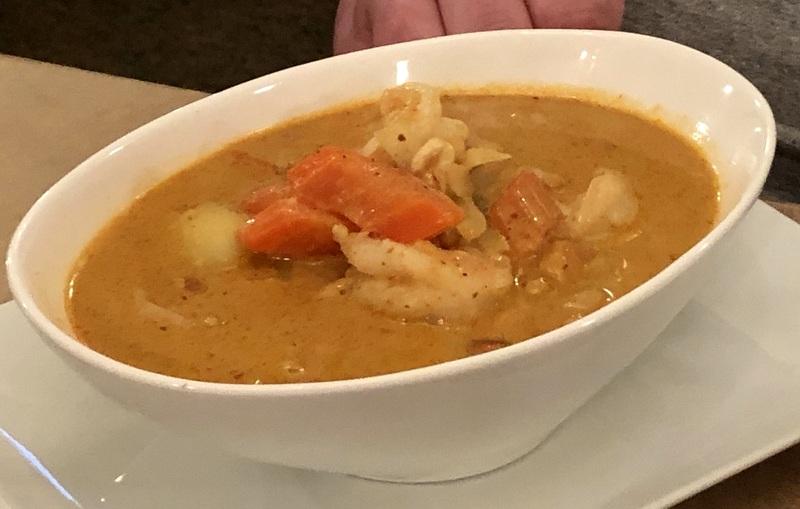 We had a lovely dinner out at Shagbark, one of our top 3 favorite Richmond restaurants on Friday.  Bread service: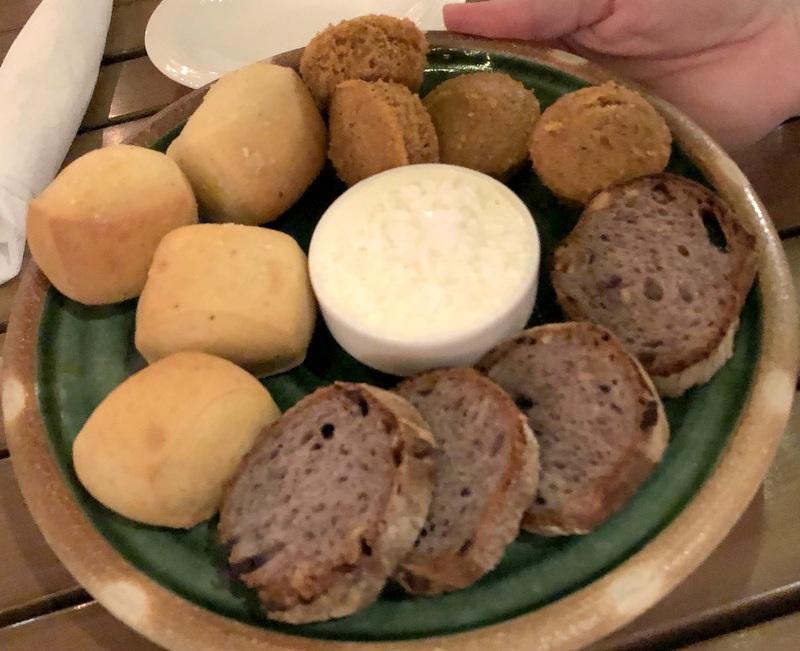 From the top: corn muffins w/ ancho chile, whole grain with olives and walnuts, and yeast rolls with Old Bay.
Appetizers included Crispy Chesapeake Bay CHICKEN-FRIED OYSTERS buttermilk johnny cake / grilled Swiss chard / Tasso ham / Tabasco butter: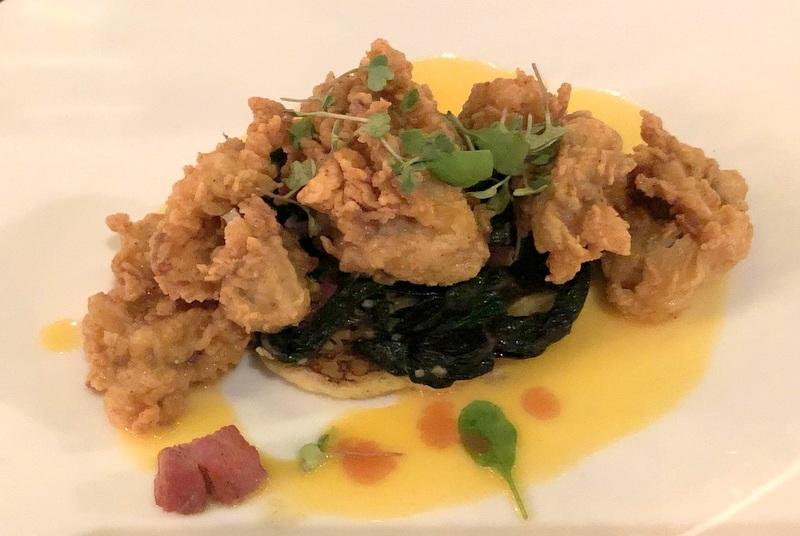 Edwards Surryano Ham-Wrapped BLACK MISSION FIGS Meadow Creek Grayson / griddled brioche / frisée / roasted peppers / hazelnut / concord grape glacé: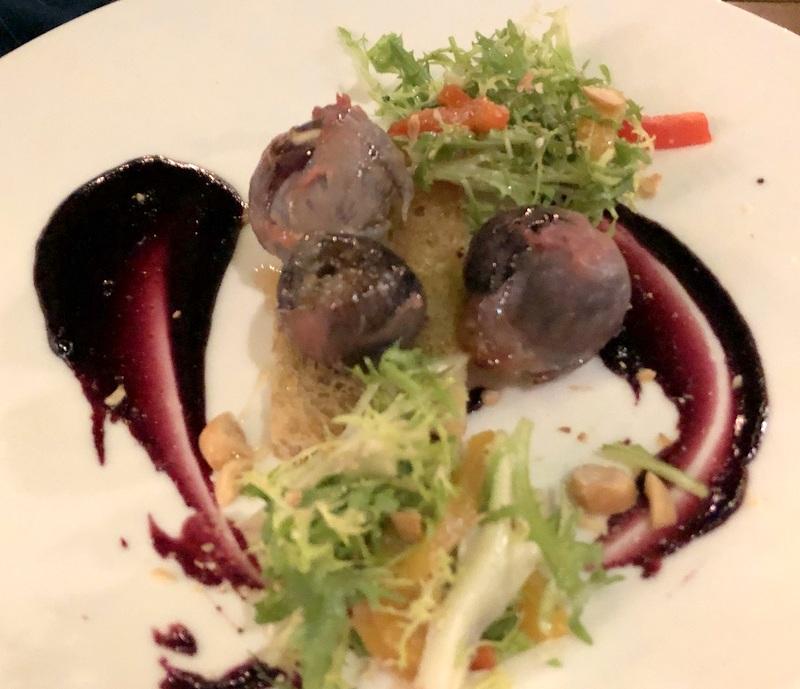 Maybe the most unsettling dish in Richmond.  It seriously looked like a plate of testicles.  Really delicious, though. 
Beet and arugula salad: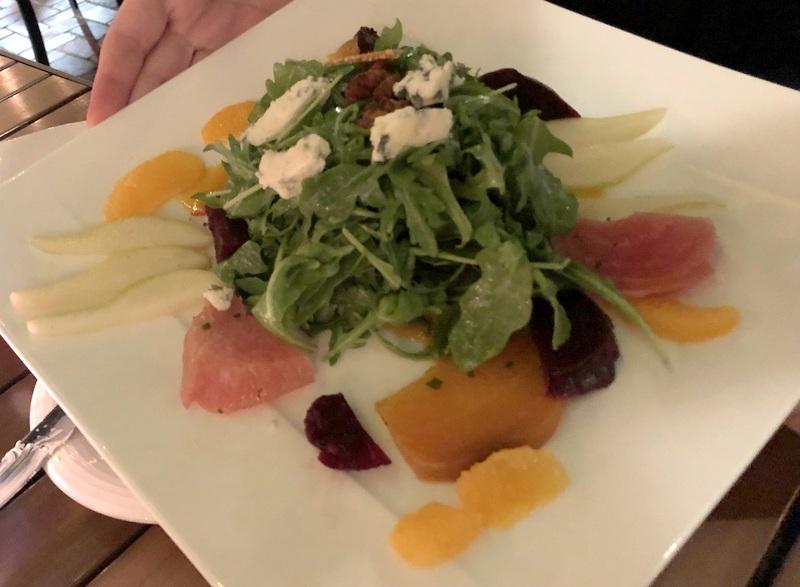 One of our friends had the Up-South SHRIMP & Anson Mills Carolina Gold GRITS andouille sausage / aged white cheddar / heirloom tomatoes / Hanover okra crispy potato gaufrette / blackened tomato sauce: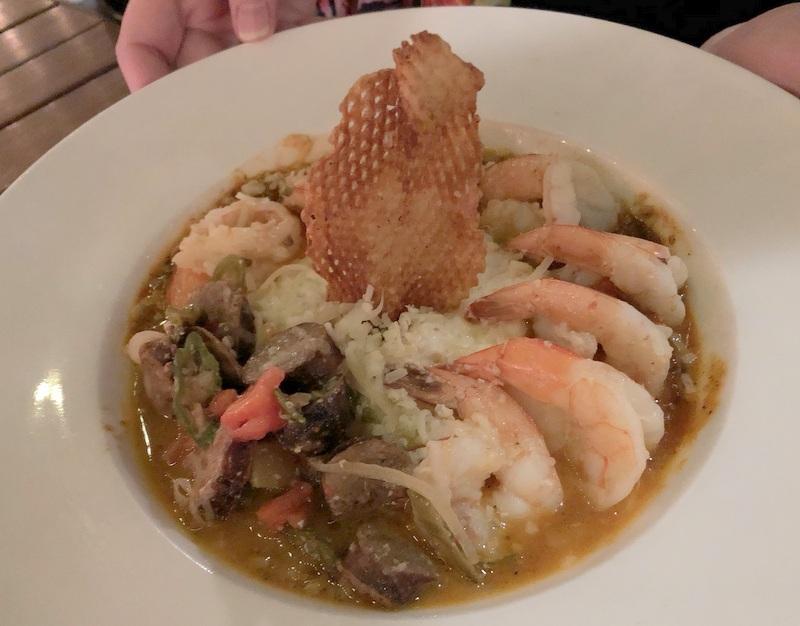 The other had the Cast Iron-Seared DUCK BREAST * Wehani rice / amFOG shiitake mushrooms / oven-cured tomatoes / roasted fennel orange gastrique:
I had the Patio Thyme-Roasted ICELANDIC COD FILET Manakintowne Farms leeks / Florida rock shrimp / sweet corn baby spinach / parmesan risotto / champagne-citrus butter:
Mr. Kim had the Pan-Seared ATLANTIC SALMON sweet and spicy tomato marmalade / baby spinach / Silver King corn and bacon succotash herbed potato cake / lemon beurre blanc: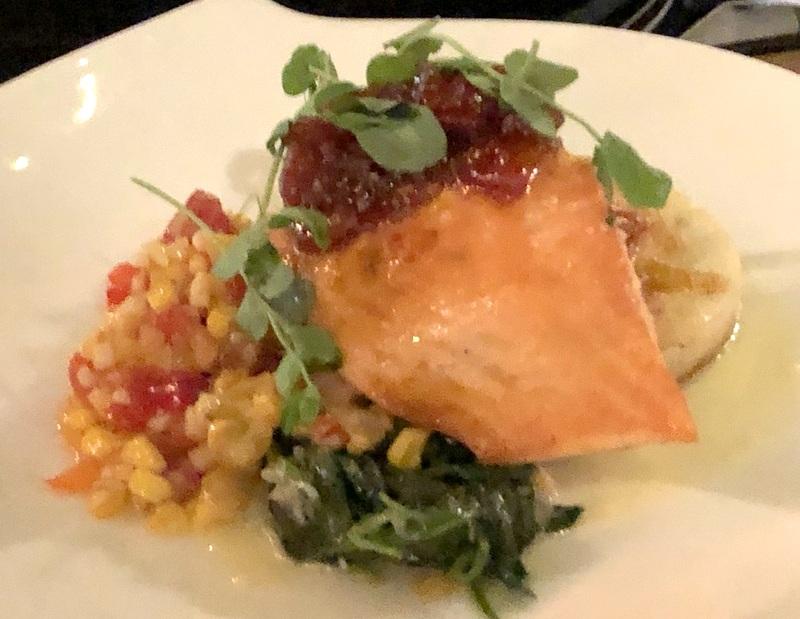 For dessert we had sticky toffee puddings (brown sugar toffee sauce / bourbon gelato / oat streusel) and pistachio crème brulee (roasted figs / cardamon & mascarpone mousse):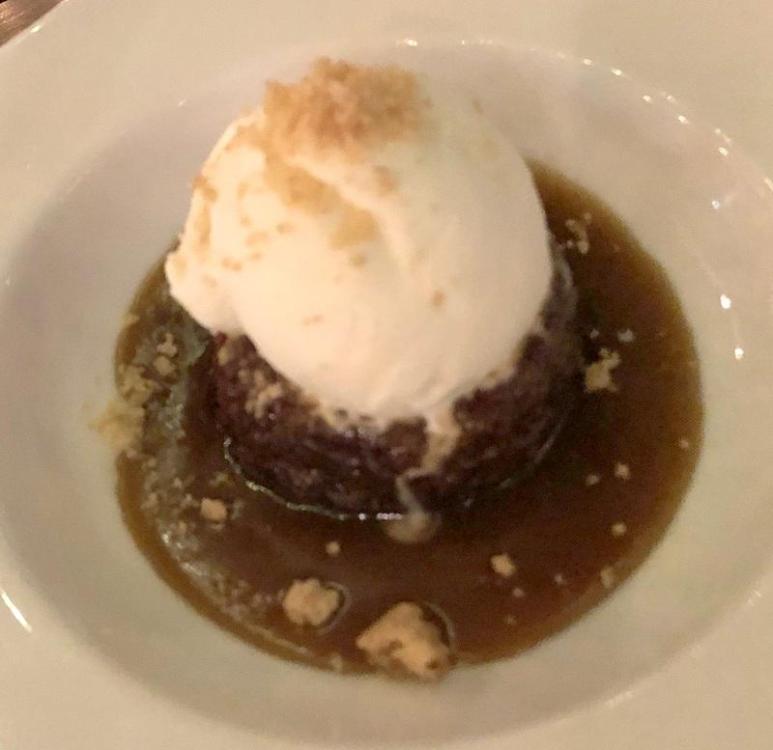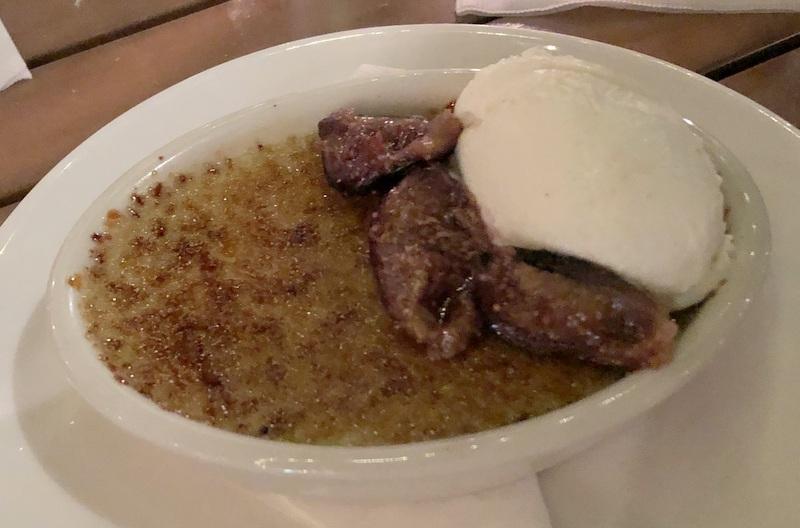 (Bad pictures – it was getting very dark, and we were sitting outside).  Everything was incredible.
On Saturday Jessica made dinner – fish/shrimp tacos with all the fixings:
It was just frozen fish and shrimp.  The fish is from Costco and surprisingly good (even Mr. Kim the former fishsticks on Friday RC kid likes them).  The shrimp was so bad that I've written a complaint to the company.
Napa with Jessica's white sauce, limes, cotija, pickled shallots, and toasted dried ramen noodles:
Jessica's white sauce (Tangy Southwest Slaw Sauce), sour cream, and cilantro: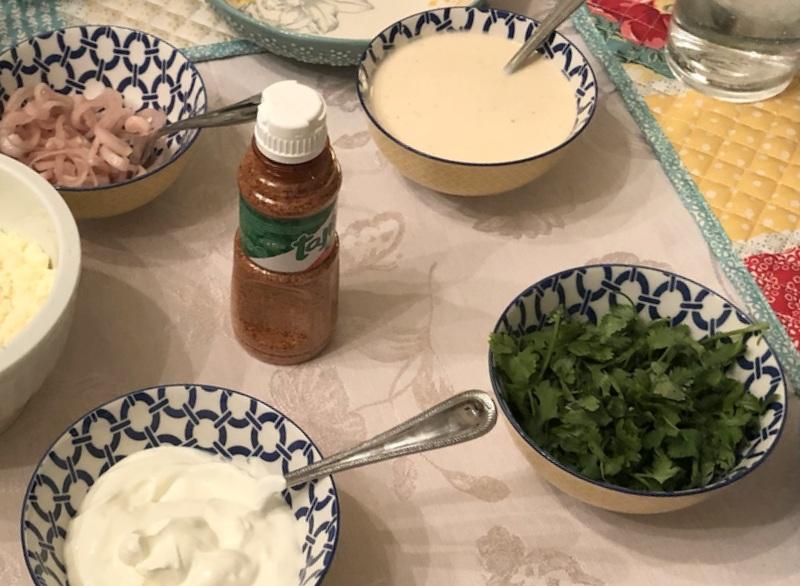 Napa, cilantro, and tomato salad with Jessica's Honey-Lime Salad dressing: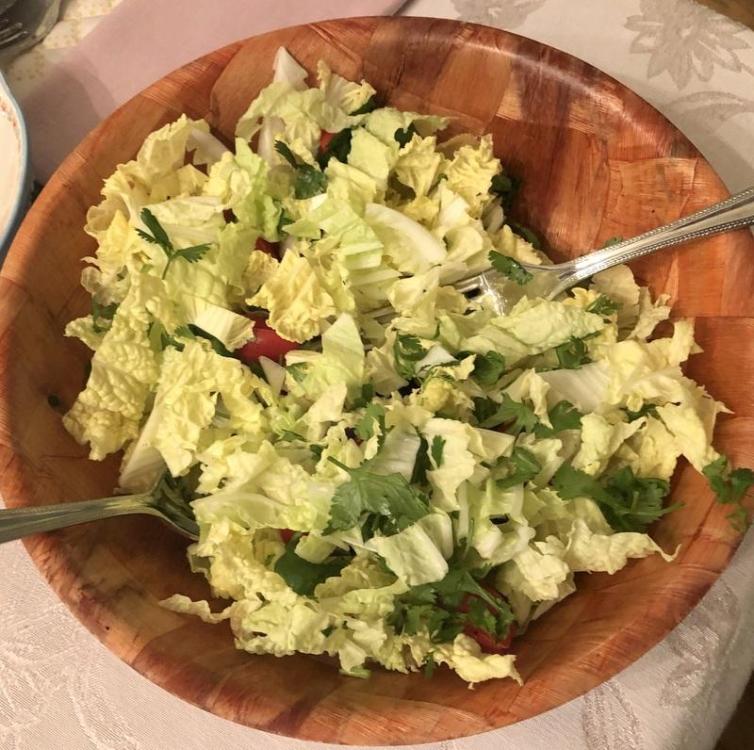 Jessica's street corn:
Flautas made with Mr. Kim's BBQ, pimento cheese, and pickled shallots: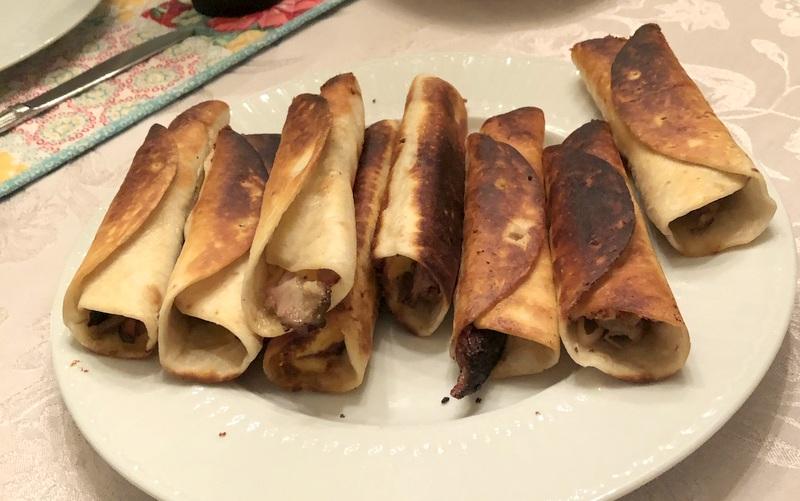 Our table:
Sunday's dinner was the picanha cook-off between Mr. Kim and me.  He smoked his and I SV'd mine.  His: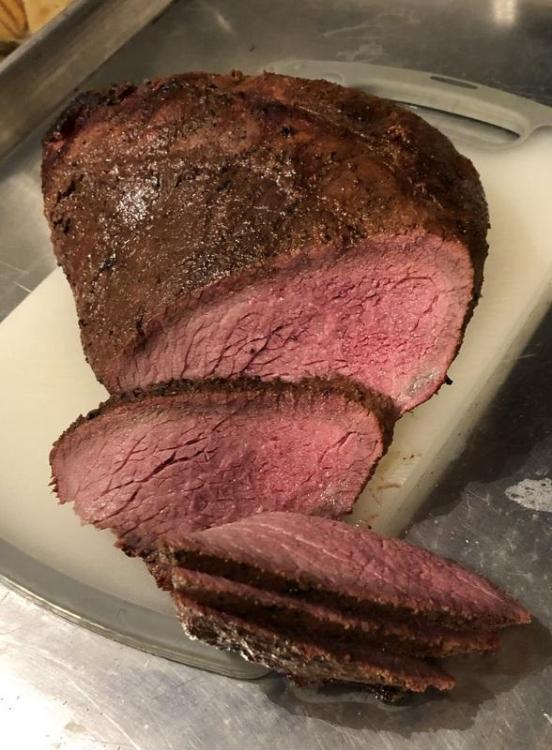 Mine: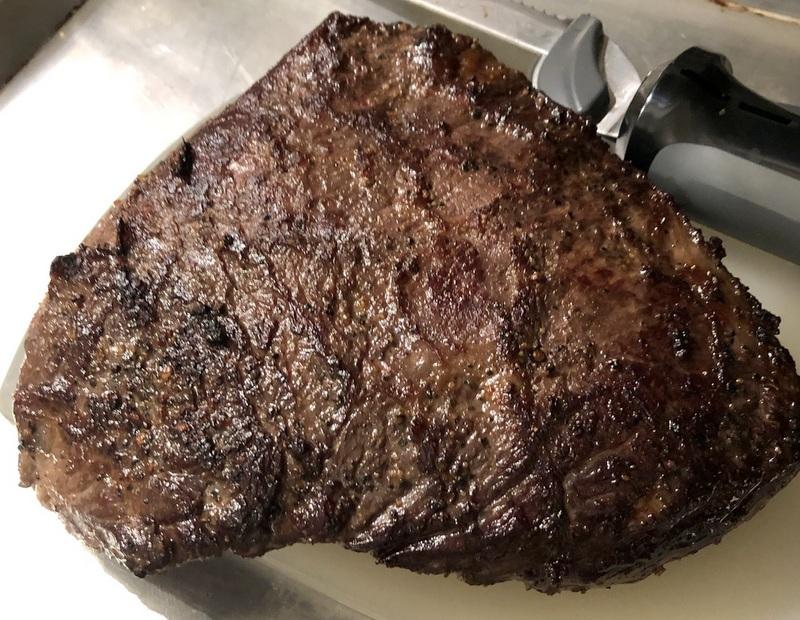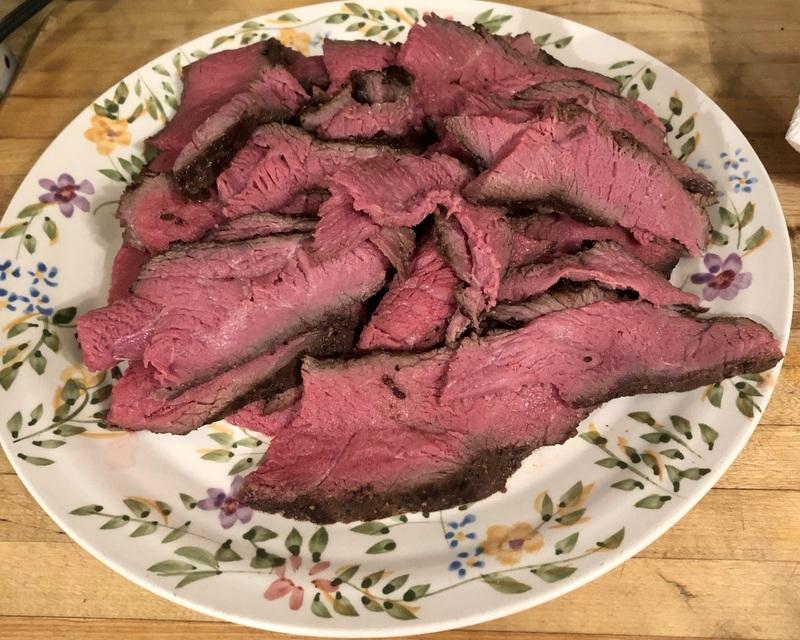 129F for 4 hours, then seared in an iron skillet.
It was a draw.  No one had a preference.  They were both excellent and something we'll do again.  I made horseradish sauce to go with mine, which was great, but I wish I'd done some beef gravy, too.  Served with Jessica's street corn, Marlene's Crispy Smashed Potatoes, IP pintos, and a crusty baguette: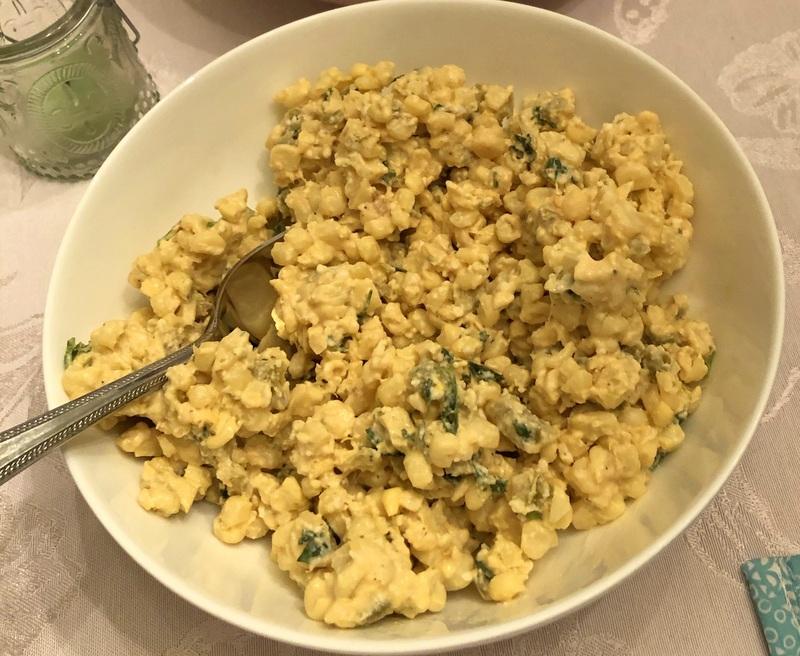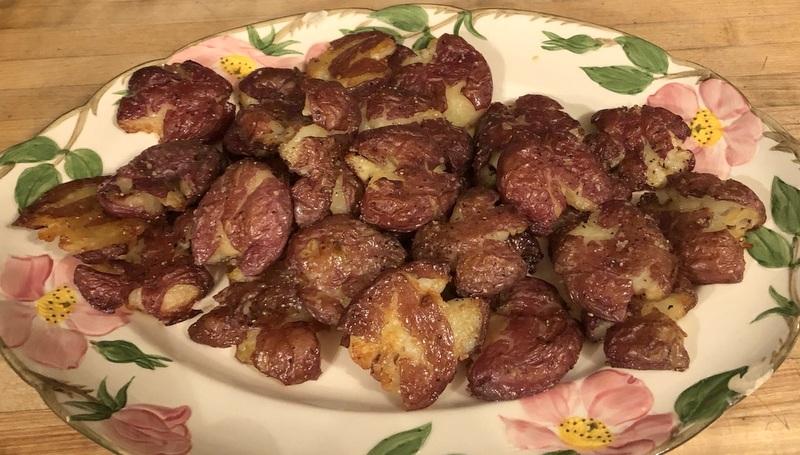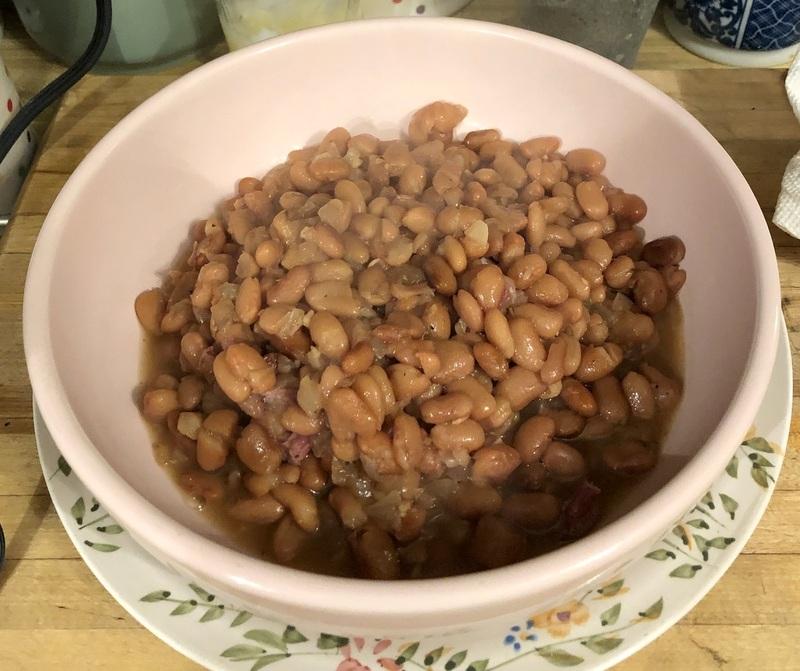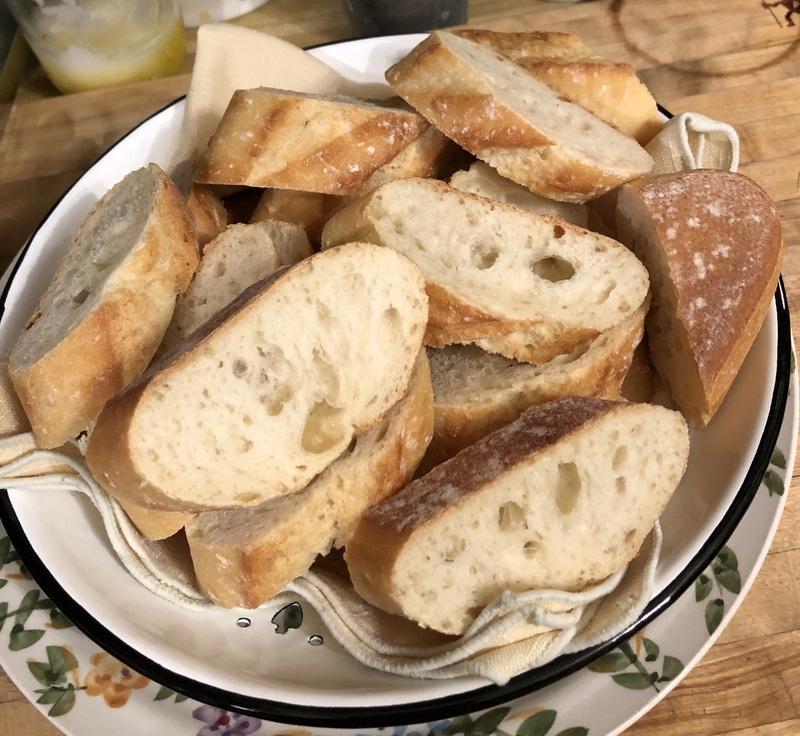 Plate:
We ended up with a LOT of leftover food from our friend's visit.  We noticed an odd thing last time they were here.  They acted really funny about my cooking.  Everything that I did they deemed "too much" or "too fancy".  They've never done that before.  As a matter of fact, they are folks that I've always enjoyed cooking for because they love food like we do, and we've always enjoyed talking food and eating together.  Last time they objected to everything from the dishes I wanted to use (too fancy) to putting sauces in bowls for the table (unnecessary) to the number of vegetables in the Beef Chow Fun (too much).  So, this time I very much limited food prep done while they were here.  Before they got here, I did bacon, sausage, and IP eggs.  I made tuna salad and olive and cream cheese spread and had rolls, breads, cheeses, cold cuts, chips, and fruits on hand.  We had planned a couple of lunches out together (we got them to pick from a list) and let them know all of that prepared stuff was available and also offered it at the appropriate times.  Jess cooked one dinner and Mr. Kim and I shared responsibilities for the other dinner and that seemed not to bother them too much.  The SV was pretty much hands off, as were the IP pintos and the potatoes were mostly prepared ahead of time.  It WAS disappointing and kind of exhausting trying to figure out what would bother them and what wouldn't – especially since this is such a new attitude.