Mr. Kim, who is on vacation this week, surprised me by taking me to lunch today and yesterday at two new (to me) places.  Yesterday was Nomad's Deli.  Fantastic place.  Mr. Kim had the Big Chick sandwich – when everyone in Richmond was losing their minds over the new Popeye's chicken sandwich, the Richmond Times Dispatch published an article listing better than Popeye's or Chick-fil-A chicken sandwiches – this was one of them: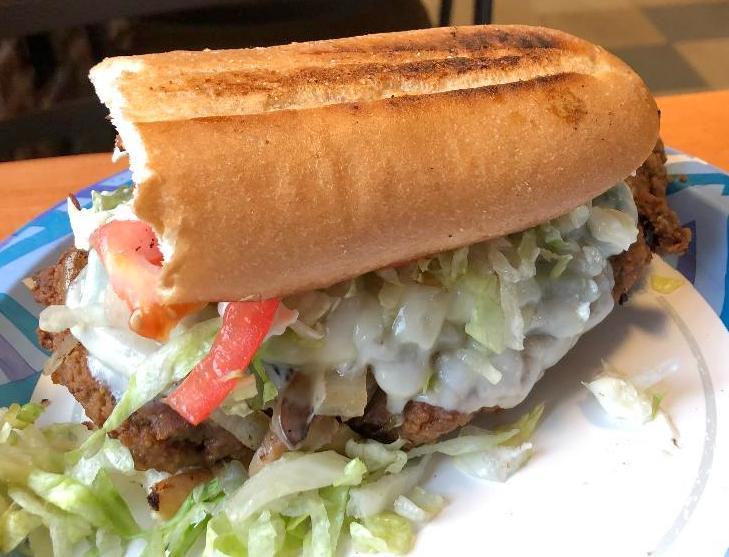 Huge, perfectly cooked breast on a garlic roll with grilled onions, peppers, mushrooms, jalapenos, provolone cheese, lettuce, tomato, and mayo.  It was fantastic!  I had the shrimp po'boy:
This was a 12-inch sandwich.  I didn't notice that until I got it.  It was truly delicious.  Perfectly fried jumbo shrimp, slaw, cocktail sauce, tomatoes (I requested no onion).  I figured out a trick about halfway through the first half – I knew I'd never be able to eat the other half, so I pulled all the shrimp out and stuck them in the half I ate!  I was shocked at how good this was – the slaw was really robust – cut large, very crunchy and aggressively seasoned.  We loved this place – a true family owned and run neighborhood joint.  Lots of vegetarian options, diverse clientele and they even sell steamed crabs on Friday nights.
Today was Lulabelle's Café – kind of a Southern Ladies Who Lunch vibe.  We both started with soup: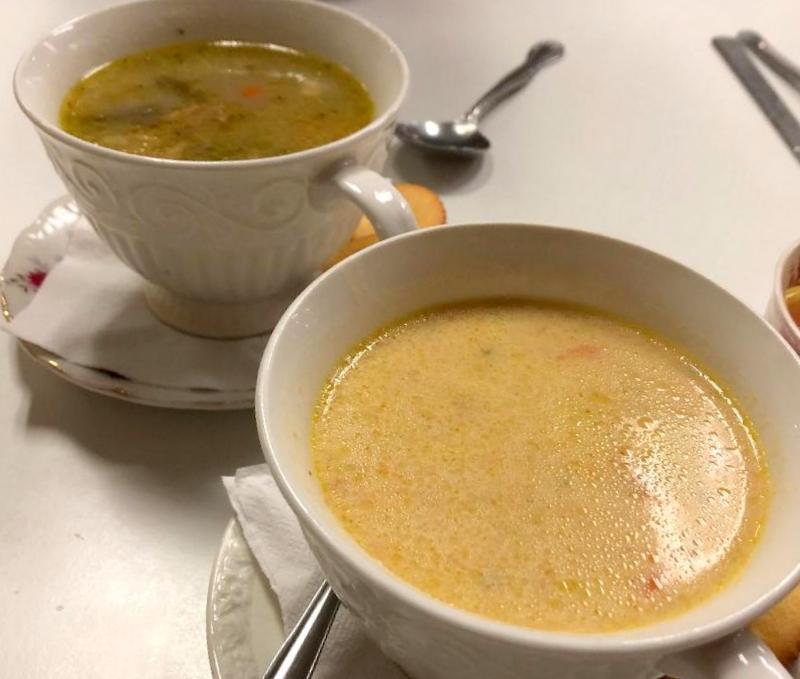 Mr. Kim had the turkey and rice.  I had the NE clam chowder.  Both were very good.  My chowder was especially nice – in texture it was somewhere in between a thick, creamy NE chowder and a brothy, briny NC Outer Banks chowder.  The clams were incredibly tender.  I had the fried green tomato BLT with a side of collards: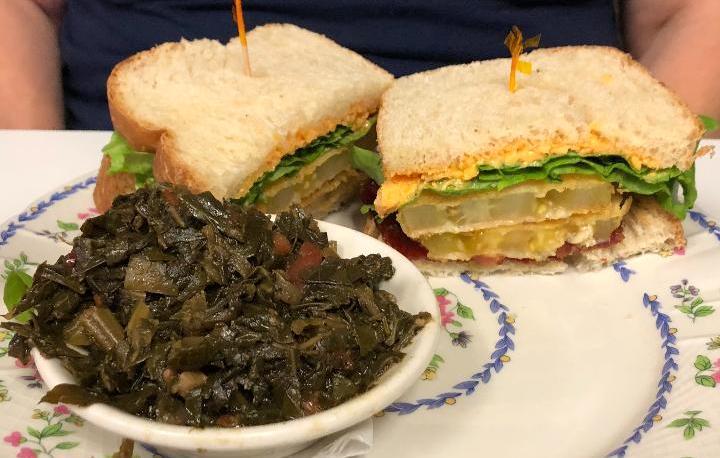 The sandwich was good, but the pimento cheese was a little over spiced for me.  I almost ordered deviled eggs as my side, but the waitress told me they had jalapenos in them, so I chose collards instead.  Very, very good.  One point off for only having red wine vinegar.  If you are a café in Richmond VA serving collards, you need to stock some apple cider vinegar.  We can't remember the name of Mr. Kim's sandwich:
It had turkey, pimento cheese, jalapeno relish, bacon, and red onion.  He loved it – I tasted the turkey and it was fresh and properly cooked.  He said the deviled eggs were great – creamy and not too hot.  The pickles were good, too – pretty sure they were house made.