On 9/24/2020 at 7:42 PM, Kim Shook said:

Ann – I need some guidance re: pork gravy.  I'm planning on some sort of SV pork roast for Xmas Eve (my butcher says let her get past Thanksgiving and she'll fix me up), but I'd love to have the gravy wrapped up and in the freezer soon.  I found a good amount of meaty pork neck.  Do you have a recipe for pork gravy that you can direct me to?  Also, any pointers/advice would be very welcome. 
@Kim Shook, My method for making gravy is pretty much the same, for chicken, turkey, pork, etc..   I use the browned drippings and some of the fat.  So for the pork neck bones, I would roast the bones in a shallow roasting pan, so they brown well as they roast.   When cooked, remove the bones from the pan   and put the pan back in the oven or on the stove top and cook just long enough for the drippings/juices to brown.   If there is too much fat left in the pan remove some, or if there isn't enough add some butter.  Add flour to make a roux and add chicken broth.   
For pork, I would add some sage or thyme and season with salt and pepper.  Cover and simmer on low  just long enough to meld the flavours.  If you  want to do it in stages, then put the necks in a pot with chicken broth (or water) and whatever else you add when making stock and simmer for a few hours.   Use this as the liquid in your gravy. 
Breakfast on Sunday for Moe and I took the same to work for lunch.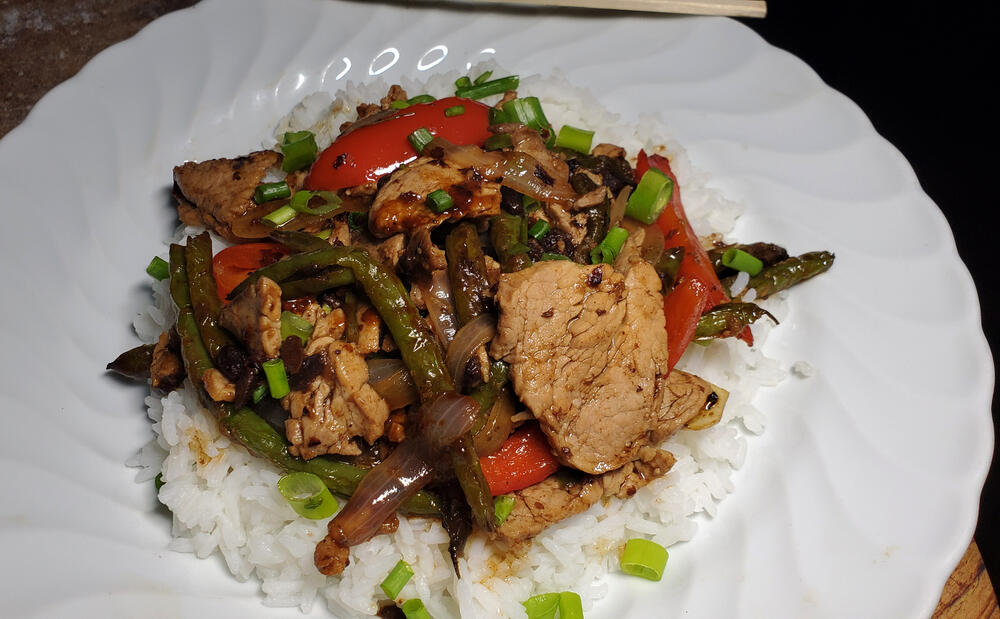 Pork and green beans in a spicy black bean sauce.