Just recently
Mette
,another contributor to the pastry and baking forum, posed a question related to the making of bon bons. I am bringing this topic up to the top again because of the photo of the beautifully finished bon bons that were included in the other topic. Hope that makes sense. Here is the photo.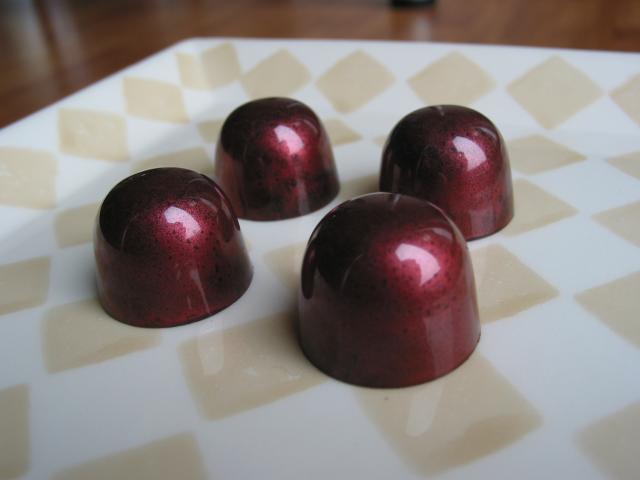 The questions that I had were in regard to the finish of these beautiful bon boons in the photo. I have been reading this topic since its inception and have used the techniques included here such as; spraying cocoa butter, either plain or colored, adding lustra dust, transfer sheets, and polishing the molds. I have been happy with the results but am always looking for further refinements.
Now getting down to the photo. The thing that intrigues me is the finnish. It seems to be of greater depth than I am used to seeing. I have found that when spraying cocoa butter into the mold that the thinner the better. I was wondering if
Mette
was using some special sort of tinted cocoa butter or if the entire shell was a very thin layer of cocoa butter and I was also wondering how she got the speckles in the finish. Maybe
Mette
or someone else can enlighten me.
I did want to bring up another thought concerning the close up photographing of bon bons. I have been using a camera with a flash and a diffuser on it. At close range it produces a soft fuzzy highlight. In the photo that Mette posted it seems that a flash was not used, only natural light thus producing highlights with crisp edges and making the finish appear more glossy. Something to think about the next time I photograph my bon bons. Included here is a photo of some of my latest bon bons.