One other interesting thing before we get to Borobudur is that in this area where the hotel is, the surrounding mosques do the call to prayer 7 times a day!!!  This means they do it at like 1:30AM and 4:30AM!!  And it's REALLY loud - much louder than in our hotel in Jogja... It sounded like there were 3 mosques in the area, and they all used loudspeakers to broadcast the calls - one singer had a deep baritone voice, another had a high falsetto, and a third was somewhere in between... and they would all seem to compete with each other over who could sing the loudest... fascinating...
Anyway, we wanted to go to Borobudur at sunrise, so we had to wake up really early.  But it was so worth it to see this.....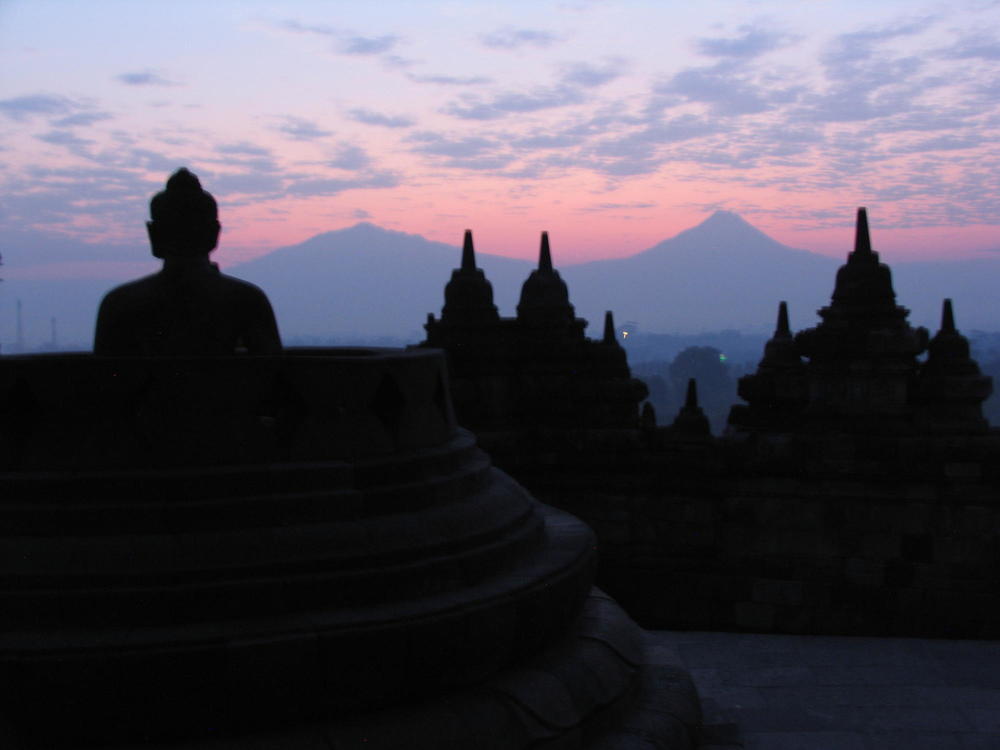 We weren't alone...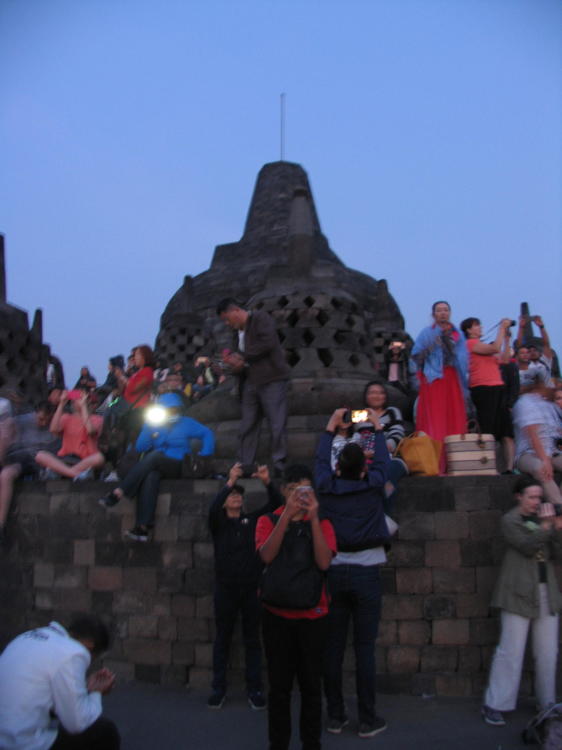 Just a few more photos....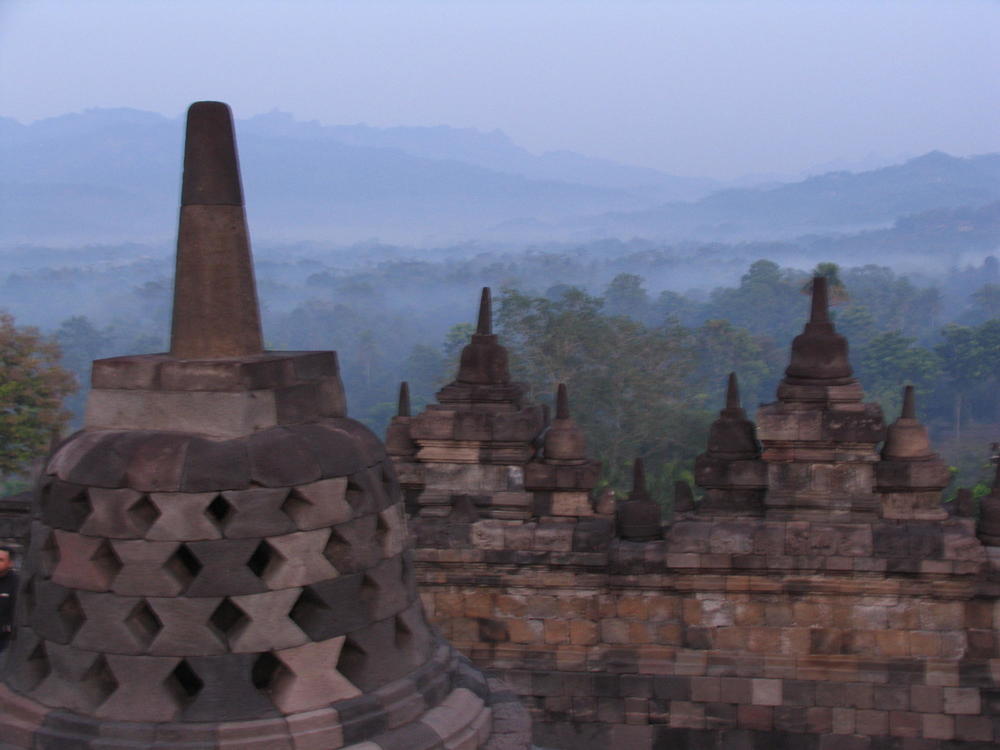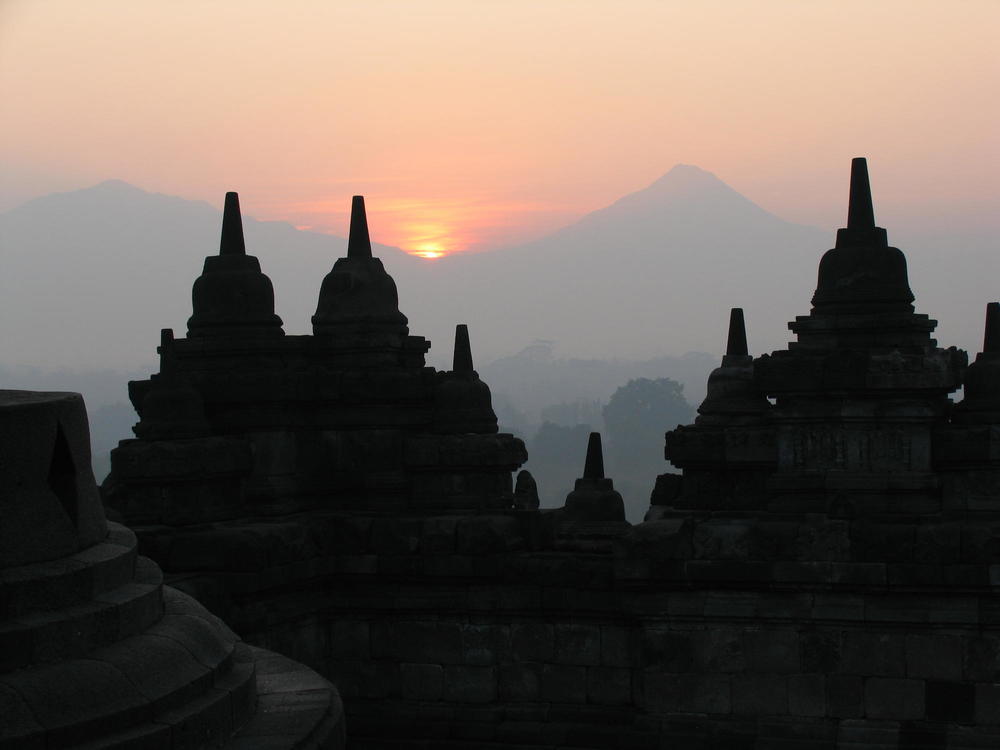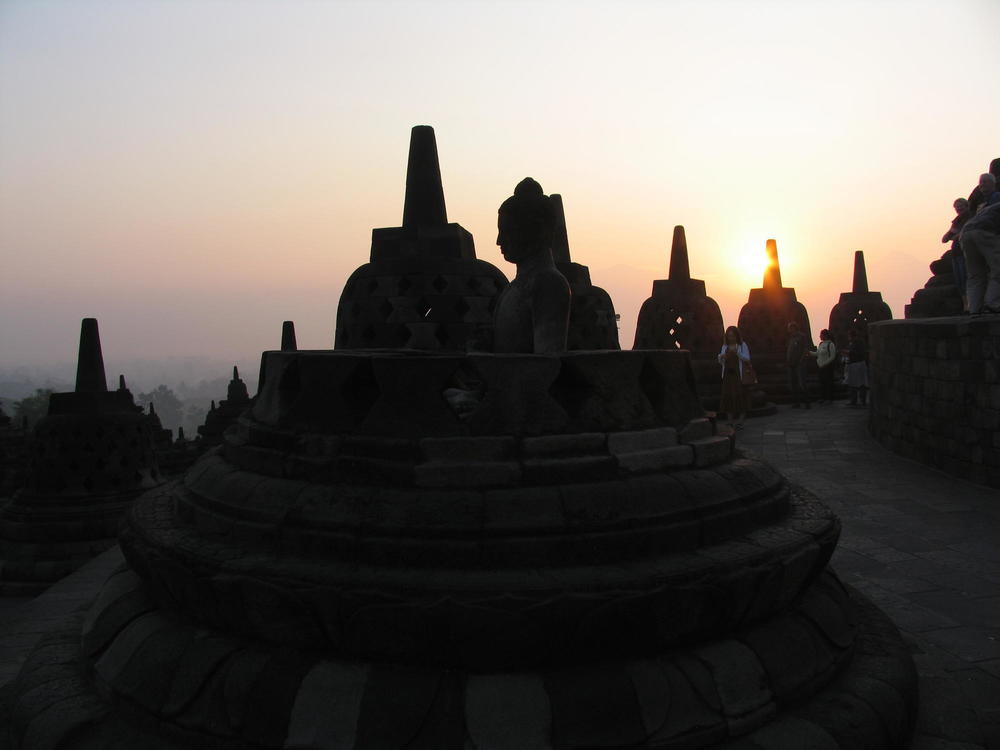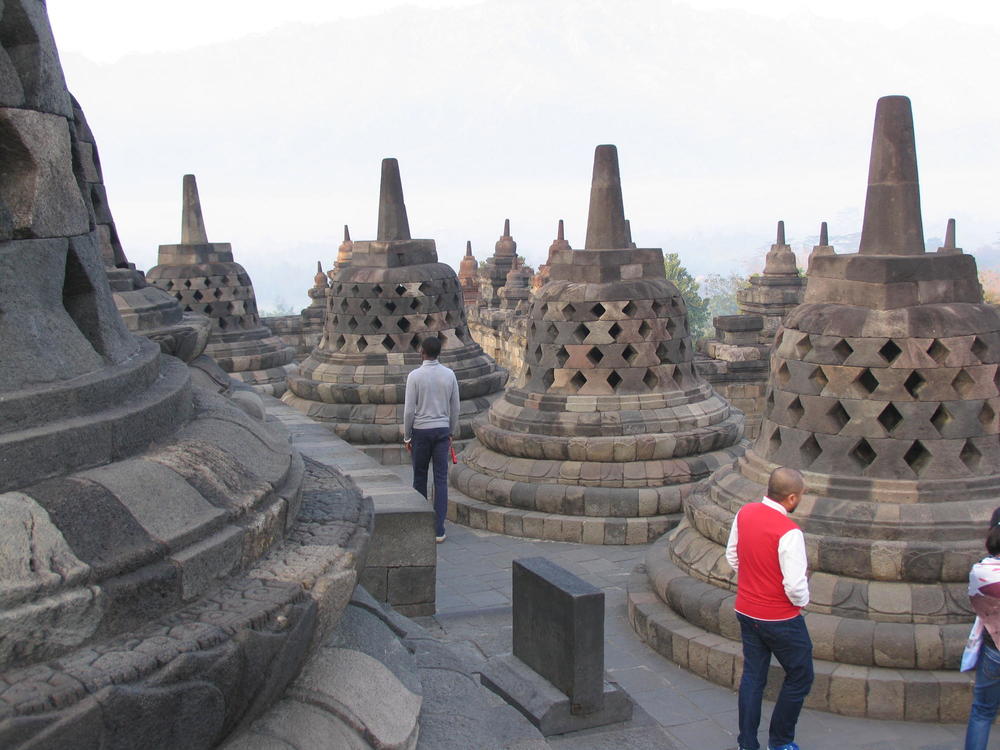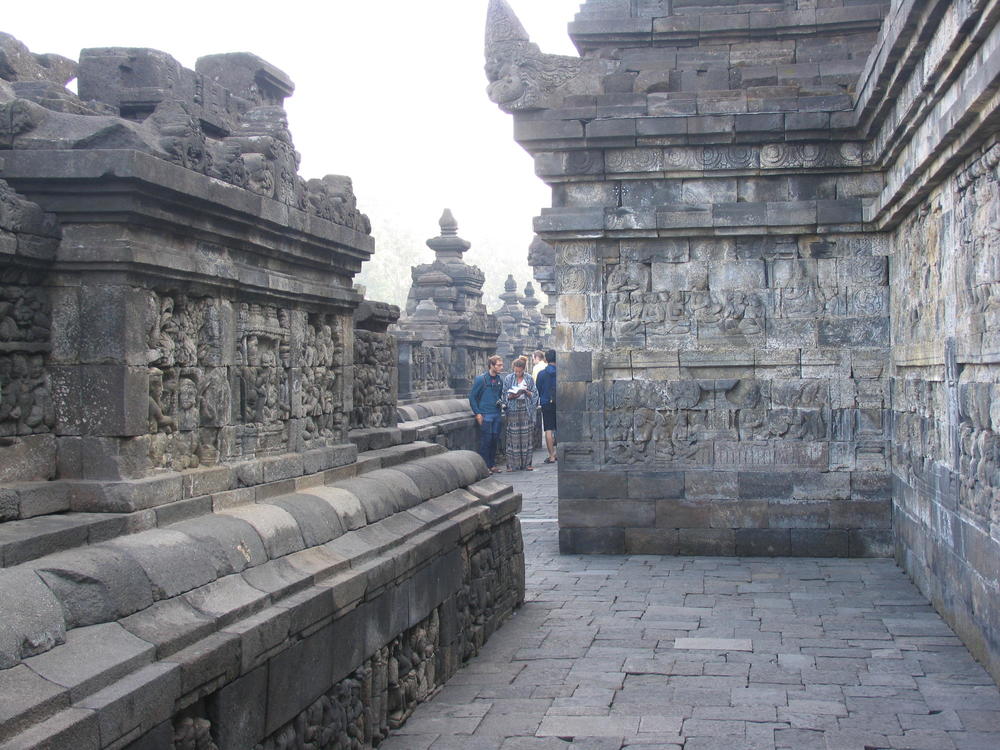 Borobudur is the largest Buddhist temple in the world, built in the 9th century, as the island of Java was predominantly Buddhist and Hindu at the time.  Now that the island is largely Muslim, the government considers it a cultural site, rather than a religious site.  Along the walls are carvings depicting the life of Siddhartha Gautama - the Buddha...  The whole complex was buried by volcanic ash deposited by Mount Merapi (the volcano on the right in the above sunrise shots) probably back in the 1300s, and was rediscovered and uncovered in the 1800s by British archaeologists.  In each bell (called Stupa) is a statue of the Buddha - they left two of the stupas uncovered, one facing due East and the other facing due West, so you can see the statues inside.
It is really hard to get a sense of it through photos as it is just so huge... but a couple more shots to try to show perspective
As we were leaving, the hordes of tour buses were arriving, as most people see this site as a day trip out of Jogja...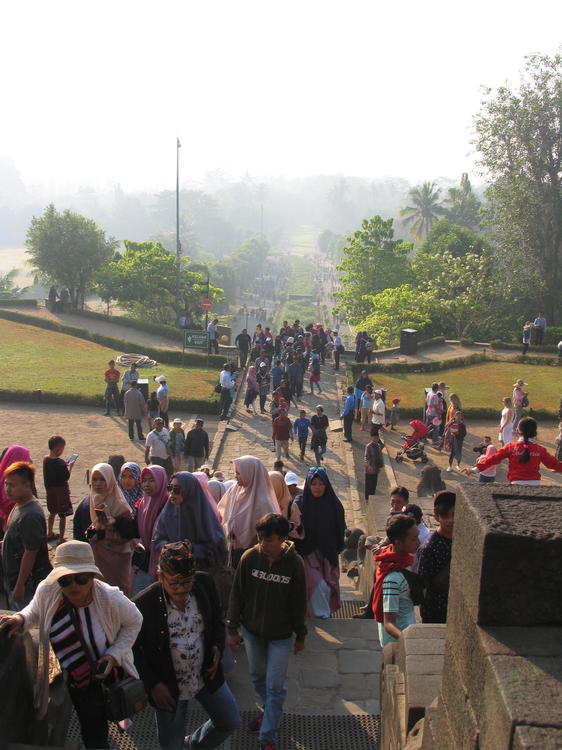 We got back to the hotel in time for breakfast...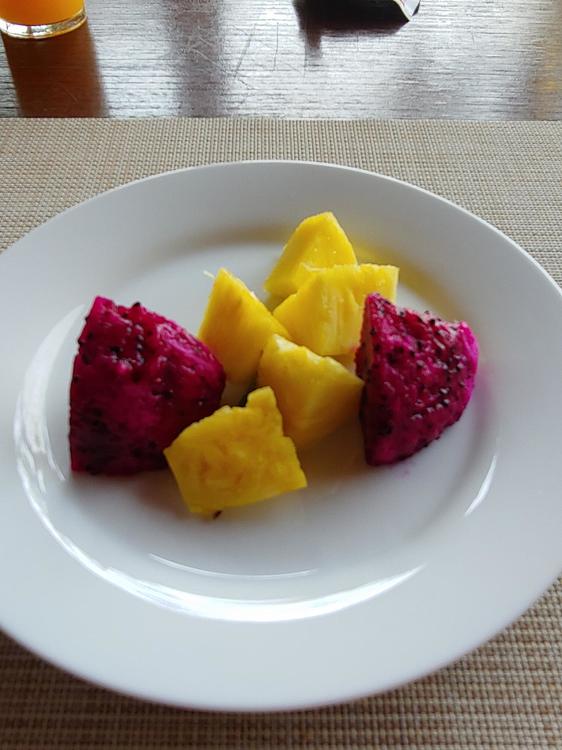 Pineapple and dragon fruit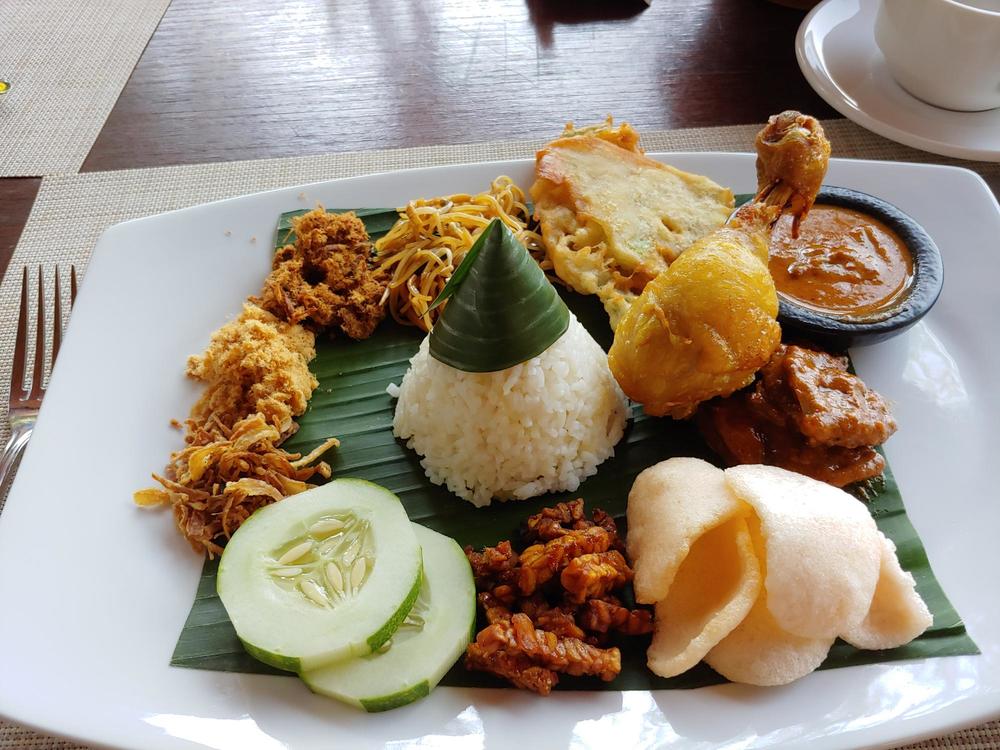 Nasi campur - rice with lots of stuff with it, from bottom left corner: cucumber (obviously), fried shallots, two different kinds of beef floss, some type of mung bean/noodle salad, fried veggies, peanut curry sambal, fried chicken, some kind of root vegetable curry, shrimp chips, sweet and crunchy bean cake.
Nasi goreng (fried rice) with fried egg, cucumber/shallot/tomato salad, chilis, fried shallots and shrimp chips.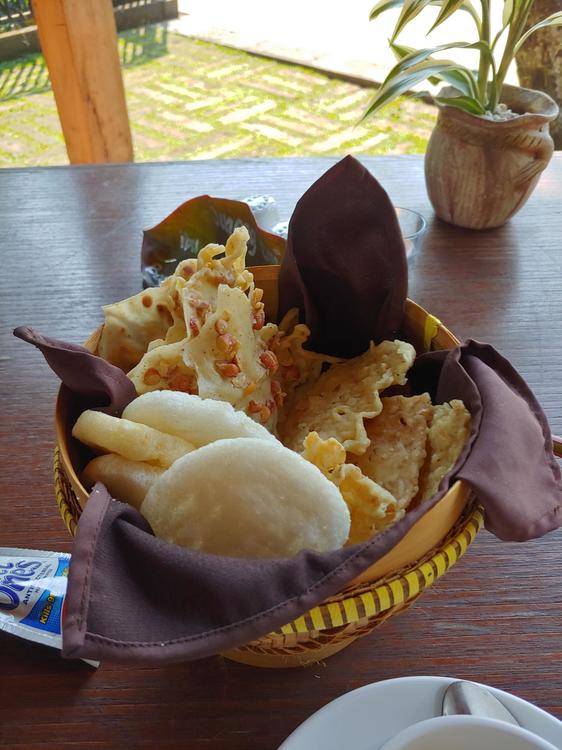 Basket of krupuk
View of Borobudur from our table: